Lediana Pajaj reflects on how Albanian neighbours have made Britain home
I know my community. They want to thrive, go to universities, be professionals and succeed in their career. So, it's crucial for us now, more than ever, to come together peacefully and show others who we really are. Lediana Pajaj
Lediana Pajaj is the Service Manager at Shpresa Programme, a charity and core member of Citizens UK's founding Chapter, East London Citizens, that supports Albanians in the UK. Lediana is an Albanian community leader herself, who arrived in the UK and started getting involved with Shpresa and Citizens UK in 2020.
We sat down to speak with her and other leaders ahead of this year's Albanian Independence Day; a moment they are marking with both celebration - due to their 20+ years of Organising success - and action, in response to increasingly dehumanising language in the media and by politicians in recent weeks.
Here, Lediana tells her story of arriving to the UK, finding Shpresa and Community Organising, and building a community of Albanian leaders who call Britain home.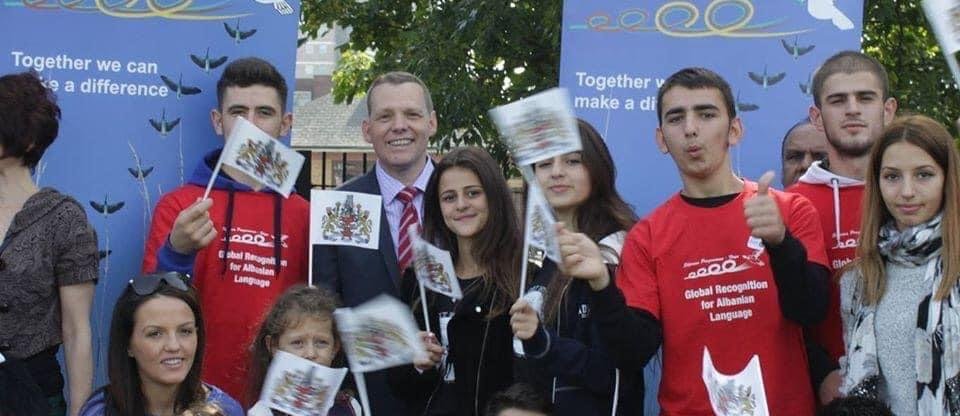 How did you begin your journey with Shpresa?
My story is a success story because I am here now.
I joined Shpresa almost three years ago. I didn't know anything about this charity or what was going on with our community in the UK. I just came here with a visitor visa, and wanted to integrate and become a valuable member of society. So, within my second week I sent a text to Shpresa. They answered immediately, and the next day I met Luli [Luljeta]. It all felt very natural and like home.
We talked about my dreams and why I came here and what my aspirations were. I explained that I didn't know what my rights are or what rules I could follow to stay here legally. So, I was advised to start observing Shpresa events, learning more about how the system works. That very first day, I didn't go home. I sat in front of one of the computers and started researching the things I needed to do.
Although it is very difficult to find opportunities as a migrant when just on a visitor visa, within one month of reaching out to Shpresa Luli asked me to present at one of their biggest events for Kosovo Independence Day at the Museum of London. My family couldn't believe it and neither could I.
And over time, during these different events and projects that I became involved in, someone saw my CV and volunteering with Shpresa and offered to help me get a working visa. So, in a short time I was here, involved in lots of projects, I knew the system, I was already helping a lot of people, and had legally found the road to staying here. And since then I have been involved in lots of campaigns through Shpresa with Citizens UK. Especially in helping create the manifesto for London Citizens' 2021 Mayoral Assembly and specifically with asks around Health Inequalities.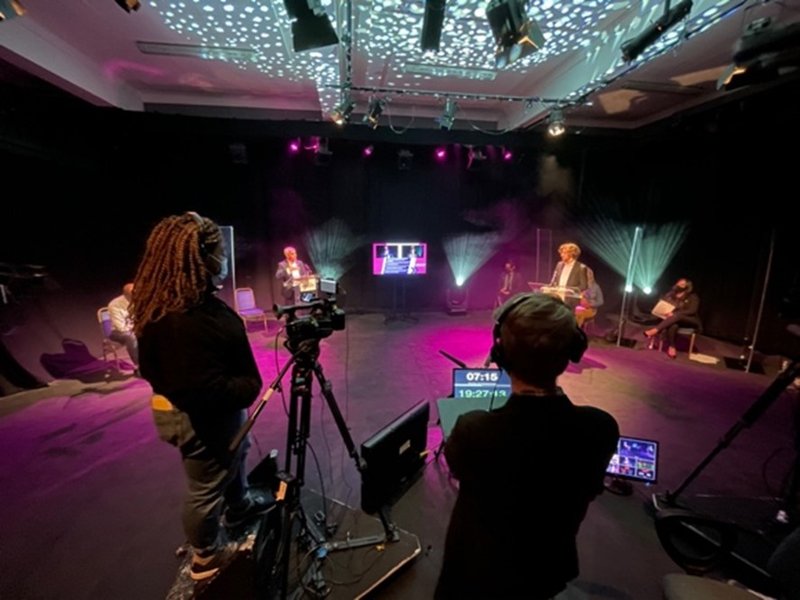 Mayor of London Sadiq Khan responds to London Citizens' 2021 Manifesto
Shpresa means 'hope'. Why is this important?
It's really important. My story is not a common one. Being a migrant and having an Albanian passport makes things very difficult because you don't have many opportunities to come, stay or work here legally. To get a working visa, companies here need to have a specific license and big reasons for employing you.
And of course, now that we see a lot of stereotyping and hate against our community, it's very important for us to have a door we can knock on where we can get the information we need, the right connections, referrals and signposting.
We are not criminals. There are many people we know personally or have heard about, who succeeded with an honest job, paying taxes and raising educated children.
I know my community. They want to thrive, go to universities, be professionals and succeed in their career. So, it's crucial for us now, more than ever, to come together peacefully and show others who we really are. We have all these values, and we want people to know about them. Not only by talking - with action.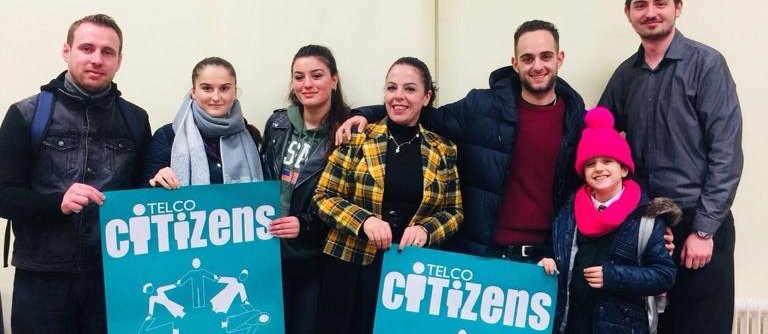 #WalkWithLuli is a fundraising campaign set up to support Shpresa following the devastating news of Luljeta's terminal illness. Money raised will build on her incredible legacy by securing the dream of a home for the Albanian community.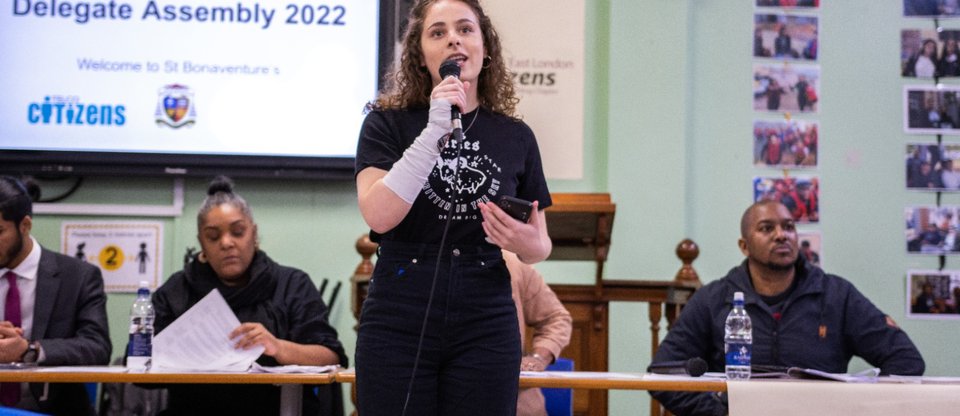 If you and your institution stand with our Albanian neighbours, be a part of fighting back against harmful rhetoric by posting on social media in solidarity.
Click the button below to send our pre-written tweet, or write your own using the following messages and hashtags.
"We stand with our Albanian neighbours."  (English)
"Ne mbështesim fqinjët tanë shqiptar." (Albanian)
#AlbanianNeighbours
#20YearsofShpresa
Hear from other Albanian leaders who have made Britain home
Luljeta Nuzi reflects on taking a stand this Albanian Independence Day

Albanian community leaders have campaigned with Citizens UK for two decades, winning change on issues from the Living Wage to ending the detention of refugee children. For Albanian Independence Day, and in the wake of dehumanising and racist rhetoric in the media and by politicians like Suella Braverman, we sat down with some of these leaders from Shpresa Programme. They reflect on how our Albanian neighbours have been making Britain home for over two decades, and why solidarity is needed now more than ever.

Read more

Flutra Shega reflects on two decades of Albanian leaders organising with Citizens UK

Albanian community leaders have campaigned with Citizens UK for two decades, winning change on issues from the Living Wage to ending the detention of refugee children. For Albanian Independence Day, and in the wake of dehumanising and racist rhetoric in the media and by politicians like Suella Braverman, we sat down with some of these leaders from Shpresa Programme. They reflect on how our Albanian neighbours have been making Britain home for over two decades, and why solidarity is needed now more than ever.

Read more

"Over 20 years making Britain home" Citizens UK stand with our Albanian neighbours

Albanian community leaders have campaigned with Citizens UK for two decades, winning change on issues from the Living Wage to ending the detention of refugee children. For Albanian Independence Day, and in the wake of dehumanising and racist rhetoric in the media and by politicians like Suella Braverman, we sat down with some of these leaders from Shpresa Programme. They reflect on how our Albanian neighbours have been making Britain home for over two decades, and why solidarity is needed now more than ever.

Read more
Posted by Sylvie Pope on 28 Nov, 2022