A new Prime Minister – and two organising opportunities
By Matthew Bolton, Executive Director, Citizens UK
Yesterday was Prime Minister Boris Johnson's first day – and it turned out to be a significant one for two long standing Citizens UK campaigns, Strangers Into Citizens and the Living Wage campaign .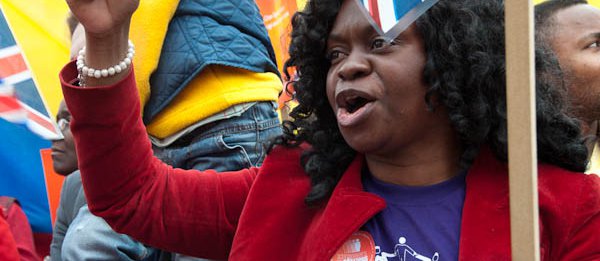 Back in 2007, we launched the Strangers Into Citizens campaign, calling for the mass regularisation of people without immigration status, who have put down roots in this country over years but are vulnerable to exploitation and hardship.
We galvanised tens of thousands of people in marches and assemblies, persuading the public and many politicians that this was the just and sensible thing to do. In 2008, we gathered 2,000 people at a London Citizens assembly to ask the then candidate to be Mayor of London, Boris Johnson to support the regularisation of undocumented migrants, and he did. In coalition with a range of partners, we did manage to win an under the radar regularisation for tens of thousands of so-called 'legacy cases', people who had been stuck in the asylum system for years, but we are yet to see the broader victory for social justice that we need. But now there is hope.
At his first Prime Ministers Questions and one day into the job, Boris Johnson has reiterated his support as Prime Minister for mass regularisation of undocumented migrants, which remains such a vital and urgent cause.
A Living Wage for Whitehall
And in the same Prime Ministers Questions, Boris Johnson confirmed he still backs our long-standing campaign for the real Living Wage, committing to ensure that cleaners in Whitehall, including those in subcontracted employment, get paid enough to live.
And where did this support for the Living Wage come from? At that same 2008 Assembly, London Citizens got Boris Johnson to back the Living Wage and we worked with him for 8 years as Mayor of London to encourage employers to do the right thing. Following yesterday's statement, we will be working with partners to up the pressure on Government Departments to take a lead rather than follow, and get accredited with the Living Wage Foundation to ensure that all staff get the £10.55 an hour rate, based on the real cost of Living.
We need to keep going
Over a decade ago, by listening to parents working so hard but still being unable to provide for their families and hearing the hidden stories of people living in immigration limbo, we were able to start these two courageous social justice campaigns. By taking a purposeful approach to securing support for politicians from across the political spectrum, we now have a Prime Minister who backs them. For all the doom and gloom about the state of politics right now, we have a duty to keep organising and to ensure these words are followed by deeds to the benefit of millions of low-paid and excluded people.