Ealing Students take action on Mental Health
By Paulina Bielecka, Year 12 at William Perkin High School
On 10 February 2020, 70 students from across 5 schools in Ealing came to William Perkin High School for a Mental Health Summit, with recently elected James Murray MP.
The year 12 house captains worked extremely hard with our organiser, Daniel Mackintosh, to put together this Summit, which was created for students to share stories of how they were experiencing mental health challenges, and think together about the next steps we can take to make a difference.
We had a couple of William Perkin students, Lucia and Cloe, who shared their personal stories and how it affected their mental health. It was very inspirational as they told us how they dealt with this pressure and to see them so confident now, made the whole room confident in themselves .Trisha, a Year 11 student, shared with the room a video of the internal thoughts us teenagers can have,and how easy it is to say "I'm fine" when, in reality, we are suffering. We also had Mr Chugg who bravely spoke about his personal experiences in university and how his mental health was affected in which he claimed that "failing and mental health didn't matter because in the end I succeeded". For him to do this he had to learn to speak with others about how he was feeling. This left the whole room deep in thought because it was a very moving story however. He demonstrated courage and was able to make the right decisions in the end because he had people around him to help. After listening to all of these speakers, we all gathered in our schools and came up with next steps to help the younger years with their mental health. One idea some students had was to create talking groups, where students have a dedicated room where they come together to share how they feel.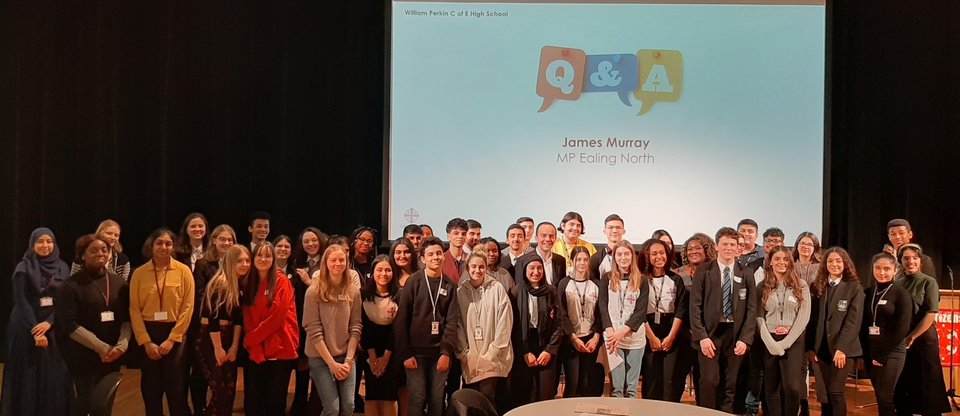 We also had the local MP James Murray who attended this summit, who listened to our stories and our ideas, and to seek his commitment to working with us so we can make a difference. us to present. He listened to speakers from our school and was interviewed by our lovely Lucia from Year 13 about his personal mental health and how he protects it. He replied:"I try to push aside difficulties but that's not the right thing to do. It's better to talk to someone and share our difficulties, because we all face these challenges together". During his interview with Lucia ,she asked him if he could commit to broker a meeting with the Ealing Clinical Commissioning Group, which is responsible for mental health services in the borough. He said yes! And when we come back to school, we will be following up with James Murray MP to build the next step of this campaign.