EALING LOCALS SECURE 90 LOCAL JOBS AND COMMITMENTS FOR THOUSANDS OF NEW LIVING WAGE ROLES
EALING LOCALS SECURE 90 LOCAL JOBS AND COMMITMENTS FOR THOUSANDS OF NEW LIVING WAGE ROLES
Ealing Citizens, an alliance of 8 organisations that are part of West London Citizens, representing 8000 local people, hosted a Living Wage, Employment and Green Jobs Fair at St Anselm's Catholic Church, The Green, Southall on 15 November 2021.
More than 200 local people attended and had an opportunity to meet with local employers who had 90 vacancies to fill now and find out about training, upskilling and work opportunities.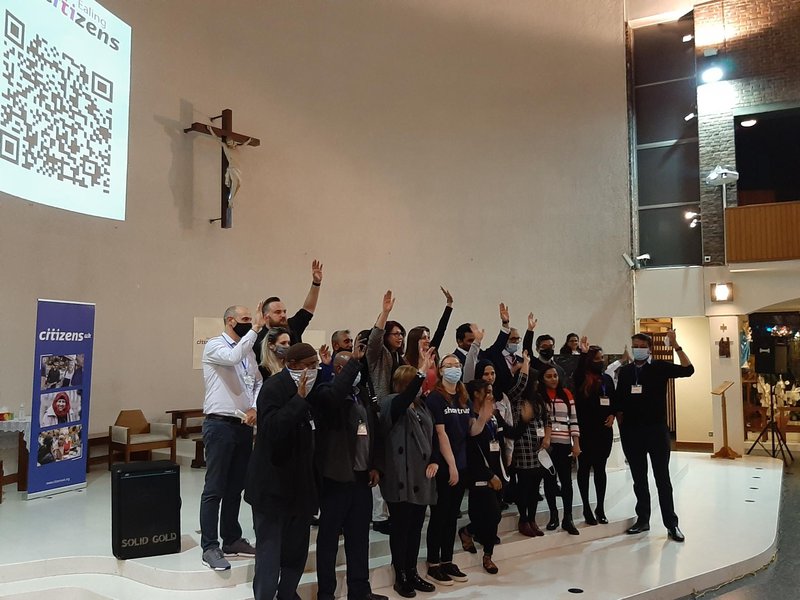 Cllr Bassam Mahfouz, Ealing Council cabinet member for decent living incomes, shared Ealing's Plan for Good Jobs campaign outlining the council's commitment to help the local economy recover from the economic impact of COVID-19.
Ealing Citizens' plans to double the number of local London Living Wage employers. Cllr Mahfouz committed to hosting a Living Wage Round Table in the first 3 months of 2022, and 8 local employers agreed to join. In addition, Cllr Mahfouz agreed to work with citizens in the boroughs of Ealing, Hammersmith & Fulham and Brent, on making the biggest construction site in Europe, Old Oak Common Development, into a Living Wage zone, providing 56,000 new jobs.
Heathrow Airport, a major West London employer, was not present at the event and local community leaders urged them to set a date to publicly fulfil their pledge to pay their workers the London Living Wage before the end of 2022.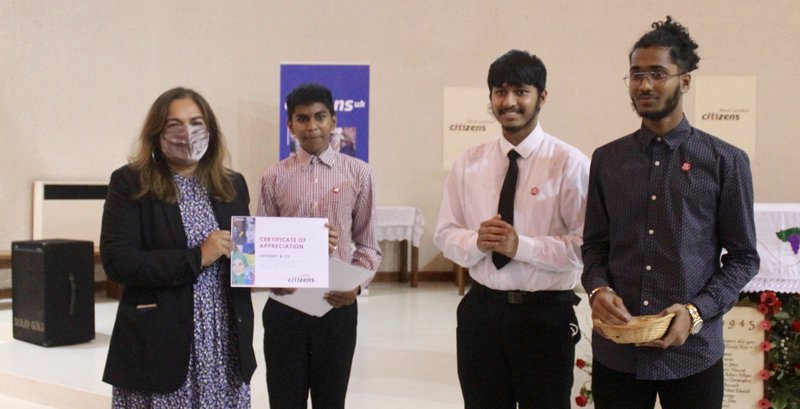 Citizens UK have been campaigning for London to become a Just Transition city, aiming to ensure that new green policies benefit low-income communities, who often face bear the brunt of the significant effects of climate change. The creation of 60,000 new green jobs in London, that pay the real Living Wage, is essential to this aim. City and Westminster College and West London College joined the event to share how they are training local people for Green Jobs.
Father Jovito D'souza, priest at St Anselm' Catholic Church and member of West London Citizens said; "People in our community are suffering because we are out of work, and our jobs don't pay us enough to support our families. But we didn't want to complain, we wanted to take action. Our vision is of an Ealing where everyone has a well-paid sustainable job. That is why we are working with Ealing Council to get local people back into jobs and encourage employers to pay the ethical London Living Wage to their staff."
Jackie Ashmenall, lay Chair of the Ealing Deanery Synod and member of West London Citizens said; "In 2018, Heathrow Airport invested in the local community by accrediting as a real Living Wage provider. We know aviation has been badly hit by the pandemic, but now it is time for Heathrow to fulfil their promise and pay all of their staff the London Living Wage before the end of 2022."
Councillor Bassam Mahfouz, Cabinet Member for Decent Living Incomes at Ealing Council said; "Ealing has had one of the highest furlough rates in the country, with Southall being one of the hardest hit parts of the country. As part of our Plan for Good Jobs, we're keen to ensure residents hardest hit by the pandemic have the chance to retrain and get into sectors and jobs they may never have considered before.
"A key element of this is to raise the bar on the types of jobs we have within our borough and so it was great to get commitments on the evening to create even more well-paid London Living Wage jobs in our borough. I would like to thank Ealing Citizens for the chance to work with them to deliver a jobs fair that focussed on the importance of creating green, well-paid jobs in Southall. I look forward to continuing to work with them and to hosting a round table event next year on the Living Wage."
Posted by Lauren Del Fabbro on 16 Nov, 2021