Leader Blog: Living Hours scheme is a lifeline for workers, I know from my own experience
by Gayle Purves, Advisor at Citizens Advice and Leader with Tyne and Wear Citizens
"A parent turns up to work to find that her employer has cancelled their shift. They're paid by the hour and that shift was the difference between being able to put food on the table or not. As a result they're now worse off having paid out of their own pocket for childcare and transport to work. The worker is both financially and mentally strained, filled with anxiety, worrying whether they will be given enough hours to pay the rent this month."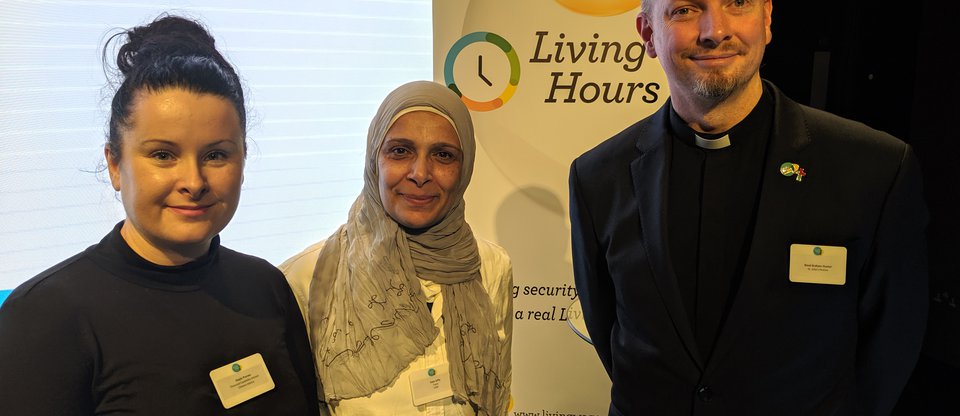 "I wish it wasn't the case, but as an Advisor at the Citizens Advice Bureau in Newcastle, I hear stories like this all too often. Almost every day I meet people at their time of crisis, trapped in a cycle of low pay, insecure contracts and debt.
From my experience at Citizens Advice and as a community leader with Tyne and Wear Citizens, I know from speaking to members of my community how damaging life on insecure work can be. All too many employers get away with as much as they can, without a thought for their employees' health; people are hired and fired at a day's notice or put on 'contracts' where the employer makes no commitment as to how many hours' work their staff can expect or how much they will earn. They can't plan, can't save, can't escape the trap of poverty.
But I also know the pressures and strains of insecure work because I have first-hand experience of it myself. For 4 years I worked zero hour contracts in the hospitality industry and leisure industry as well as doing agency work.
In my case, and something I know is not uncommon for others, it wasn't the fact I didn't get enough hours on my zero-hours contract that caused problems. Rather, the fear of not getting any hours or having shifts cancelled at the last minute led me, and I know many others, to take on every hour offered.
Many workers on these contracts don't even take holidays or family time as they won't get paid during that time and fear they will miss out on being offered future shifts. In my case I often worked 'double shifts' for the money, which meant working for hours and hours in a single day. The vicious cycle of insecure work led to mental and physical ill health, which led to time off work that wasn't paid.
The impact of the campaign for a real Living Wage cannot be underestimated; it has transformed the life of hundreds of thousands of people and I've seen first-hand the difference it makes to people's lives. However, the landscape of low pay is changing, and we must afford workers more protection to allow them to keep their heads above water financially. I'm confident that the Living Wage Foundation's new Living Hours standard – which, on top of the real Living Wage, requires employers to give at least 4 weeks' notice, provide workers at least 16 hours a week work (unless the employee opts out, and a contract that accurately reflects the work they do - can do just that.
Alongside launching this initiative today, the Living Wage Foundation also published research that shows the enormous scale of the problem. It's simply not right that one in six workers in the UK – 5 million workers in total - are in low paid, insecure work. Even more shocking is that 2 million of those are parents.
It's time for employers to do the right thing. To pay the real Living Wage but also adopt the new 'Living Hours' scheme and ensure that all workers are afforded the security at work they need."