Stitch-in Shows M&S Shoppers Support Living Wage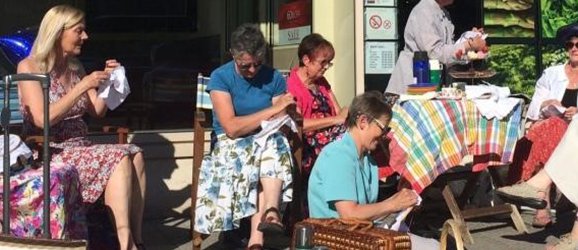 Living Wage supporters staged a 'stitch-in' outside Marks & Spencers in Central Milton Keynes. Ten women had a sit-down tea party and sewed hand-made messages onto M&S handkerchiefs, to be delivered to the board, celebrity endorsers, and major shareholders of the British retail giant at its annual general meeting at Wembley Stadium on 7 th July. The action was co-ordinated by Citizens:mk with the Craftivist Collective and ShareAction's AGM Army to press UK retailers to pay a Living Wage.
"It was fun," said Sheila Bacon of MK Quaker Meeting. "We attracted the attention of the M&S managers, who were interested to see what we were doing, and we spoke candidly with them about our disappointment in their pay policy."
"This wasn't a normal campaign action," said Jacqueline Eustace of St. Augustine's Catholic Church. "It was about getting our message across in a gentle way."
Debbie Wilson, leader of Citizens:mk's Living Wage campaign, said: "I am a Marks & Spencers customer and have many friends who have been and are employees. Marks & Spencers is an important business in MK, serving many local MK customers and employing scores of MK workers. It's high time they were all paid a decent wage."
"This is just a start!" said Joy Chapman of Christ the Cornerstone Church.
An online poll shows 17 percent of British shoppers would shop more often at Marks & Spencers if it paid staff a Living Wage. (Source: Opinium survey, 12 th -16 th June 2015, based on 2002 online interviews across the UK).
The first 'stitch-in' took place on 22 nd June in London outside the Marks & Spencers in Islington. Another 'stitch-in' took place on 23 rd June in Cardiff. There have also been stitch-ins in Brighton, Warrington, Lincoln, and Birmingham.
The idea of the 'stitch-in' was to show M&S that in addition to major shareholders with billions of pounds under management, its core customer base is also fully engaged and supportive on the issue of the Living Wage, and that they expect the company to show leadership on this basic fairness issue.
Each unique hand-stitched hanky encouraged board directors of M&S to commit to paying the Living Wage of £7.85 to all staff across the UK (£9.15 in London). This is a part of ShareAction's campaign in partnership with Citizens UK, parent charity of Citizens:mk, to achieve the Living Wage across the FTSE 100 through shareholder activism. Nearly a quarter of FTSE 100 companies have now accredited with the Living Wage Foundation, but no high street retailer has yet signed up.
ShareAction has organised AGM questions on the Living Wage at more than 20 company AGMs so far this year. ShareAction is simultaneously mobilising an Investor Collaborative for the Living Wage made up of institutional shareholders with billions of pounds in British companies, including asset managers, pension funds, charity and faith investors. These large shareholders have written in 2015 to all of the FTSE 100, including M&S, in support of the Living Wage.
M&S Chief Executive Marc Bolland is paid £2.1million a year. Last year, his company refused to consider a Living Wage at its Annual General Meeting. Later, at a meeting with campaigners, the company again refused to consider paying the Living Wage.
Sarah Corbett, founder of the Craftivist Collective, said:
"Marks & Spencer is supposed to be a company with solid values threaded through all that they do, which include paying your workers fairly. We're sending the board and shareholders these carefully hand-stitched handkerchiefs to encourage the company not to 'blow' their chance to support life-changing decisions."
Catherine Howarth, Chief Executive of ShareAction says:
"This craftivist initiative at the M&S AGM is nothing to 'sniff at'. Sarah and her amazing stitchers are devoting hours to creating gifts the M&S board we hope will treasure and remember forever. People adore M&S but they want to see the company step up and become a Living Wage employer. The many big shareholders backing this call know it makes business sense as well as being the right thing to do."