Pupils in mass action for Redways improvements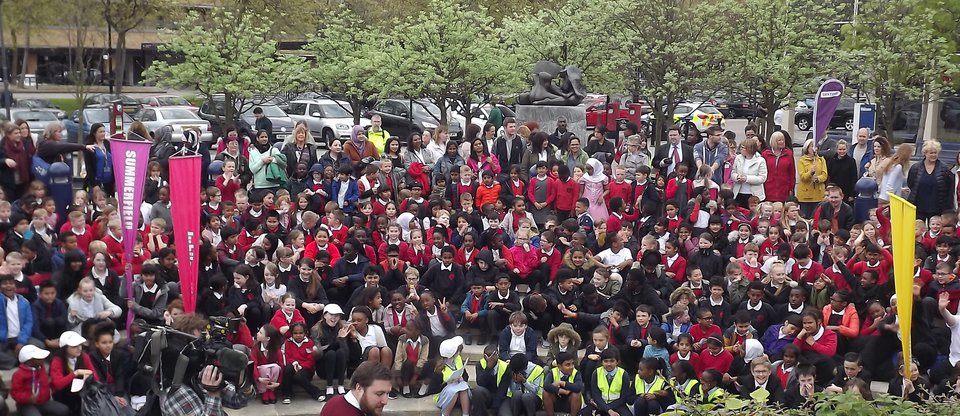 In April, 400 pupils from five MK schools walked from their schools to the city centre to ask the Leader of the Council for 50 Redways improvements in MK's 50th birthday year. This was the first major action of the Redways Relaunch campaign, which was filmed and broadcast on BBC TV Look East .
Two pupil leaders, from MK Academy and St. Paul's Catholic School, knocked for Cllr Pete Marland at Civic Offices and asked him to accompany them across the road to City Square, outside Marks & Spencers, where all the other students and pupils were gathered.
Employees from local businesses including Dentons, Santander and Shoosmiths, joined the action and pledged to help support the schools on Redway litter patrols later this term.
Pupils collected rubbish along the way and presented it to the Council Leader. A told him: "We are fed up with the litter, broken glass and other rubbish dumped on the Redways and we want to clear it up. Our school council are willing to look after the Redway next to our school and we have already started to pick up litter and think about ways to make it a better route to the city centre."
A survey of 2,300 pupils in six schools showed that 80% of pupils use the Redways but only 40% think they are safe (survey results).
A pupil from Southwood Primary School said: "The more people use the redways, the less scary it is."
The main goal of the campaign is to gain pledges from MK Council and The Parks Trust to plan and implement 50 Redway improvements. The priority improvements which the pupils want are:
litter removal (backed by 67% of the survey respondents)
improved lighting (62%) and
cut back hedges (56%).
Lucy Gray of Shoosmiths LLP said: "Seeing Milton Keynes through the eyes of local pupils gives you a very clear view of what our local Redways should look like. Our colleagues love volunteering in the community and working with schools and that is why we are really looking forward to joining forces with Summerfield and making a real difference to our Redways."
Luke Farrell of Santander UK said: "It's really important that children have a safe route to school and we're delighted to be able to do our bit to support our local community."
Cllr Marland pledged to support the pupils' goal of 50 realistic Redway improvements and organise for his senior officers to meet with the pupils so that plans would be agreed before the end of MK's 50th birthday year. For this he was thanked with a garland decorated with pupil comments on the Redways.
The five schools who took part in the action were members of Citizens:mk, an alliance of 23 community groups including churches and Muslim associations as well as schools, who had taken part in a joint training session back in September and resolved then to launch a Redways campaign. The schools (and number of pupils they brought to this action) were: Jubilee Wood Primary (22), MK Academy (13), St. Monica's Catholic Primary (8), St. Paul's (7) and Summerfield (360).
"We value active citizenship and training young leaders from schools is an important part of what Citizens:mk does," said Lucian Hudson, Chair of Citizens:mk and Director of Communications at The Open University.
"I am really impressed by the children," said Tony Berwick, Headteacher of Jubilee Wood School. "They have put their case across with style. We now hope the wider community here in Milton Keynes will support this campaign."