Citizens Milton Keynes stand up for Care Workers
Citizens MK stand up for Care Workers
Leaders from Citizens MK took the 2 hour journey to Colchester to join Essex Citizens in a lively and creative action at the Head Quarters of one of Britain's largest Care Providers - Care UK Ltd. Twenty leaders, representing Faith, Education, Community and Union organisations gathered in Colchester at Care UK Ltd HQ, having written twice to CEO, Andrew Knight to ask for a meeting and to ask Care UK to pay the real Living Wage.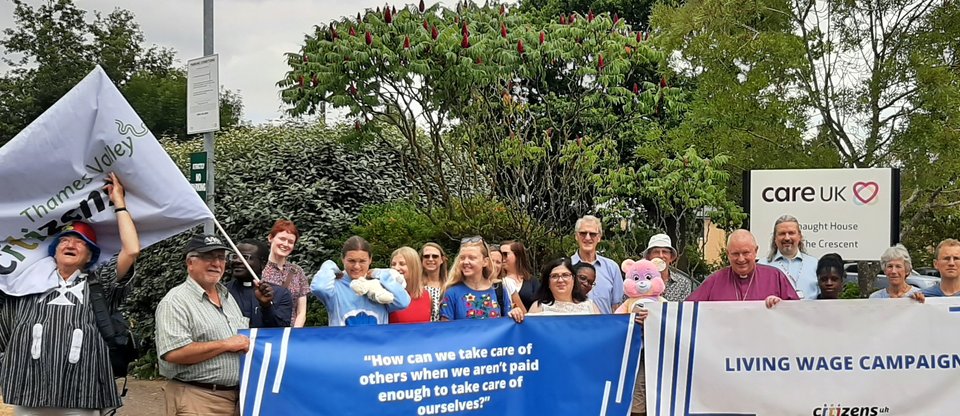 As a sign of goodwill, the Citizens UK delegation brought some unusual and creative gifts along: A Living Wage Care Bear and an box of Apple Turnovers. Why these gifts?!
A 'Living Wage Care Bear' because Care UK should CARE about wages and workers as well as clients.
And Apple Turnovers because we know that Health and Social Care continues to face a massive staffing crisis and that paying a real Living Wage has a huge positive impact on staff turnover.
On the day of action, a member of the Board of Directors received the gifts and met with a delegation - Bishop Roger Morris, the Anglican Bishop of Colchester, and Mr Mike Beckett, CO of Colchester Foodbank. (The previous week Colchester Foodbank had won a 'Living Wage Champion Award' from the Living Wage Foundation, for their tireless campaigning work, and they are still at it!).
Rob Paton, from Milton Keynes Quaker Meeting, was at the action, "I tell people how worthwhile getting involved in Community Organising is but I need to remind people how much fun it can be!" He said at the post-action evaluation.
Revd Catherine Butt, from the newly launched St Frideswide's Project in Milton Keynes took part in the action and also got stuck into the fun - even dressing up as a Living Wage Care Bear herself!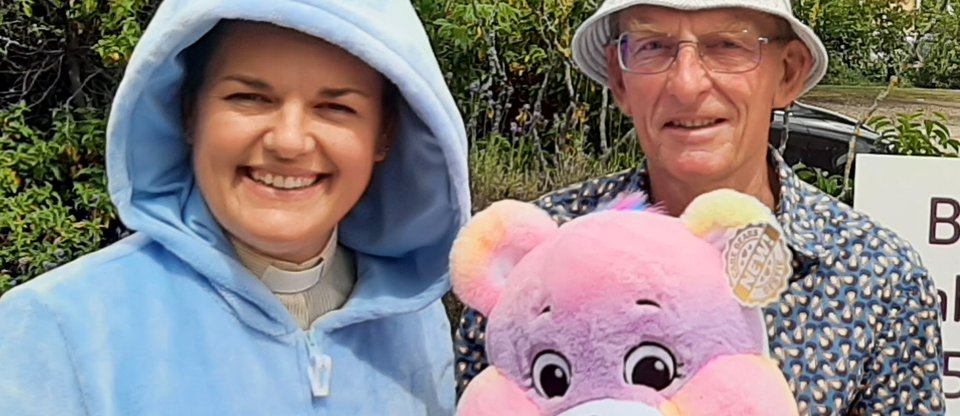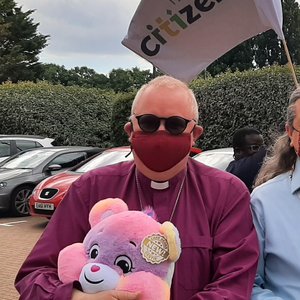 Care Workers were among the heroes during the lockdowns - they were on the frontline, caring for the most vulnerable in our society and providing safe human contact for those who would otherwise feel lonely and isolated. They are also among the lowest paid workers in the country. As the cost of living spirals, we urge all care providers to honour their workforce and to pay them the real Living Wage. Rt Revd Roger Morris, Bishop of Colchester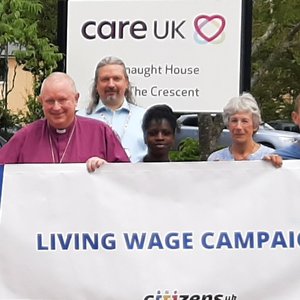 Today we visited my husband's sister who has suffered from Alzheimer's disease for ten years, gradually deteriorating. She doesn't speak, sleeps most of the time, and it's a continuous struggle for us as a family to ensure she's getting sufficient nutrition. Care workers help us so much – visiting at least four times a day. When I visit her, she is clean, cared for, and peaceful. Isn't this worth more than the poverty pay care workers receive? Sue, Essex Citizens Leader
Want to win a real Living Wage for Social Care?
Posted by Keith Hebden on 20 Jul, 2022