Refugee Welcome Schools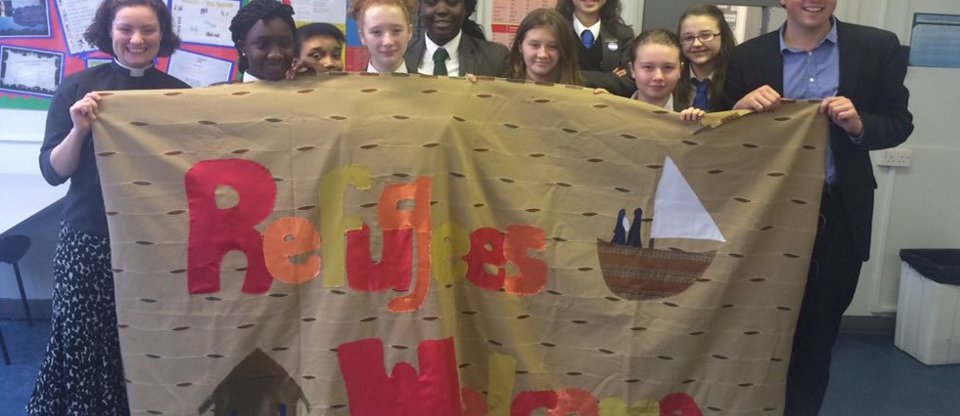 14 and 15 year olds at Saint Gabriel's College, a Church of England secondary school in South London, have set up a network of Refugees Welcome Schools and are hosting this week the first summit of schools who want to do more for this vulnerable group.
Here, some students share their motivations and what they hope to achieve.
Amanda: Last autumn, the news was full of pictures of the Syrian refugees being forced to leave their homes and make terrifying journeys. So many refugees are just young people like us, and if we were in that situation, we would hope that someone would be willing to help. One of our school Christian values is Service to Others – Jesus teaches us to help our neighbour. We decided that we wouldn't just walk on past as people suffered but that we would do whatever we could.

Oliwia: Our school is a member of Citizens UK, a community organising movement that helps people to become leaders, work together and change things for the better. We felt that the refugee crisis was very important to us so we wanted to take action that would make a difference. We are an inclusive Christian school with students of different faiths, languages and cultures, so we are already quite good at welcoming students who arrive from other countries. We thought about what a young refugee would need if they came to our school, and that we could set an example for how refugees should be treated.
Megan: We came up with the idea of becoming a "Refugees Welcome School", so that we can play our part in responding to the crisis and be ready to give refugees who arrive here the support they need. We worked with our Citizens UK organiser to design a "Refugees Welcome School" commitment. Schools that sign up to this promise to teach all their pupils about refugees, and provide a welcome to refugee students including English language support, a school "buddy" and welcome activities. Schools all over the country have signed up to the initiative which is incredibly exciting.
Crystal: Being a Refugees Welcome School also means using our public voice and organising with our local community to support refugee resettlement. We can't just wait for the government to sort everything out - we would be waiting for ever! For example, despite the government's promise to resettle 20,000 people, by October very few refugees had arrived. We took part in the "1000 Before Christmas" vigil outside the Houses of Parliament. I had never spoken in public before, but that day I spoke to a crowd of 1000 people about Refugees Welcome Schools and the fact that we are ready to resettle refugees – so the government should be too. One week later the Prime Minister announced that Britain would resettle 1000 refugees by Christmas – which we did! We also worked with local faith groups to convince our council, Lambeth, to agree to resettle 20 families. Working together with other people can really make things change for the better.
Danielle: In Refugee Week we are hosting a summit for Refugees Welcome Schools. 25 primary and secondary schools are attending from all over the country with 100 young people with their teachers. They include Christians, Muslims, atheists –image everyone! We can't believe that our idea has come so far. The summit will be a chance to share ideas and good practice, think about further action we can take, and celebrate the work that schools and young people can do to support refugees. We hope that many schools will become Refugees Welcome Schools so together we can really make a difference.
For more information on Refugees Welcome Schools click here
(NB: This blog was first posted on the Church of England Tumblr page. )