Peckham Citizens Take Back Their Local Park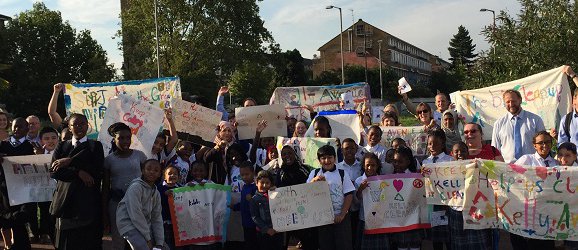 On Friday 11th September, over 120 children, parents, teachers and other local people from across Peckham worked together to clean up and to take back their local neighbourhood park, known as Kelly Avenue Park.
At the event, Councillor Barrie Hargrove, Cabinet Member for Public Health, Parks and Leisure committed to work with Peckham Citizens to make the park clean and safe and to meet the organisation again in the coming weeks to put a plan in place.
Over the last six months people from across Peckham have been taking part in Peckham Citizens' 1,000 Voices campaign - a campaign to have 1,000 conversations with people in Peckham about both what people like about our neighbourhood, but also what local people are struggling with most in their day-to-day lives. The four issues that were raised most frequently were a lack of affordable housing, struggling with being in debt, getting a good job and the crime and fear that exists around Kelly Avenue Park.
At the Peckham Citizens Delegates Assembly a few months ago 150 people came and signed up to be a part of a team to help tackle one of the above issues. Some of the most shocking stories we heard at this meeting came from students at both Oliver Goldsmith Primary School and St James The Great Primary School. Students spoke of shootings, rapes, drug dealing, and gang activity all of which took place within the same park.
Denis O'Regan, Headteacher at St James The Great Primary School who was part of the clean up team said:
"Kelly Avenue is notorious at our school. Stories of crime, gangs and bullying mean it has a very poor reputation among the children. Our students had the courage to speak of their experiences in front of 150 people, at the Peckham Citizens Assembly, just a few weeks ago. They spoke of fearing a park that is meant to be for them to play and enjoy themselves in. As adults - parents, teachers and the local community - we have decided that we must have the courage to do what is necessary to keep them safe. It's time we took back Kelly Avenue Park and made sure it is a clean and safe place for all children in Peckham to play!"
The action was covered by BBC London 94.9 and an interview with Rose Moses, acting assistant headteacher at Oliver Goldsmith Primary school, and one of her students can be heard from 50:20minutes in here: http://www.bbc.co.uk/programmes/p0305w76