National award for Merton Citizens for achievements with local communities
Merton Citizens and South West London and St George's Mental Health NHS Trust have been shortlisted for a national award for their work with the community.
Merton Citizens is a finalist in the Guardian Public Sector Awards 2019 Public Health and Wellbeing category after working closely with the South West London and St George's Mental Health NHS Trust and the citizens of Merton to raise awareness of mental health and improve access to support for mental health conditions.
Merton Citizens spoke with and listened to 11,000 members of its local communities which had identified mental health as its top priority.
The alliance of community organisations, part of community organising charity Citizens UK worked with South West London and St George's Mental Health NHS Trust and its health and care partners Merton Council and NHS Merton Clinical Commissioning Group (CCG) to identify concerns and connect people together in developing sustainable solutions.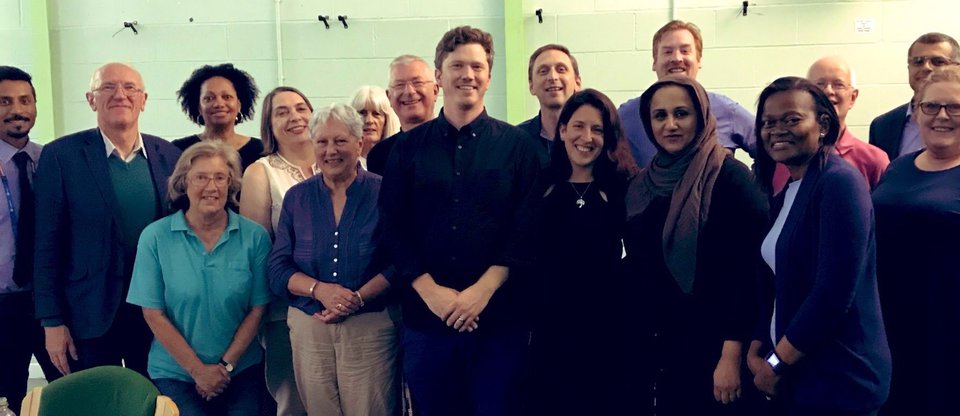 To this end, Merton Citizens and its local NHS and care partners took part in a summit of hundreds of people, achieving outstanding results:
Our local CCG agreed to create multiple points of access for tier two mental health support after students from Wimbledon College shared their stories of not being able to access support in their own community.
A mental health charter has been created for young people focusing on how schools and young people can navigate the mental health system, through involving eight local schools at a mental health symposium
More than 1,500 local people have been impacted by our mental health champions training which aims to raise awareness and tackle the stigma of mental health.
Merton Citizens aims to work with SWLSTG to extend its work across several other London boroughs
Direct feedback from young people through the Merton Citizens listening events also supported a bid by the South West London Health and Care Partnership for over £6m of national Trailblazer funding to deliver support and training for children and young people, their families and teachers. Young people in Merton will be supported by three of the ten teams based in schools – which will eventually support up to 81,000 young people, around half of all pupils in south west London.
Pete Brierley from Merton Citizens said :
"This award is about everyone playing their part. The Clinical Commissioning Group, the Mental Health Trust and civil society. Our children and young people need the best support possible when it comes to mental health and well-being."
South West London and St George's Mental Health NHS Trust's acting chief executive Vanessa Ford said:
"I am incredibly pleased to see what this vital partnership working has brought to our local community, and the improvements it is already making to awareness of, and access to, mental health services.
"These achievements are testament to the time and effort which has been put into important discussions with our local communities about what really matters to them, what actions would make difference, and how we can take those actions.
"I am so happy to see what this work has achieved and I am even more even more delighted that, together, our organisations have now been shortlisted for the Guardian Public Service Awards."
Dr Andrew Murray, Merton GP, CCG Chair and clinical lead for the South West London Health and Care Partnership said:
"Engaging with local residents is fundamental to designing the best services we can, which is why the work Merton Citizens do is so important. Through working in partnership - with schools, Councils, the voluntary sector and wider NHS – we can make a real difference to young people's mental health and wellbeing."
Nina Ahmed Women's Health and Fitness Secretary of Ahmadiyya Muslim Association from Baitul Futuh and St Mark's Academy has worked to use elements of the training delivered to mental health champions to train members of the Ahmadiyya Muslim women's community.
Nina's training has now reached 75% of the Ahmadiyya Muslim community across the UK.
Nina said:
"It's a privilege to be involved in Merton Citizens and has been amazing getting both my school and the Ahmadiyya Muslim community involved in the mental health initiative. What's more we feel like this is just the beginning."
Merton Citizens and South West London and St George's Mental Health NHS Trust have worked together since 2017 with the aim of delivering true community-led change in the delivery of mental health services, and respond to the changing needs of the diverse communities they serve.
Merton Citizens, founded April 2017, is a community-led, charitable initiative funded entirely through donations made from 16 local faith, schools, community or statutory organisations.
All the winners and runners-up, including the overall winner, will be announced at the awards ceremony on 26 November 2019 and a special supplement will be published online and in the Guardian paper on 27 November 2019 .
ENDS
Contact: Pete Brierley, 0737 5543392 pete.brierley@citizensuk.org
About Merton Citizens
Merton Citizens is part of Citizens UK, a charity which organises communities to act together for power, social justice and the common good. The home of community organising in the UK and the Living Wage Foundation, we have over 450 member organisations in alliances in 15 cities, towns and regions across England and Wales. Citizens UK develops the leadership capacity of our members to reduce social injustice affecting their communities and increase democratic and civic participation.