Merton Citizens and Merton Council celebrate refugee resettlement work
Merton Citizens and Merton council celebrate their work of welcoming refugees. Merton is quickly becoming a Borough of best practice when it comes to the community sponsorship of refugees. Merton Citizens is part of Citizens UK, an organisation that brings together schools, charities, mosques, synagogues, universities and churches. In Merton there are 16 member organisations working together on issues they care about to make change. One of those issues is welcoming refugees. The third week of July has been marked out in the UK as Refugee Week and to celebrate the partnership between the council and Merton Citizens people gathered at the local Civic Centre.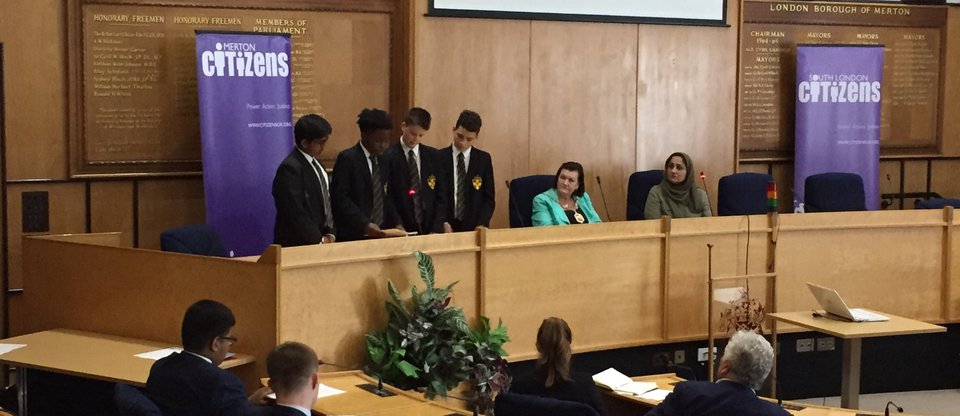 The gathering saw St Marks Academy Mitcham announce their intention to work with other schools across Merton including Wimbledon College to become the first state school to do community sponsorship.
Community sponsorship is an initiative pioneered by Raynes Park Community Church and Wimbledon Synagogue in Merton and by Citizens UK and other organisations across the country to get communities supporting and welcoming refugee families from their moment of arrival. This includes welcoming them at the airport, finding them a home and settling them in to the local community. The group of schools also have to raise £9,000 which they have started to do; announcing that through sponsored walks and cultural evenings they have already raised a combined total of £2,066.
As well as getting the support of the council to do community sponsorship Merton Citizens have also worked with council leader Stephen Alambritis to pledge to welcome 50 child refugees over the next 10 years.
Council leader Stephen Alambritis announced the commitment last month at a Merton Citizens event at Southwark Cathedral and was thanked on Friday by Major Nick Coke from Raynes Park Community Church for helping to lead the way on this issue.
Nina Ahmad from St Mark's Academy said: "Pupils with refugee experience have most certainly enriched the life of the school community and learning environment at St Mark's. We are proud to have launched a Merton wide school community sponsorship initiative to bring vulnerable refugee families to the UK and we look forward to welcoming the children in to our schools in the near future."
Councillor Stephen Alambritis said: "It is wonderful that school children in Merton have embraced the community sponsorship scheme to welcome and support refugees and I would like to praise them for their impressive fundraising so far
We are hugely proud that Merton organisations are leading the way in this great initiative to ensure refugees are warmly welcomed into the community from the moment they arrive in our Borough.
Last month we made the commitment to provide safe homes for 50 lone refugee children because we are 100 per cent behind Safe Passage's work to secure safe, legal routes for vulnerable youngsters trapped in appalling and dangerous conditions in refugee camps."