Leader of Croydon Council backs Citizens UK social care charter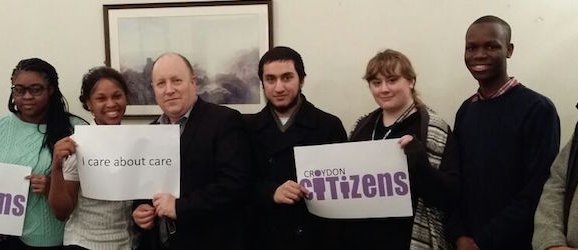 In a meeting with Croydon Citizens, local branch of national community organising charity Citizens UK, the leader of Croydon Council Cllr Tony Newman gave his full support to the organisation's social care campaign.
The campaign originated in the member institutions of Citizens UK and aims to build a movement of recipients, care workers, providers and commissioners working together to bring about the social care system we all want to see.
Cllr Newman pledged to do what he could to implement the standards of the Citizens UK social care charter  in Croydon, including stipulating the London Living Wage (£9.15 per hour) for care workers in all future contracts as well as minimum 30 minute visits. Cllr Newman also gave his backing to the Citizens UK's national campaign to secure a better deal from central government for quality social care.
Suzan Algeo, church warden of St Jude's church and co-chair of Croydon Citizens said
"As a care provider myself, quality social care is very close to my heart. We are delighted to hear that new council contracts will stipulate the London living wage. Social care is one of the most important issues facing Croydon and though there is still a long way to go, this is a vital step forward. We look forward to working together will the council to ensure dignity in care for everyone in Croydon."