Is there any room at the Inn? Croydon Citizens perform nativity action outside Council
On Friday, over 60 of our Croydon leaders performed a huge nativity play outside Croydon Council. The leaders asked their local councillor, Cllr Allison Butler, if there's "room at the inn" for genuinely affordable homes to be in built in the borough.
The nativity performance comes after years of campaigning from Croydon Citizens to see Community Land Trusts built in the borough - specifically in the north where the majority of member institutions are based. In 2014, and again earlier this year at the local election assembly, leader of Croydon Council Cllr Tony Newman promised a site for 20 homes. However, despite working closely and productively with the group, the council still hasn't agreed a site.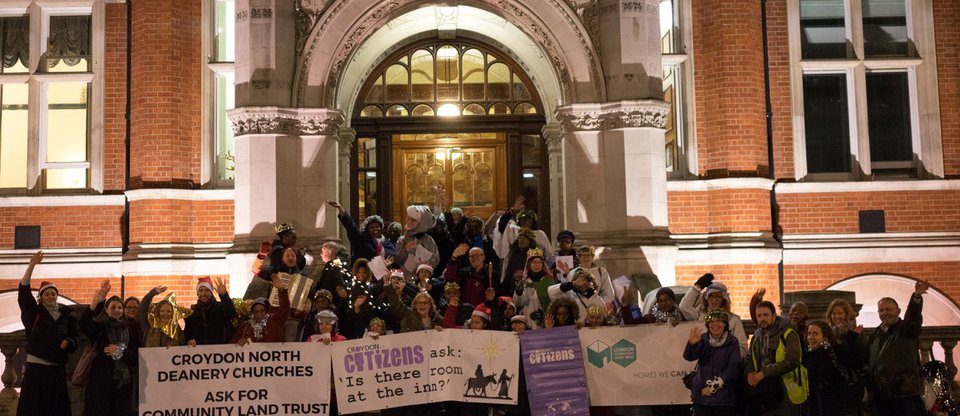 In typical Christmas action fashion, following the action the leaders sang carols and handed out mince pies.
The Bishop of Croydon, The Right Reverend Johnathan Clarke, said : "We're taking action because we want to remind Croydon Council of the promises and commitments they have made to build community land trusts across our borough. The Christmas story gives us a great opportunity to raise the question of affordable housing and ask if there'll be 'room at the inn'".
Jenevieve Brown, member of St Luke's, Croydon Citizens, said : "In my own family, who have lived in Croydon since 1962, we find that our children are moving out of Croydon to other parts of the country, just so they can afford to buy their own homes and to start their own families. My own niece, when she got married, had to move out of Croydon in order to own her own home. She has had to raise her family without the support of grandparents, aunties, uncles, cousins, and friends. Communities are being broken up. Families are being scattered across the country. And Croydon are losing its young people with all the skills and talents that they bring to a community"
Fr Sam Dennis, Parish Priest at St Luke's, said : "As a local parish priest, I am aware of the impact of the housing crisis on communities across Croydon. People are moving away because they can't afford the price of local properties. Adult children are still at home with parents, when they should be making homes of their own. For communities to flourish, people need to be able to put down roots and have real homes. I'm hopeful that Community Land Trusts will deliver a model of home ownership that is genuinely and permanently affordable – and will encourage people to put down roots and commit to their local communities."
Lianna Etkind, Campaigns Manager at London Community Land Trust, said : " Today's action shows that Londoners are not victims of the housing crisis - we are part of the solution. Increasingly, councils are recognising that supporting Community Land Trust homes, priced according to what local people actually earn, ensures that there IS room at the inn for the nurses, teachers, charity workers and small business owners who call London home".
Rev'd Catherine Tucker, Vicar of Holy Saviour Church and Dean of Croydon North Deanery, said : "The people of the churches in the local area see a real need for Community Land Trust housing. Otherwise, working people on 'normal incomes' in Croydon are unable to stay in the area because of the lack of affordable housing. This breaks up generations of families, their support networks and destroys communities."
Community Land Trusts (CLTs) are a form of community led housing, set up and run by ordinary people to develop and manage homes as well as other assets important to that community, like community enterprises, food growing or workspaces. CLTs act as long-term stewards of housing, ensuring that it remains genuinely affordable, based on what people actually earn in the area, not just for now but for every future occupier.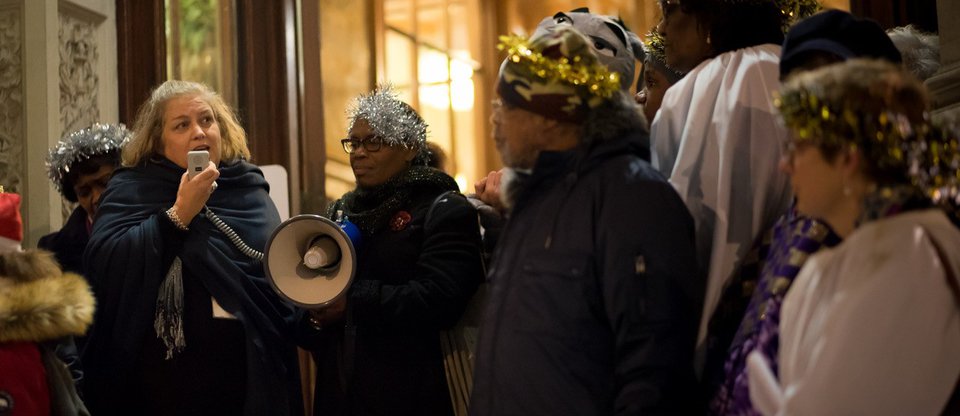 Croydon Council's Deputy Leader Alison Butler and cabinet member for homes and gateway services attended the action and responded as follows : "We have a massive housing waiting list and we have over 2000 households in temporary accommodation. We need to take a moment of thought to think about the one thousand children in our borough, who will be living in emergency accommodation and won't have somewhere to call home. That is the size of the crisis that we are looking at."
She added: "We are pleased to work with you and we will continue to work with you. We are very sure in the next few years that we will actually see something in the ground and rising up. Then you will be able to have your nativity scene outside of there."