Information can save lives! Organising for advice and guidance in Spanish
Written by Claudia Lopez-Prieto EAL director in St Gabriels College and member of Empoderando Padres, KCL
Lambeth is one of the most diverse boroughs in London, and the Latin American community is the second-fastest-growing and one of the 10 largest communities in the city. Regardless the Latin American community is largely invisible... and so are our needs.
In Lambeth official guidance and advice had been translated into Somali and Portuguese; however, no translation into Spanish had been made despite being amongst the top languages spoken in the borough. Latin American families were getting information from their home countries or through unofficial sources that were not accurate or applicable to Lambeth and the UK. We had to act.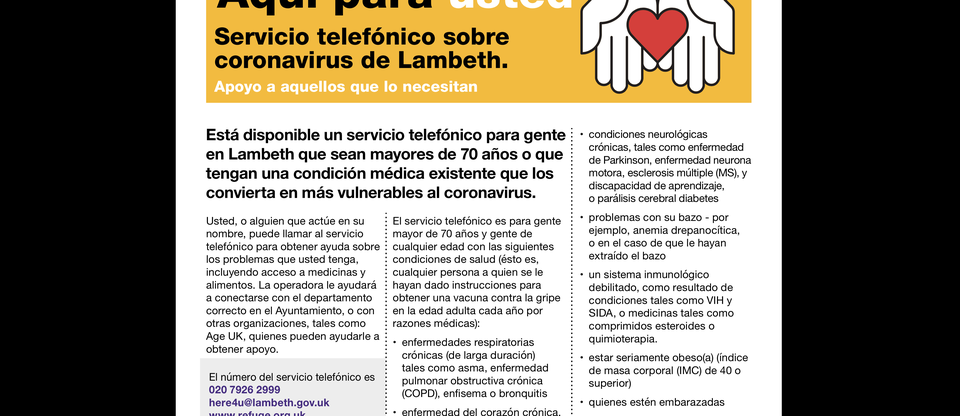 According to research conducted by IRMO in 2016, almost 90% of their Latin American users relied on other people to help them understand and communicate in English. In times of isolation and confusion this is particularly limiting.
As a member of Lambeth Citizens, I've had the platform to raise how vital it is to have local guidance translated to Spanish. Especially during these uncertain times, where vital information changes every day.
As a local alliance, we arranged for a meeting with Council Leader Cllr Jack Hopkins to raise various concerns. Amongst multiple issues explored, I had a slot to share our stories and make my case for Spanish translations; to convey how difficult it was for families that don't speak English but were trying to stay safe and comply with the guidance. It worked - he agreed and set up a meeting with the Director of Strategy and Communications Paul Bates and other relevant parties that could make what we asked a reality.
After hearing the stories and the numbers, not only did we get an apology; but 12 hours later we had our first COVID19 bulletin in Spanish; 48 hours later, Lambeth Council published the first 'Lambeth Talk', the local newsletter, into Spanish.
We were thrilled; other communities from Lambeth had backed us, our council had heard us and now information has been shared widely on social media and through our community networks.
The language barrier and various other factors leave our Latin American community vulnerable to too many injustices. We were after specific translations; but beyond that, we sought and continue to strive for a productive relationship between our growing Latin American community and their local council.
This is just the beginning!