How will the new Mayor of London help Londoners with Housing problems?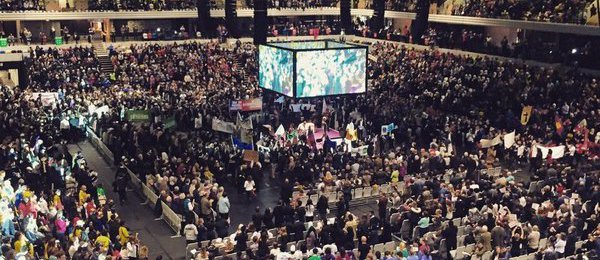 Aiana Jacob of London South Bank University Students' Union reports on her experience of action at the London Citizens Mayoral Assembly.
On 28th April, 6000 people have gathered at the Queen Elizabeth Olympic Park for the 2016 London Mayoral Accountability Assembly . The front-running candidates for Mayor of London, Zac Goldsmith from the Conservative party and Sadiq Khan from the Labour party, were present to publicly respond to Citizens UK questions around Living Wage, Jobs, Employment Opportunities for young people and Housing matters.
The debate was tough and anyone could feel the urge for popularity of the candidates. Both MPs have agreed to deliver 1000 Community Land Trusts homes in London by 2020, with Khan claiming that the request 'should be more ambitious' and aiming for 1000 houses by the end of the first year if he becomes Mayor. Sounds ambitious but is it really realistic or just something the candidates thought is what we wanted to hear? They have also agreed on solving the problem of rogue landlords. Goldsmith promises to 'track down on rogue landlords' and make this a law while the Labour MP says he will 'name and shame' landlords in order to 'drive up standards'.
While these issues are of a great concern nowadays, how will Goldsmith and Khan actually influence Londoners? In his 30's, Lieutenant John Clifton from the  Salvation Army had a chance to address his concerns to the runners. John says that 'both candidates will be defining affordability according to income rather than with the market rate'. The Lieutenant also emphasised that both candidates will be 'conveying resources' to make London a city with affordable housing prices. This is encouraging to students who hope to buy houses in their local area or to rent places when they go to University. Same is the case of Dylan Wiggan, a 15-year-old student at St Paul's Academy . Dylan thinks the housing problem will affect him because he lives in such a 'rough area and a lot of development is taking place', with luxury apartments being built. This will impact on the price of houses in the local community. But Dylan is a lucky case. His parents have been working hard over the past years to help him have a better chance of owning a place.
Hassan Akkad, a Syrian refugee who came to London 6 months ago, doesn't even hope on having a house of his own. He said that he is blessed to even be here. Hassan believes that even though it is important for Syrian students who come to London to continue their education, it is more important to feel welcomed in the first place.
So how will the new Mayor of London help citizens? With interesting and encouraging commitments, we hope that whoever gets to be the new Mayor will understand just how much we are affected by the problem of Housing. This involves not only the British citizens but also the international crowds which hope to make a better living by coming to London.