Greenwich Citizens win NHS Mental Health training for school pupils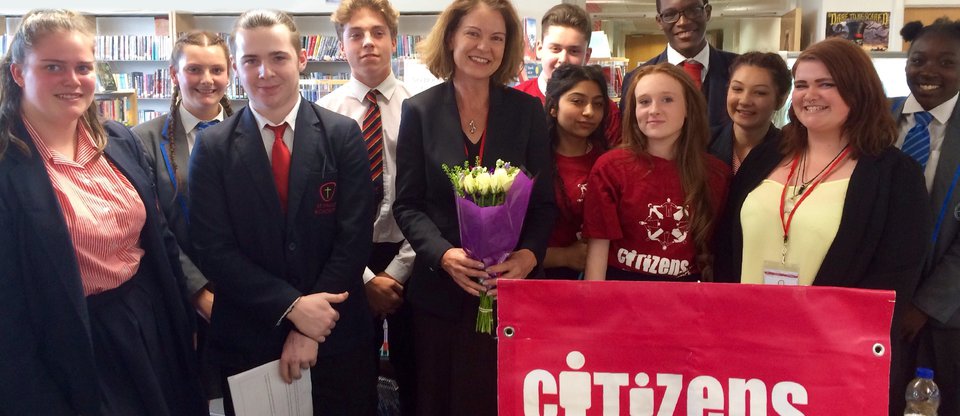 Youngsters at two Greenwich schools will be trained as Resilience Peer Mentors, able to offer initial support and signposting to classmates going through mental health issues.
The campaign was put together by young people from Greenwich Citizens, part of Community Organising alliance Citizens UK, after talks with Dr Lesley French, Clinical Director, at Oxleas NHS Foundation Trust.
The partnership was announced at an event held at St Paul's Academy on Wednesday (13 July).
Oxleas will train 10 school pupils in Corelli College Co-Operative Academy, Blackheath and St. Paul's Academy, Abbey Wood as Resilience Peer Mentors.
Other schools, colleges and youth groups from Citizens UK are now looking to build on the work of these students. This includes Greenwich Free School - who presented results from a co-designed a research project with Oxleas, looking at Mental Health issues in Greenwich schools.
Pupils who campaigned for mental health training at their school will soon begin a one-year pilot
Guests and representatives included NHS Greenwich CCG, Ravensbourne and METRO Centre.
Chloe Toland , sixth form student at Corelli College Co-Operative Academy, said:
"We're really thankful to Dr Lesley French, for agreeing to work with us as members of Greenwich Citizens. Young people like me need an active role, if we are going to improve the situation with young people's mental health. Campaigns to raise awareness are good, but training new Resilience Peer Mentors is a great first step for young people being able to do something very practical about the issue, and ensure other young people get help before they get much worse."
Dr Lesley French , Clinical Director of Oxleas NHS Foundation Trust, said:
"The work with St Paul's and Corelli in partnership with Citizens UK reflects the commitment by Oxleas' Children and Young People's Directorate to work in partnership with young people to achieve best outcomes in mental and physical health. In Greenwich, Oxleas has worked with young people for many years to support their emotional health and wellbeing. Training young people to support their peers in the school environment is one way of empowering young people to get the right help quickly and for young people to identify where specialist help for their peers might be needed. Building resilience in schools is a priority shared by us all."
Diana Webb , Learning Mentor at St. Paul's Academy, said:
"It's been incredible seeing how our young people are making a difference to the problem of Mental Health, meeting and influencing key decision makers in the NHS, alongside pupils from other schools in Citizens UK".
Mike Baxter , Assistant Headteacher at Greenwich Free School, said:
"I'm so proud of our students working with other schools as part of Citizens UK, in making positive change to young people's mental health. In listening to and studying the needs of their peers, then leading on this issue, they embody the very best of our school values of Growth, Fellowship and Scholarship".