250 community leaders from South London Citizens celebrate successes and plan for the future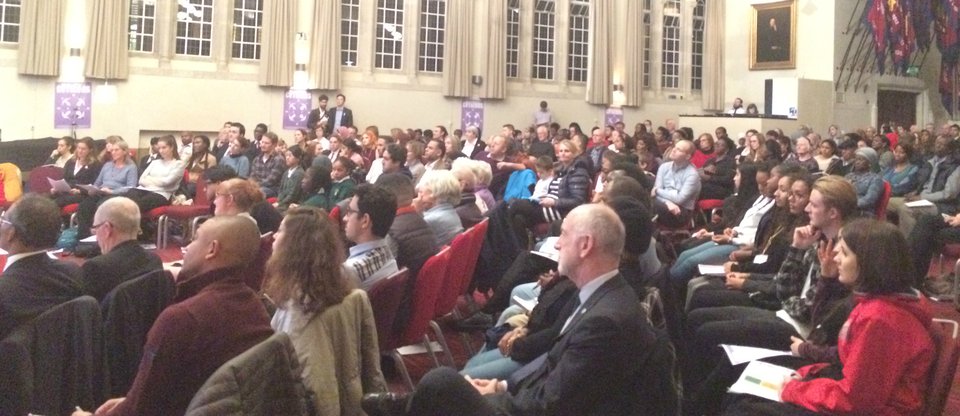 250 civic and community leaders from South London Citizens, celebrated campaign progress on affordable housing and Refugees Welcome since the London Mayoral Assembly at William Booth College, Southwark.
The evening began with Clive Adams, Territorial Commander for the Salvation Army, handing over door keys to Cllr. Peter John, Leader of Southwark Council, for homes which will house 4 Syrian refugee families.
Various alliances and people won awards on the night, including:
Peckham Citizens' successful 'Clean Kelly Avenue Park' action
Greenwich Citizens' partnership with Oxleas NHS Mental Health Trust
Latin American Chaplaincy bringing 503 people to the London Mayoral Assembly
Croydon Citizens winning paid youth work experience placements
Lewisham Citizens winning Community Land Trust (CLT) homes
Mother Ellen Eames developing young leaders through Refugees Welcome campaigns
Towards the end of the evening, several campaign teams were launched on Housing, Refugees Welcome, Living Wage and English as an Additional Language.
Rev'd Mae Mouk , Curate at St Christopher's Church & Pembroke House, Southwark Citizens, said:
"Despite the darkness of the past year, we still have so much to be thankful for. We are fired up for the social justice we plan on winning. I'm proud of how we reached into our roots and recalled why all of our institutions are members of South London Citizens - to listen to one another and our communities, and tirelessly work for the world as it should be."