Sixth Form Students Win Safety in Central Park
How Sixth Form Students Won Safety in Peterborough's Central Park
Following an eighteen-month campaign led by sixth-form students in collaboration with Nene Park Trust, the Friends of Central Park, the Willow cafe and Peterborough City Council, Peterborough's Central Park has won £20,892 worth of funding to improve lighting, alongside introducing visible volunteers during busy times, and making use of one of the 5 new covert CCTV cameras introduced in the city.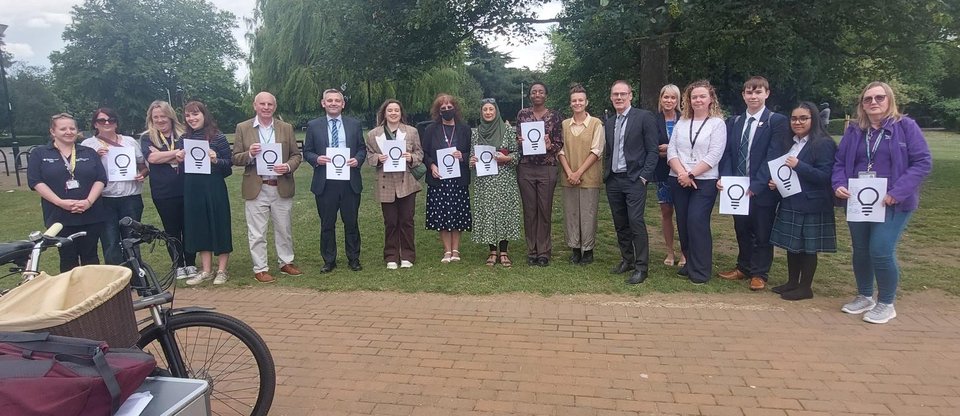 On 12th July, leaders from Inspire Education Group, Thomas Deacon Education Trust, Greater Peterborough Technical College, Nene Park Academy, Gladca, UNISON, and St. John Fisher Catholic School met with decision-makers James Collingridge and John Peach to celebrate the introduction of the new lighting to the park. The young people who worked on the campaign, adults who supported them, and others from some of the education institutions who will benefit from a safer park on their doorstep were all able to see and touch the Glo Disk lighting which is about to be installed. We also heard about how the covert CCTV cameras have already been used to combat crime in the park, and how a volunteer programme is being designed to be implemented in the coming academic year.
The campaign to make this happen began in 2021, after a listening campaign which uncovered an alarming number of testimonies, especially from young people, about Central Park feeling unsafe. Young women reported being harassed and followed, some people had been mugged or threatened with mugging, some were scared of fights breaking out in the park, and many young people took the long way home to avoid walking through it all together.
A campaign team headed up by sixth-form students from around the city was formed to do something about it. From November 2021, they met every 2 months with decision-makers and local interest groups Friends of Central Park and the Willow Café (situated inside the park). They negotiated and honed in on their specific asks – including increased CCTV and non-environmentally-disruptive lighting in the park, and a successful bid was put forward in September 2022.
This campaign group has been an important vehicle for young people to take charge of the decisions that are made which affect their everyday lives, for them to be respected by the people in power, to understand how they can organise to build power and use their voices for change. Alex Sanchez Comino, Student at Greater Peterborough University Technical College, said: "Making social change through community organising reminds us that we are never alone in our struggles. Soon, people like us will be able to inhabit their community spaces, knowing they are supported." 
We were delighted to celebrate the confirmation that the work to put in the lights is beginning. Heloise Evans, Manager for Personal Development, Careers and Community Engagement at Inspire Education Group noted that, 'As a young alliance, founded in November last year, this is the first time we are able to physically see, touch, experience a change we have worked for'.
Whilst Scott Hudson, CEO of Thomas Deacon Education Trust said, 'As a school, we are immensely proud of [the young people who've taken part in this campaign]. Their legacy as powerful young change-makers will now live on, as the year groups below them will experience the benefit of feeling safer as they journey to and from school'.
I should not by the age of 18 have on numerous occasions been catcalled, touched, followed, offered drugs and insulted. I should not have to feel as though I am not safe in Peterborough, especially Central Park, a place for children and families and teenagers and adults alike. Things need to change. One anonymous 18 year old involved with the campaign
Areas such as Central Park [as] they provide an accessible green space and a place to make memories… having enjoyed the park from childhood into my teen years I felt the need to join the campaign to ensure that the park's positive impact would continue and not be overshadowed by anti-social behaviour. Ufuoma Ehwerhemuepha, Student at St John Fisher
Making social change through community organising reminds us that we are never alone in our struggles. Soon, people like us will be able to inhabit their community spaces, knowing they are supported. Alex Sanchez Comino, Student at GPUTC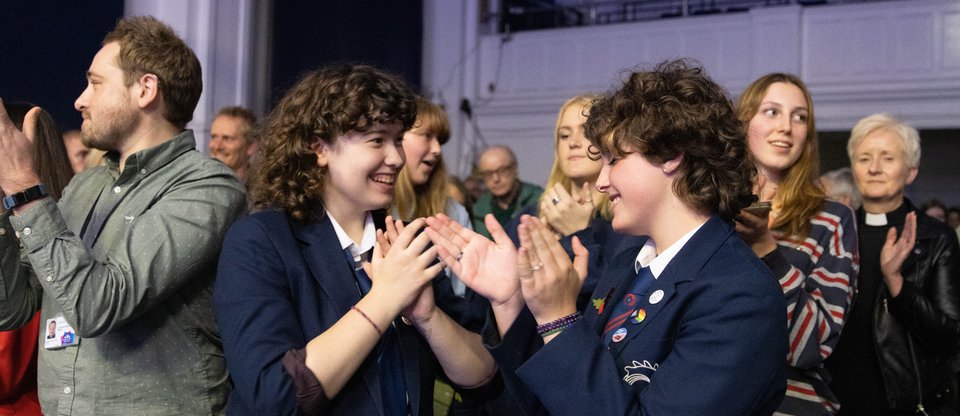 Peterborough Citizens
Are you an institution in Peterborough and want to become a member?
Posted by Edie Turner on 19 Jul, 2023