Woman from burnt down Bravanese community centre Wins Special Jury award at the "Women On the Move Award" with Annie Lennox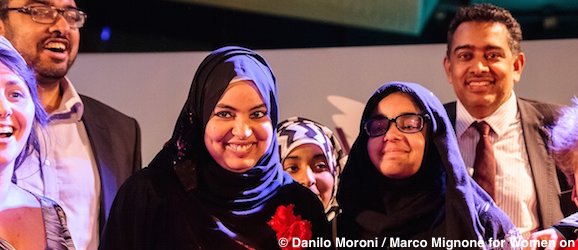 On Wednesday 4th March 2015 Asma Mohamed Ali from the Somali Bravanese Welfare association (SBWA) won the prestigious Special Jury award at the 2015 Women On the Move awards.
Asma came to England as a refugee child with no grasp of English, but has devoted her time to running homework and women's literacy clubs for her community. In 2013, her Bravanese community hall was burnt down in a suspected racist arson attack, but within a week, while six months pregnant and with the help of Citizens UK, Asma forged ties between the local Jewish and Muslim communities to keep the students' programme going, and led community action to get £1.1 million of Council support to rebuild the hall.
For over a decade Asma has been voluntarily working for the SBWA 6 days a week to coordinate their women and youth programmes alongside her full time parenting commitments. Even after the setback of having her community centre destroyed, Asma strived to ensure that the communities education programme didn't stop. Over 150 families rely on the support for homework for Barnet school students – many of whom have parents who did not receive the benefits of a British school education themselves, but are keen to see their children succeed.
In her acceptance speech, Asma said:
"Education can save the world. And I am talking now not only about education, but also about having the right people for your community who are always supporting you during the tough difficult periods.
"Like many refugees, we were forced to endure a difficult journey with multiple challenges; we all had to work hard in order to survive. After going through this journey and my achievements being recognised it's like a dream for me and I can't express my excitement for your recognition of my work.
"I had to overcome professional difficulties and personal storms of life, but I succeeded.
"I am always glad to help women improve their life. I like to see the changes in them when they realise how important they are to the community."
Asma was nominated for the award by Barnet Citizens organiser Charlotte Fischer.
Part of the WOW (Women of the World) Festival on London's Southbank, the awards are presented by Samira Ahmed and co-hosted by UNHCR and The Forum. Zrinka Bralo, Executive Director of The Forum, said: 'This is the fourth year that we have celebrated amazing women through the Women on the Move Awards. For me as a refugee woman, it is heartwarming to see how our modest attempt to shift the negative debate into a celebration of contribution is attracting so much genuine support from celebrities, colleagues and people across the country." Livia Firth and Annie Lennox presented the awards.
The Somali Bravanese Welfare Association is a charity built by and around the Somali Bravanese refugees that came to London in the 1990s. The Bravanese had been persecuted in Somalia and many had lived in Kenyan refugee camps before arriving in the UK.
Since the attack Barnet Citizen has worked closely with the organisation and with many different communities to help the community continue organising their event whilst waiting for their centre to be rebuilt.