What about a transfer window for those in working poverty?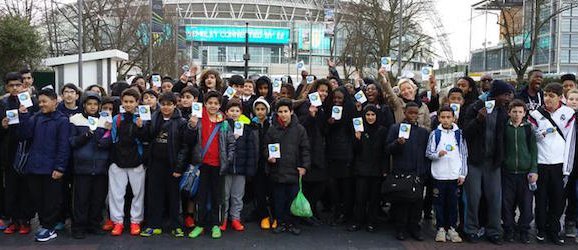 The January transfer window closed at 11 p.m. last night with the Premier League clubs spending a total of £125 million. Yet only one club is offering their lowest paid staff a transfer out of working poverty.
The willingness to spend money by the Premier League football clubs has been trending steadily upwards for the last five years. Last summer the Premier League enjoyed the most expensive window so far spending a record £835m. The total spend within the Premier League in 2014 was up by 33% on the previous year.
However this spending tend does not trickle down to the lowest paid staff. Most retail, restaurant and cleaning staff at the Premier League are paid just above the minimum wage of £6.50 per hour and often work busy shifts at unsociable hours. Two sub-contracted workers who do bar work at three London Premier League clubs shared the difficulty of raising a family on the low pay they receive. Taking the tube from their homes in east London to work in north London clubs or at Twickenham in Richmond can cost them more than an hour's pay so many workers take the bus, which can add hours to their journey each day.
Citizens UK members have been campaigning for football clubs to adopt the Living Wage since 2011. Chi, St Mellitus Church, member of Citizens UK in Islington, said:
"Given the vast amounts of monies being exchanged in buying and selling players during transfer period, it is not only moral and just for football clubs to pay all their employees a Living Wage - it's just common decency"
On Thursday 11th December, Citizens UK celebrated Chelsea FC announcing it was the first accredited Living Wage Employer in the Premier League. Chelsea FC, Hearts FC and FC United alongside 1,000 other employers are now enjoying the benefits of being Living Wage Employers, which means they pay staff at least £9.15 in London and £7.85 across the UK.
Citizens UK would like to see the Living Wage become the norm in British football clubs. So, on Thursday 29th January, 100 young people from Citizens UK member schools marched on Wembley Stadium, dressed in the sports kits representing the international nature of the local community and Wembley stadium events, to deliver a Living Wage message. As a result of their action, CEO of Wembley Stadium, Roger Maslin, has agreed to meet with Citizens UK to discuss the possibility of the stadium adopting the Living Wage. Members of Citizens UK have also been targeting Richard Scudamore, CEO of the Premier League, and are waiting for confirmation of a meeting with Bill Bush, Director of Strategy who agreed to a meeting just before Christmas.
The Living Wage could put up to an additional £21 per shift into the hands of the match day staff. This would allow workers to do simple things like take the tube rather than the bus, allowing them to spend more time at home with their families. When a club, such as Manchester City, can spend £28m on new players, it seems reasonable to ask them to share their wealth with the hundreds of workers who allow the clubs to function every day.
Julian Cooke, Chris Fabby and Nixon Todd who lead the Man City Fans Living Wage Campaign said today:
"We are really excited by the signing of Wilfried Bony in this transfer window – a top class player who we hope can help us retain the title and go all the way in the Champions League. But, as well as bringing in the best players, we want to see our Club fairly reward all staff working there.
"We know that currently hundreds of staff providing services at City such as catering and cleaning are not paid a Living Wage. In fact many are on just the legal minimum. By the time the summer transfer window opens we hope City will have agreed that all staff providing services at the Club are paid a fair day's wage for a fair day's work."
Citizens UK members will continue to encourage football clubs in all leagues to become Living Wage Employers. This means that all staff, both directly employed and sub-contracted, are paid at least £9.15 an hour in London or £7.85 across the UK. Chelsea FC and others have demonstrated that this can be done and we hope by the summer transfer window to be celebrating with many more clubs.