School assembly 'house of horrors' takes aim at rogue landlords
School children from St Ignatius Primary School today held an assembly asking the Cabinet Member for Environment at Haringey Council - Cllr Peter Mitchell - to adopt Selective Landlord Licensing in the borough on Friday.
This is after the school, as part of Haringey Citizens, heard countless stories of children and parents struggling with terrible conditions in the private rented sector and of landlords refusing to carry out basic repairs such as fixing heating, electricity, broken appliances, and damp - whilst also refusing to deal with vermin.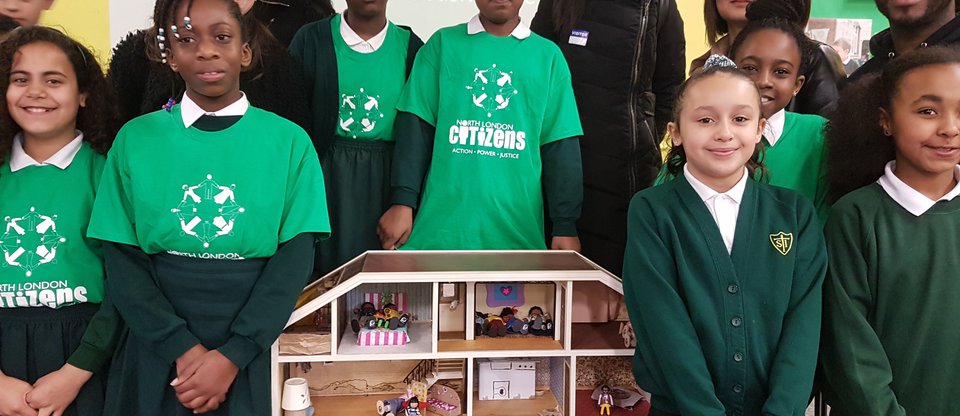 Children from St Ignatius Primary School with researchers from UCL, Generation Rent and Citizens UK
The school children were at the centre of the research project and decided to build a dolls house to illustrate the problems they had heard from the community.
One family have gone months without heating, with this week one of the coldest on record. Despite numerous attempts to complain to his landlord - his landlord has refused to fix the problem
London Citizens is backing their fight for tougher Landlord Licensing in the Borough to tackle rogue landlords who are causing misery to young families.
There has been a wider national debate on tougher rules on landlords and Alok Sharma the Housing Minister recently approved a scheme for Newham to license most of the properties in the borough. Councils, however, are still not allowed to impose full licenses on boroughs and have to go to central govt for approval. Newham's scheme was only approved after a long delay and Citizens UK wants tougher action from Councils and Central Government and wider use of landlord licencing to tackle growing abuses of tenant rights in the private rented sector.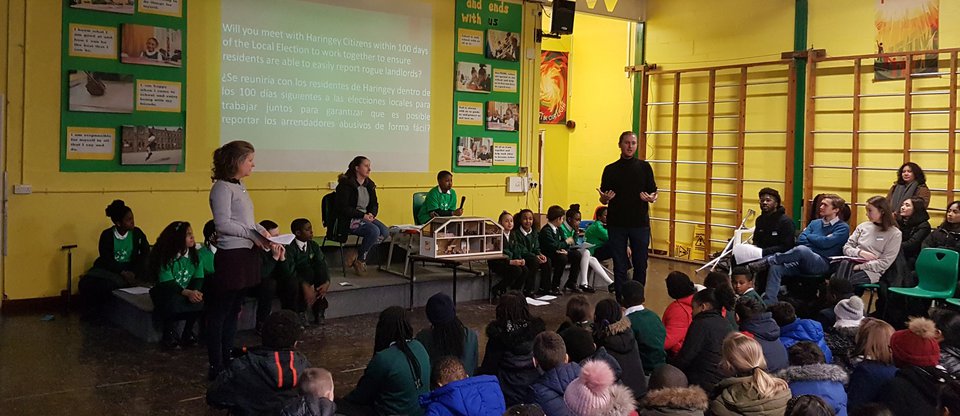 Teacher Claire Hammond and Citizens UK organiser Mike Pugh with school children from St Ignatius Primary School
The children have been carrying out a project alongside University College London to research the issue's impact on young people. The student researchers are available to speak to. On Friday, they will present their 'house of horrors' which will highlight some of the conditions they are living in.
Haringey Citizens has worked with Generation Rent and Middlesex University to produce a report on the private rented sector in Haringey - which they will present to the Council on Friday.
Haringey Council are conducting a consultation into the scheme and Haringey Citizens want to publicly support it and encourage its parents to take part in the consultation - to counterweight opposition from landlords
This follows Newham Council being granted their licence, following the London Citizens action with Bishops in November.
Read more about our housing work here.