Camden Young People Lead the Way to making Camden High Street Safer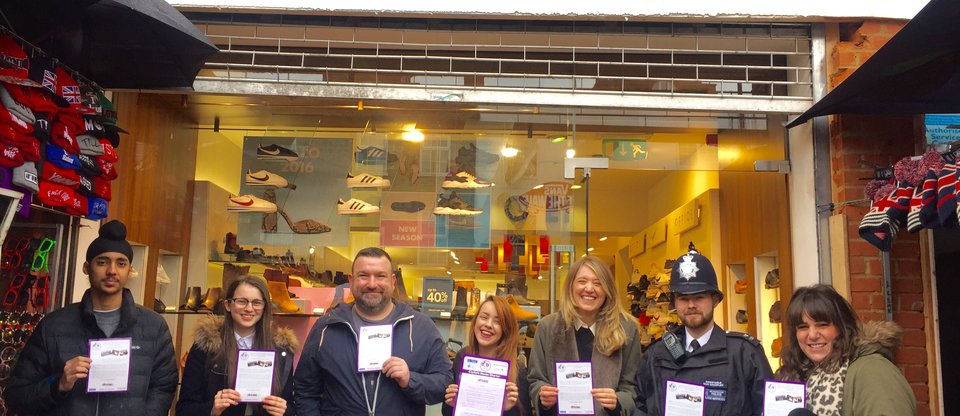 On Saturday 13 th February, local young people and businesses on Camden High Street joined forces to make Camden High Street a safer place for everyone, as they launched the first wave of CitySafe Havens in the area in partnership with Camden Citizens, part of national community organizing charity, Citizens UK.
Young people in Camden raised concerns that when they felt threatened or in danger they didn't feel they had anywhere to turn, and that they were always seen as trouble makers. Fourteen local young people from across Camden decided take the safety concerns of the community into their own hands and make Camden High Street a safer place to be.
From six different schools across the borough, these young people have been trained by Citizens UK to meet with local business owners on Camden High Street to ask them to offer their businesses as places of refuge when they feel in danger. Local business owners and national shops such as Office and Poundland, are opening their doors to the communities younger generation and working with them to make Camden High Street a CitySafe ward.
"Camden Town with Primrose Hill had 3955 total notifiable offences within the past 12 months, and is one of the wards with the highest number of recorded crimes within the borough of Camden" said Lucy Southern, Camden Council. In addition, Camden High Street is a very popular destination for young people, making it a suitable location for creating a CitySafe ward.
"How many times have I walked down this street feeling unsafe? Now I know there are places I can go" commented Anika Hussain, 15 years old, CitySafe Champion.
Councillor Simpson said: "Camden is well known both nationally and internationally as a safe and welcoming destination. However, anything that we can do to mitigate the fear of feeling threatened or being in more immediate danger is welcome. Joining our young leaders, I was immensely impressed at their knowledge and dedication to CitySafe."
What is CitySafe?
CitySafe is a community-led campaign from Citizens UK to make our streets safer. The campaign is about young people building relationships with the police and local businesses to open CitySafe Havens.
CitySafe Havens are places of safety for people in immediate danger or feeling threatened. Each CitySafe Haven displays a purple CitySafe logo in its window and works with the police to report 100% of crime. There are currently over 600 CitySafe Havens across London.
Why are young people involved?
"I wanted to join City Safe because I want young people to feel safe and together I know we can make it happen. If I was feeling unsafe I would want to know of places where I can seek refuge in my local community." Mariam Shahid, 16 years old.
Why are businesses involved?
One of the local business owners to sign up to the scheme after being approached by the young people, Patel Bharat, Camden News, said: "Our shop has become a CitySafe Haven to help the youngsters out. I have kids of my own, and if they were unsafe I would hope that a shop keeper or business would look after them. Its just the right thing to do."
"CitySafe is such a good idea and it is nice to help the young people out when we can. It is great to see them approach us and take a lead" said Rebecca, Office.
Why did you want to become a CitySafe Champion?
"I want to help the community and CitySafe trains me to be able to do that. Young people who might feel vulnerable now have somewhere we can go now. You also can speak to business owners and represent young people, and show ourselves in a different way. We know we are stereotyped and this is showing the good we do" Radeyah Rouf, 14 years old.
"I want to learn leadership skills, and now I feel more confident, I can speak to businesses and not shy away. CitizensUK is helping me be a more active citizen in my community" Arjun, 15 years old.