Camden welcomes refugees to North London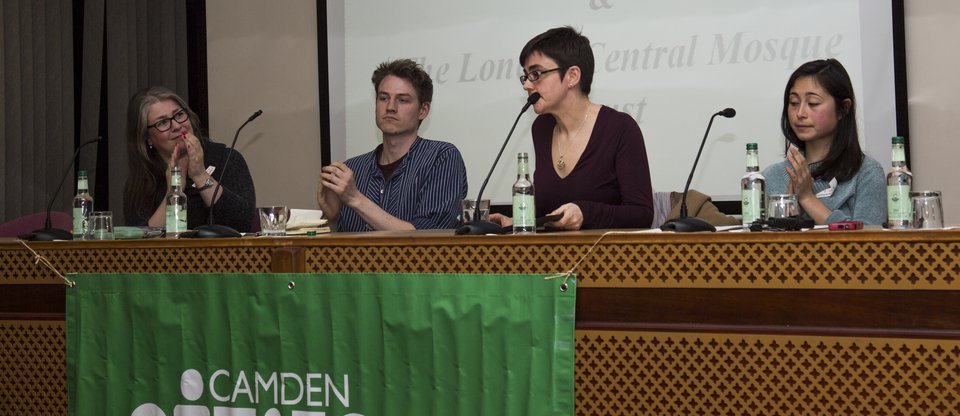 Leader of Camden Council, Cllr Sarah Hayward (pictured third from left), has said the council is committed to housing more refugees in the borough despite having already met their target of settling 20 refugee families by 2020, except for one family who had to pull out due to ill health.
Cllr Hayward was speaking at London Central Mosque last night for 'London Welcomes Refugees: How you can help', an event organised by the mosque and Camden Welcomes Refugees, a grassroots volunteer group from Citizens UK, aimed at showing local residents how they can get involved in Camden's response to the refugee crisis.
More than a hundred people attended the event to hear speeches from Cllr Hayward and representatives from local Christian, Jewish and Muslim organisations who have already started projects to house and help local refugees.
Camden has been one of the most proactive boroughs in helping refugees. Cllr Hayward explained how she was first motivated to lend Camden's support after being "incandescent" at the Government's decision in 2014 to withdraw Royal Navy support for stricken vessels in the Mediterranean; "the policy of the UK government was to let people drown." Initially she and other councillors were told that housing costs in London meant that housing refugees in the capital wasn't a viable option but this problem was soon overcome. Camden has since taken in 42 unaccompanied asylum seeking children and in 2015 committed to housing 20 refugee families by 2020. Despite having already resettled 19 families in Camden, Cllr Hayward said "we will continue to take more refugees as people come forward with housing."
Housing was one of three workshops that were arranged for attendees; showing how everyone can do something to help refugees settle into Camden. Bekele Woyecha of Citizens UK led a workshop on the Community Sponsorship Scheme which allows community groups to sponsor the resettlement of families and individuals in refugee camps around Syria into the UK. Since the 1970s a similar scheme has helped resettle 250,000 vulnerable people in Canada. Tania Bright, Executive Director of Church Response For Refugees, had earlier given a speech on the scheme and on how her organisation is helping community groups meet the specification required to resettle refugees. The UK scheme was announced in June last year Woyecha argued that a few more resettlements would serve as an example to other Local Authorities, helping the scheme get off the ground and enabling more families to escape the Syrian conflict.
Pete Target, a development coordinator at Community Action for Refugees and Asylum Seekers, led the workshop on housing; explaining how the plight of the people he met while working with refugees in Lebanon led him to offer his property for Camden Council to house a family under the Syrian Vulnerable Person Resettlement Programme.
Later this year Camden Welcomes hope to open a coffee club to offer refugees advice, education and anything else to help them acclimatise to the area. Andrew Jacobs of the Barnet Refugee Welcome Board explained how their efforts in conjunction with their local council has seen a similar, and highly successful, centre opened in Barnet with over 60 volunteers. Anneke Elwes, founder of Host Nation, an organisation that helps connect refugees to communities by matching them with local befrienders, also described how friendship is a vital part of helping people to settle in an area and increases the sense of community and cohesion.
Many attendees expressed a willingness to help with the refugee crisis and after Hayward's commitment to keep housing families there is certainly much to be done. Contact:
www.refugees-welcome.org.uk