Brent Landlords and Estate Agents pledge houses in aid of most vulnerable Syrian refugees fleeing conflict in the Middle East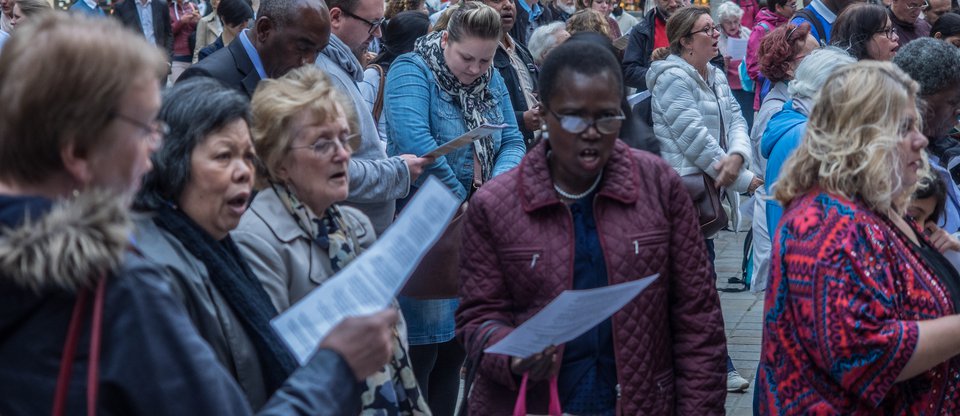 Brent Action for Refugees met with landlords and estate agents from across Brent, asking businesses to do their part in welcoming refugees. The event, hosted by Newman Catholic College, brought together a diverse group of civic institutions.
Oscar Watkins, a volunteer with Brent Action for Refugees said "we decided to hold this event, because we knew that businesses in Brent could do their part to help vulnerable Syrian refugees. This is an opportunity for Brent council to work with businesses and the community to make resettlement a success."
Brent Action for Refugees, working with Refugees Welcome groups across the UK, are calling on the British government to accept 50,000 Syrian refugees; the government has currently only committed to taking 20,000. Citizens UK calculates that 50,000 refugees over five years only represents four Syrian families per year in each constituency.
Nighat Hassan, a volunteer coordinator with Brent Action for Refugees, said "It is easy to forget that in 1972 Brent welcomed 10,000 Ugandan Asian refugees fleeing from persecution. Our community has a history of warmly welcoming the most vulnerable refugees. Unless businesses and citizens come forwards with houses, Brent council may never welcome Syrian refugees.
Several Brent estate agents agreed to help in finding suitable properties, and a few landlords committed properties at the event.
Ahmed Hassan, a Sixth Form student at Capital City Academy said "My mum arrived in Brent as a refugee from Somalia. Without the support of the community my family would have struggled. I love this country, and I love my borough. Now I want to give back to others that are in need."
Citizens UK has seen huge levels of public support for refugees; thousands of people have signed up to help Syrian refugees through the Refugees Welcome website, including 727 landlords who have offered their properties to local authorities to house Syrian refugees. At present, only two properties have been pledged in Brent.
If you are interested in pledging a home, or want to be involved as a volunteer, please email brentaction4refugees@gmail.com