Brent Citizens puts real Living Wage and affordable homes at heart of Brent Poverty Commission
Brent Citizens were delighted to be involved in the six-month review of the causes and consequences of poverty in Brent as part of the independent Brent Poverty Commission. Through our local Citizens Organiser, Brent Citizens members were able to share their first-hand experiences and articulate our priorities as a broad-based alliance.
The Commission produced a report in August 2020 with over 40 concrete recommendations, which Brent Council has committed to implementing to the best of its abilities.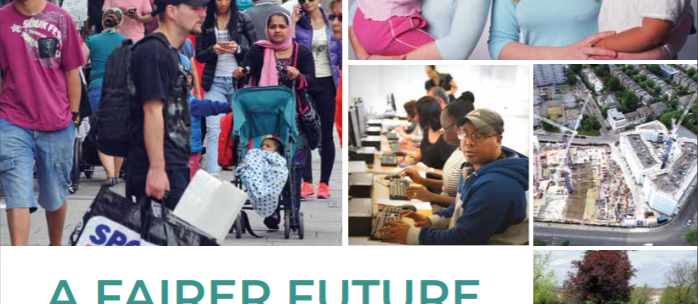 The Commission found that Brent has the second highest number of furloughed workers in London, some of the highest rates of in-work poverty due to low pay and that a shocking 2 out of 5 children in Brent are living in poverty.
In fact, our members shared testimonies of how the covid-19 pandemic has exacerbated the challenges they were facing: from students struggling to learn in over-crowded homes to working parents struggling to put food on the table because they earn less than the London Living Wage.
We are pleased that Brent Citizens priorities are reflected in the following recommendations:
On low pay
Overview Recommendation D: "We recommend that, as a major employer, Brent Council extends its impressive efforts to secure more and better jobs."

"The Commission heard of the exciting prospects for large scale development, including (with two other London Boroughs) the chance to make the Old Oak Common area a major source of jobs and affordable homes. Over the longer term, places like these could also be "Living Wage Places" leading the way for better employment".
On affordable homes
Overview Recommendation C: "We recommend a substantial increase in investment in social housing as a central component for the economic recovery, and the reversal of social injustices, post-Covid.
Our detailed recommendations cover the need not only to build new homes for social rent and to secure more from private development, but also to rigorously enforce standards in the private rented sector"
Lord Richard Best, independent cross-bench peer and chair of the Commission, said: "Our report makes recommendations to ease poverty in Brent by raising incomes. It also shows that poverty is driven by high costs, specifically of private sector housing rents. We call for urgent action to generate the social housing that can address this problem".
Cllr Eleanor Southwood, Cabinet Member for Housing and Welfare Reform at Brent Council, who commissioned the work said: "We wanted to understand the complex causes of poverty in Brent. We will offer a full response in the coming weeks, but I'm optimistic that this marks a new chapter in how we address poverty in Brent".
The full report can be found online here .
Brent Citizens will continue to build people power through our member organisations and engage with decision-makers locally to ensure that these vital recommendations are seen through and go on to directly improve the lives of local people, specifically on our priority areas of championing the real Living Wage and boosting the number of genuinely affordable homes built on the Old Oak Common development and across the Borough.