Barnet Council Agrees to Resettle 50 Syrian Refugees After Barnet Citizens Organise Landlords, Employers, Schools and GPs On St Vincent De Paul's Feast Day
"Rabbi, the answer is yes"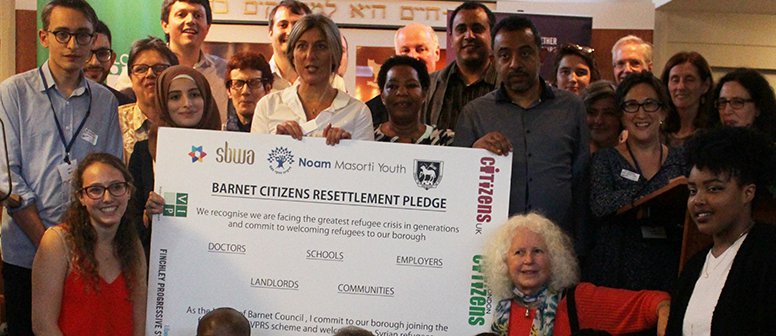 Barnet Citizens, part of national community organising charity, Citizens UK, organised a 'Sanctuary Succot in Barnet' on 27 th September – St Vincent de Paul's feast day – as part of its campaign to persuade Barnet Council to welcome 50 Syrian refugees into the community – resulting in the Leader of the Council, Richard Cornelius responding "Rabbi, the answer is yes" to Barnet signing up to the Syrian Vulnerable Persons Resettlement Scheme.
The event, held at Finchley Progressive Synagogue alongside partner organisations including the Somali Bravanese Welfare Union, Vincentians in Partnership and Middlesex University Student Union, was co-chaired by Rabbi Rebecca Qassim Birk and Sayed Alkadiri, Vice President of Middlesex University Students Union. With 200 attendees from Barnet member communities, the packed hall also included VIPs such as Tim Blackman, Vice Chancellor of Middlesex University, Rabbi Danny Rich, Rabbi Danny Freelander Head of World Union of Progressive Judaism and Richard Cornelius, Leader of Barnet Council. The Church of England based Near Neighbours funded the project, andAbahuzamigambi Rwandan dance troupe performed at it.
Barnet Citizens organised 5 doctor's practices, 2 schools, 3 landlords and work experience and training for the refugees.
Father Mark Connolly highlighted the relevance of St Vincent de Paul when he pointed that "he himself made a perilous journey across the Mediterranean". All Saints and St Mary's schools also offered their support and welcome and were thanked by the communities.
Razan Alakraa from Ayesha Community School shared her story:
"My fiancée was detained and tortured last year for his work as a doctor helping in field hospitals and getting aid to besieged areas of women and children. He has been a refugee in Lebanon for a year and a half unable to leave and waiting for a new life from the UN resettlement team."
Councillor Cornelius said: "London Citizens has a way of pricking my conscience and making me think," before answering he will propose signing up Barnet to the government's Syrian Vulnerable People's Resettlement Scheme at the next Council meeting. Barnet Citizens members have pledged to go along and support him in doing so.
Gillian Stern, a Barnet resident and member of FPS said:
"As a community we feel it is our duty to help. We found local landlords and property owners to commit to allowing their properties to be used to house refugees, and we're also organised a warm community welcome with GP and school places and everything from English classes to mum and baby meet ups being offered and arranged.
"This isn't about an open door immigration policy: these are the most vulnerable people that the UN identifies, sick children, victims of torture and abuse; a refugee camp simply isn't the right place for these families."
Rabbi Rebecca Qassim Birk (Finchley Progressive Synagogue) continued:
"We know it's not easy for a council to say yes, that's why we needed local people to show their support, find homes and offer a warm welcome. There's EU funding available to the council. Together we must act now and revive the great British tradition of helping those most in need."
Over the past year Citizens UK, working in partnership with Avaaz, has already secured commitments from twenty-two councils – including Birmingham, Islington, Kingston, Malvern Hills, Newcastle and Edinburgh - to support 50 refugees, and Glasgow has agreed to support 100 Syrians. Now groups across the country, including Barnet, are calling upon their local authorities to follow their lead and commit to accepting refugees.
Citizens UK has seen an incredible surge in the public appetite to help refugees in response to the recent tragic photos of Alan Kurdi, the three-year-old Syrian refugee washed ashore in Turkey. In response, Citizens UK has launched a major national resettlement drive with communities pledging to find 5,000 homes for people seeking sanctuary and to challenge local and national government to step up.
The campaign aims to help resettle 20,000 people nationally over the next two years. Most urgently needed are homes (not spare rooms) for Syrians to rent at local authority housing benefit rates.
Citizens UK is now taking their campaign to a national action on Parliament Square on the 13 th October, asking for 1000 people to be resettled before Christmas.
ENDS
Notes to editors
Contact : Charlotte Fischer on 079000 65941 for more information and photographs