Alyth Synagogue Hosts First National Refugees Welcome Convention- 70 years after they opened as a resettlement centre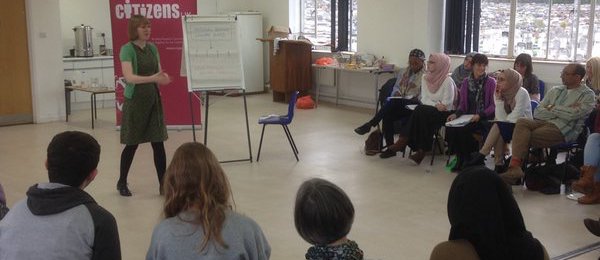 Alyth Synagogue hosted 50 Jewish, Muslim, Christian and non faith community leaders from around the country for a two day refugees welcome training on the 28th and 29th of November. This launched the national refugee welcome movement organising efforts as well as marking 70 years since the synagogue acted as a resettlement hub for Jewish communities fleeing persecution.
The training, run by Citizens UK, brought people together from Barnet to Bristol to train up 50 new teams across the United Kingdom, working to ensure Syrian refugees are resettled in their neighbourhood – and then to welcome them into their local communities.
Alyth Synagogue, based in Golders Green and counting 1% of all British Jews in its membership, acted as a resettlement centre for Jews in the 1930s. Rabbi Mark Goldsmith said
" As both the hub of resettlement activity for Jewish communities in London in the 1930s and as members of Citizens UK, we were proud to host the two day training and play our part in keeping the spirit of sanctuary alive"
Razan Alakraa, a Syrian woman and member of Barnet Citizens, said
"I have been so delighted to work with Jewish communities through Citizens UK and the training in Alyth took my breath away. I have prayed in a synagogue and church this weekend and I've never felt more at peace with my religion and their religion"
The UK government has promised to settle 20,000 Syrian refugees in the next 5 years but currently less than 300 people have been resettled over the last two years. 4 million refugees have been created as a result of the crisis – with around 10% needing resettlement due to vulnerabilities such as urgent medical need or torture.
Barnet Council is due to receive 50 Syrians beginning around Christmas. The Council Leader, Richard Cornelius, credited Citizens UK as the reason it happened.
He said "I have said that we will offer places to 50 Syrian refugees because London Citizens have got themselves organised and they have removed all of the objections I could have come up with – the housing, the doctors, the reception into the community".