Solidarity forever, for the union makes us strong
In this blog, UNISON North West Organiser Conor McGurran, shares what he is taking away from Citizens UK's national training in community organising and reflects on the areas of common interest between unions and Citizens alliances around which power can be built and change affected.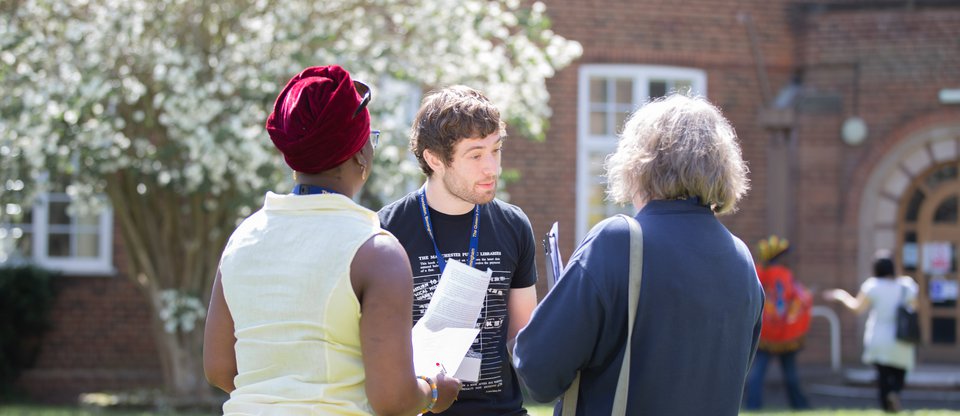 Conor taking part in a role play during which trainees organise a campaign action to put into practice learning gained so far on how to effectively organise around a common interest and negotiate with power-holders.
Trade unions talk a lot about collective strength, as evidenced by the lyrics "Solidarity forever, for the union makes us strong" taken from the much loved union song Solidarity Forever .
Last year, Greater Manchester Citizens (GMC) ran a one day community organising course specifically for UNISON activists. GMC organiser Furqan Naeem asked the attendees what they felt about the word "power" (as Citizens UK community organisers are very fond of doing.) You could sense the group bristle in discomfort. The responses were overwhelmingly negative: exploitation, corruption, unfairness and inequality were what our UNISON reps associated with power. I could understand where they were coming from.
Earlier this summer, I completed the Citizens UK 6 day National Community Organising training and I am now on a quest to help UNISON branches make peace with the concept of power . One of the first and most crucial topics the training deals with is power- who has it, and how we can get some of it in pursuit of social justice. UNISON is the trade union for public service workers and many UNISON branches contain thousands of members which make them one of, if not, the biggest community organisation in their local area. If we are not comfortable with being powerful, then how can we expect the biggest employers in the region such as NHS Trusts or local councils, to consider us their equals and treat our members fairly?
The 6 day training course was packed full of excellent content delivered by inspirational organisers and was made all the more worthwhile by the insightful contributions of fellow attendees, who represented a remarkable diversity of community organisations from up and down the country. The training naturally led me to consider the similarities and differences between Citizens UK and UNISON. Spoiler alert: there are more similarities than differences...
Trade unionism has a rich history which stretches back centuries. Community organising is often painted as the new kid on the block in trade union circles, but in fact it also has a fascinating past of its own which can be traced at least to the 1930s, if not earlier. Both Citizens UK and UNISON are in the business of identifying leaders and equipping them with the tools to achieve socio-economic justice . UNISON and Citizens UK are two organisations which appreciate the diversity of their respective memberships and which fully understand the strength of the collective.
UNISON branches are always supportive of their members, providing advice and representation on employment issues to public sector workers. Too often though, senior activists are stuck in the union office, bogged down in representing members on individual issues, which takes them away from proactively winning improvements for groups of public service workers. The 6 day training brought into sharp focus for me the need for UNISON branches to identify and empower a new generation of leaders, who understand the issues our members are facing, and are able to secure enough support from their colleagues to make a real difference.
My conclusion from the 6 day training was that the tools of community organising go hand in hand with the methods modern unions aim to employ to strengthen their branches at work. On top of this, as a public sector union, it makes sense for UNISON branches to genuinely participate in their local communities outside of the workplace. Our local communities want properly funded, high quality schools, hospitals and social care just like our members do, and our demands for fair funding are substantially more powerful when made on behalf of the whole community. The other side of that coin is that our members face issues in their local community such as housing, hate crime and Universal Credit which are not directly related to their employment. In Greater Manchester, UNISON branches have joined together with schools, mosques, churches, synagogues and other community organisations to form a powerful collective which is beginning to tackle these issues collaboratively.
The union should make us strong as the song Solidarity Forever reminds us. In the North West, I hope we can utilise some of the proven community organising techniques taught during the 6 day training to ensure that our leaders are empowered to feel powerful and make change.