Rishi Sunak should live a day in Care Worker shoes.
Rishi Sunak should live a day in Care Worker shoes.
When I tell people about my job, and what I get paid, they cannot believe it.
Carol is a support (care worker) and has been working in the sector on minimum wage for over 12 years
Social care is not getting the attention it desperately needs, and we are at breaking point. We were promised as key workers we would be valued, but, for me, people working with adults with disabilities are at the bottom of the pile even within our neglected care system. We do not have the parity of pay and conditions as people working in the NHS. We feel left behind and morale is so low.
Not everybody could do what we do. Social Care is a skilled profession. We are on shift for 24 hours delivering personal care and medication. There are huge responsibilities and the work is very demanding and mentally draining. You need a lot of empathy and patience.
To carry out this work for £8.72 an hour is an insult. I have been a support worker for 14 years. When I started, my job was under the NHS but is now run by a private care company. We now have more responsibilities yet earn less money, even while working through the pandemic and putting ourselves at risk. We carry on under constant pressure: providing an essential service to some of the most vulnerable people in the community and making sure they are kept safe.
It is time our pay matches our responsibilities. We need the real Living Wage and full sick pay for social care employees.
The Government say no one should lose money to have to self-isolate. But the reality is we only receive statutory sick pay, so are forced to take a cut in our wages or take annual leave. I have a colleague who was very ill in hospital with COVID and was told to take annual leave for his time out of work. His partner, who is in the same job, had to isolate and lost £480 out of her wages that month. They are only on national minimum wage to begin with. Despite what the government says, this is the reality of how we are treated as care workers today.
One year into the pandemic we have only now started to have regular testing. But we need proper pay and protection for when we then need to isolate. The government has said extra funding has been made available, but, in England, we have not received any support like our colleagues in Scotland and Wales.
Where I live in Lancashire, our county council made a substantial cut to our pay in April last year. We took strike action against it, but it went ahead despite the pandemic and the fact that staff were catching COVID through work. People have since lost thousands in wages because of this alone.
This means some of my colleagues are working extra hours and some are even using food banks. They care deeply about their work, but many are planning on leaving for roles in the NHS and even supermarkets, because of the better pay and working conditions there. When we lose staff it is the people we care for who are also affected. People with autism especially need regularity and familiarity for their wellbeing.
I have thought about leaving but talked myself out of it. I love my job and I care so much for the people I work with.
So today, I am fighting for my colleagues and I am appealing for the government to listen. We are at breaking point and need a lifeline. But there is a simple solution. Being paid at least the real Living Wage and full pay when sick or having to isolate because of COVID would be a lifeline. We simply want our hard work and responsibilities to be recognised and valued – put the funding into social care to achieve this.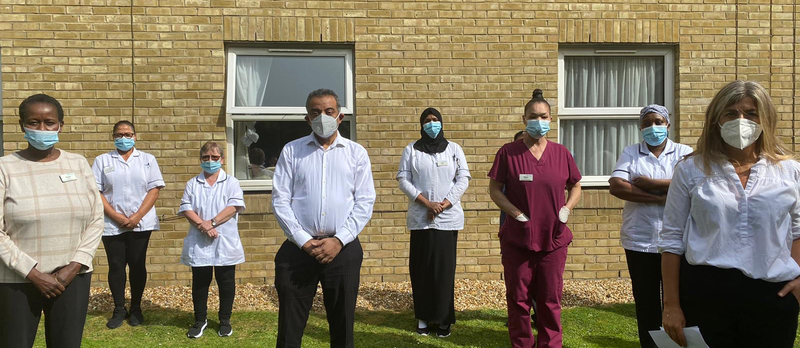 Take a couple of minutes to support Carol and fellow care workers