#MisogynyIShate: a summer of campaigning across Greater Manchester
Sylvie Pope, Citizens UK leader at the University of Manchester, blogs about how Greater Manchester Citizens have led a powerful campaign to classify groping, stalking and other crimes motivated by misogyny as hate crimes - in the region and at a national level.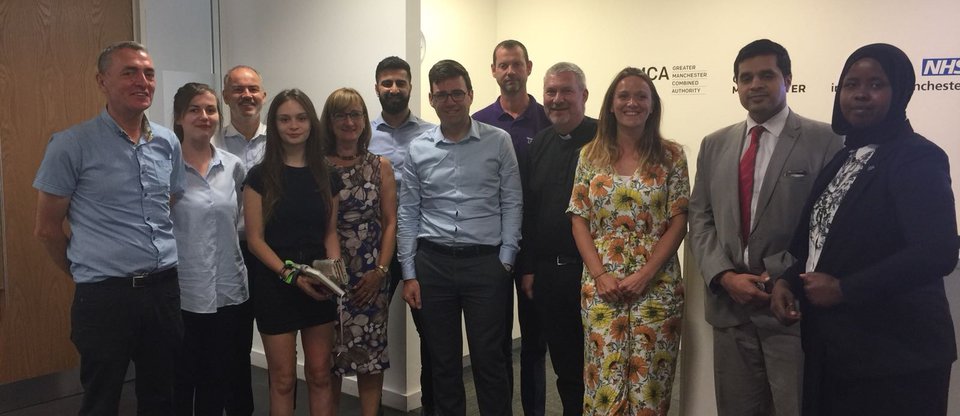 June 2018
A year on from our Founding Assembly, individuals from Greater Manchester Citizens' member institutions sat down to meet with newly elected Mayor, Andy Burnham.
The Headmistress of Levenshulme High School for Girls, Dr Jo MacKinnon, and I explained why Greater Manchester Police ought to recognise misogyny as a hate crime this year: 2018 marks 100 years since the beginning of women's suffrage. Particularly poignant in the debate over progress and equality is our very own Manchester, a city historically famed for being a proponent of such. We also emphasised how urgently this change is needed: sexual harassment and assault are endemic and a survey conducted by Greater Manchester Citizens indicates that 90% of the women responding believe misogyny should be recognised as a hate crime.
I was more than a little surprised to hear that no one had ever "put misogyny across to [him] like that" but delighted at Andy Burnham's willingness to set us up a meeting with Deputy Mayor and Police and Crime Commissioner Bev Hughes. are due to meet with Bev Hughes next week, on the 11th September.
The Context: 2017-2018
Whilst this was a fantastic start to our summer campaign, recognition must be given to the women who originally stepped forward to highlight the issue of misogyny .In the run up to the founding of Greater Manchester Citizens as a chapter of Citizens UK in 2017, our member institutions asked Mayor Andy Burnham and his office to instate a lead for Social Cohesion and Hate Crime to help make our streets safer. His almost immediate success in doing so has evidently helped to facilitate our mutual respect.Then, at the beginning of this year, women from our member institutions asked for a campaign to involve misogyny within the hate crime debate. In May women from institutions including UNISON, Petrus, Caritas, Cheadle Mosque, Manchester Vineyard, the Methodist Church, and the University of Manchester Student's Union sat down to plan out the beginning stages of this campaign. This is when I became involved and enthusiastically agreed to help in any way I could.
June-July 2018
Prior to our meeting with Andy Burnham, we held various meetings with women from the local community to establish a core team of campaigners. We released a video announcing the campaign launch, which Chief Constable of Greater Manchester police Ian Hopkins responded to, saying that the National Police Chief's Council would be including gender-based Hate Crime on the agenda for the upcoming quarterly assembly. The Tab Manchester also became interested in our campaign, writing a short piece on the work so far achieved and the events to come.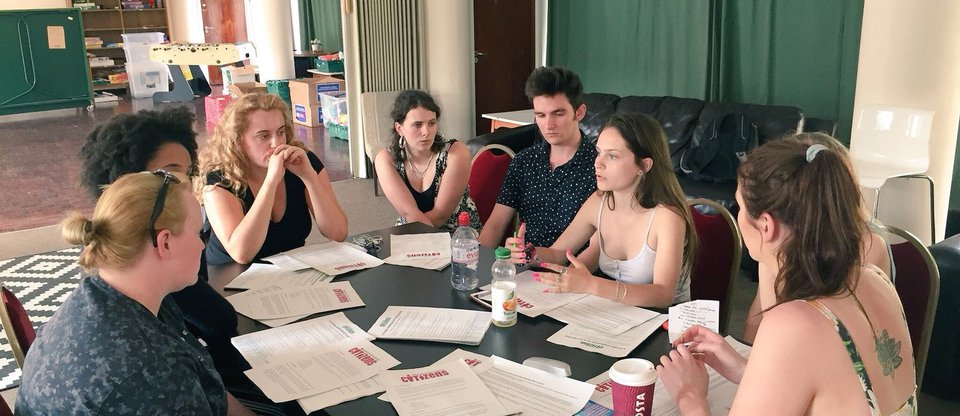 A small team of us travelled to the Citizens UK National Council meeting on the 30th June with Levenshulme High School Headmistress Jo MacKinnon, a member of her staff team and two pupils from Year 10 who were excited to experience community organising in action.We had the opportunity to present our case for making Misogyny a Hate Crime to Andrea Leadsom, leader of the House of Commons. We were encouraged by her sympathy for the cause but slightly disappointed as she was unable to pledge official support.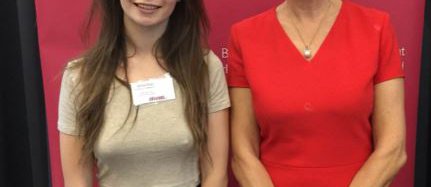 Shortly afterwards, we were invited to speak on BBC Breakfast about how our regional campaign fits within the wider Citizens UK effort to the national campaign. We also had an another article published in the Tab Manchester on the topic.
Launch Event at Levenshulme High School, 18th July
Our launch event took place in the presence of 200+ school pupils and various members from the local community, including from charities and faith groups such as UNISON, Petrus, Cheadle Mosque, the Methodist Church and students from The University of Manchester and Manchester Metropolitan University. Pupils from Levenshulme put on a compelling and thought-provoking drama performance based on misogyny, whilst others spoke about their personal experiences and the choir sang in one of their first performances since the Manchester bombing tribute held a few months prior. The event ended with a joint action of singing Amazing Grace and a group photograph of all the students holding up signs and a letter to Deputy Mayor, Bev Hughes.
In some of our most exciting news, Manchester Evening News published a full weekend spread on our campaign launch online and in print.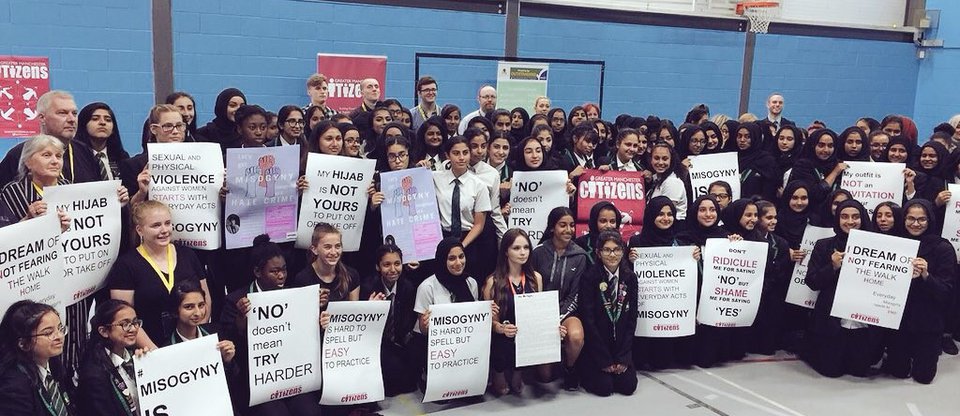 Launch-Present
Since our launch event we have had our first meeting with Greater Manchester Police, speaking to the head of the Communities and Neighbourhood department. She and her colleagues were great proponents of the cause and wanted to receive all of our information on the Nottingham campaign and Manchester proposals to present to her team. We are now eagerly preparing for our meeting with Deputy Mayor and Police and Crime Commissioner Bev Hughes, taking place on the 11th September.
We strongly hope that MPs vote in favour of making misogyny a hate crime on Wednesday 5th September, and look forward to mobilising students and women across Manchester in the next cycle of our campaign.