Manchester Divided: The true cost of Alexis Sanchez's record £400,000 a week salary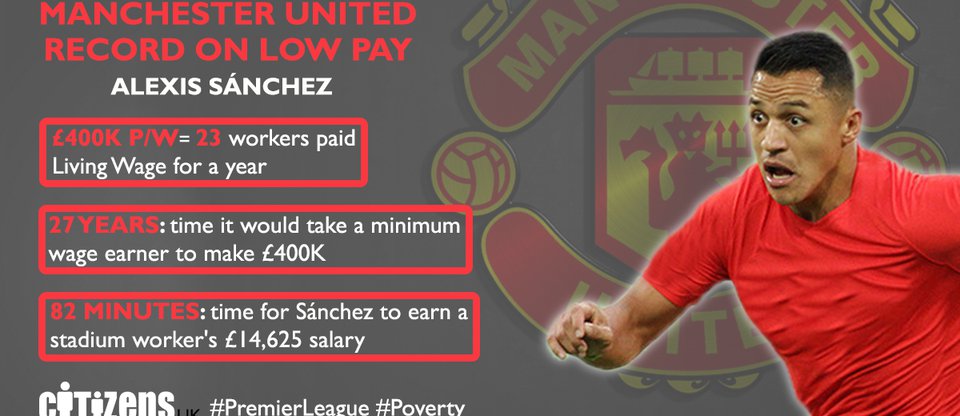 Community leaders from Manchester Citizens call foul play on low pay at Old Trafford as the January 2018 winter transfer window closes with record outlays and sky-high player salaries.
As Manchester United is once again named as the richest club in the world, life on low pay for sub-contracted workers at the Theatre of Dreams is a very real nightmare.
Sign our open letter calling for Manchester United to become an accredited Living Wage employer
here
.
It will take just 82 minutes into Alexis Sanchez's
potential Old Trafford debut against Huddersfield (03/02/18) to earn the annual salary of a low-paid stadium worker (£14,625)*
Highest paid Premier League footballer in its history reveals a grotesque tale of two halves with many low-paid staff struggling to make ends meet, with some on less than £7 per hour, prompting Manchester Citizens action**
A minimum wage worker needs to work 27 years to match new Manchester United signing Sanchez's weekly £400K salary (just shy of the Chilean's 29 years of age)
Shockingly for the Sanchez deal, 'super-agent'
Fernando Felicevich's super-sized reported £15M transfer fee
would allow 6,100 low paid workers in the community to take home an extra £2,437.50 per year if uplifted to the real Living Wage rate
A losing game for low-paid staff
As the 2018 winter transfer window closes on record-breaking player pay, low-paid staff at the Theatre of Dreams are facing a real nightmare to meet the real cost of living, as the club refuses to pay a voluntary real Living Wage rate (£8.75 per hour).
The renewed campaign for the club to pay a real Living Wage launched by civil society alliance Manchester Citizens, part of community organising charity Citizens UK comes as Manchester United achieved the roll-over title of richest football club in the world for 2016/17 yet only pays minimum wage rates to its security staff, cleaners and caterers.
Sanchez's transfer to the Northern city sees the top five highest paid footballers in the Premier League dominated by Manchester clubs, finishing top of the rich list, with his salary reportedly between £400k and £600K, followed by Pogba (£290K per week, rumoured to be negotiating a further increase), De Bruyne (£280K per week), Lukaku (£250K per week), and Ibrahimovic (£220K per week) .
A red card for poverty pay
As sky high salary increases of Premier League footballers show no signs of abating, Greater Manchester Citizens have responded with a planned action outside Old Trafford as part of a national campaign to tackle low pay at football clubs.
The campaign kicks off with a letter addressed to CEO of Manchester United Ed Woodward, signed by community leaders and club supporters.
The letter, being handed in to Manchester United Headquarters at Sir Matt Busby Way by a group of community leaders and football fans the morning of Thursday.
The letter has received backing from local MP Kate Green as well as Churches, Trade Union branches, Housing Association, Student Bodies and Manchester United Fan Clubs.
Reverend Ian Rutherford, Chair, Greater Manchester Citizens and City Centre Minister at Methodist Central Hall, Manchester said:
"As the winter transfer window closes many workers at Old Trafford will be choosing between putting the heating on or a hot meal. We've heard many stories about the real cost of life on low pay for workers at Old Trafford, many of whom are employed directly and struggling to live with dignity."
"We are calling on Manchester United, which already makes such a positive contribution to the UK economy, to show leadership by recognising the asks of the local community and acknowledging that fair pay can go a long way to improve the lives of their employees at the other end of the pay scale."
Neil Jameson, Executive Director of Citizens UK said:
"Chelsea, Everton and West Ham are setting the standard on low pay by accrediting with the Living Wage Foundation and paying a higher, voluntary rate. We would urge all fans and their communities to get behind our campaign for all Premier League Clubs to pay a real living wage and become accredited Living Wage employers."
"Not only is Manchester United turning a blind eye to the harsh realities faced by the undervalued low-paid staff it employs, the club seemingly has a bottomless pit to pay players. It's time they showed leadership by getting their house in order and doing the right thing by those who work hard for them off the pitch".
Kate Green MP for Stretford and Urmston said:
'I'm proud to be the member of parliament for Manchester United. I'd be even prouder to see them become a Living Wage employer and an example to other businesses in Greater Manchester'.
-ENDS-
Notes to editors
About Citizens UK
Citizens UK organises communities to act together for power, social justice and the common good. We are the home of community organising in the UK, with diverse civil society alliances in London, Milton Keynes, Nottingham, Birmingham, Wales, Leeds, Newcastle and Manchester. We develop the leadership capacity of our members to organise against social injustice affecting their communities.
About the real Living Wage
The real Living Wage is the voluntary rate some businesses voluntarily pay to ensure their staff have a basic salary that meets the cost of living. The UK Living Wage is currently £8.75 per hour. The London Living Wage is currently £10.20 per hour. This figure covers all boroughs in Greater London. These figures are calculated annually by the Resolution Foundation and overseen by the Living Wage Commission , based on the best available evidence on living standards in London and the UK.
The Living Wage Foundation recognises and celebrates the leadership shown by Living Wage employers across the UK by accrediting those who pay the higher real living wage rate. The real Living Wage is calculated according to the basic cost of living in the UK. Employers choose to pay this wage on a voluntary basis. There are currently over 3,800 accredited employers.
What about the Government's national living wage?
In July 2015 the Chancellor of the Exchequer announced that the UK Government would introduce a compulsory 'national living wage'. This new government rate is a new minimum wage rate for staff over 25 years old. It was introduced in April 2016 and the current rate is £7.50, rising to £7.73 in April 2018. The rate is separate to the Living Wage rate calculated by the Living Wage Foundation. The government rate is based on median earnings while the Living Wage Foundation rate is calculated according to the cost of living.
*Workings based on a 37.5 hour working week and a National Living Wage Hourly rate of £7.50