Greater Manchester's Get Together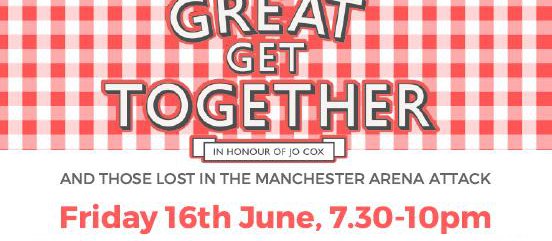 https://www.eventbrite.co.uk/e/greater-manchester-great-get-together-tickets-35192342243
Invitation from Brendan Cox, The Jo Cox Foundation, Andy Burnham, Mayor of Greater Manchester and Sir Richard Leese, Leader of Manchester City Council
Dear Friend
On behalf of Greater Manchester Citizens, Manchester City Council and the Greater Manchester Combined Authority we would like to invite you to th e Greater Manchester Great Get Together.
Inspired by the memory and the values of Jo Cox, the Great Get Together is essentially a chance for people of different communities, faiths and backgrounds to come together in celebration and commemoration. We are honoured that communities and organisations across the country are holding tens of thousands of events across the country, bringing together people of different backgrounds, ages and beliefs.
After the tragic events of the past few weeks where so many innocent lives have been lost in Manchester and London, we believe that it is now more important than ever to unite to express our grief for lives lost, our resolve to fight hate in all its forms and our commitment to hold to our values.
In that light we hope that the many events across Manchester planned for the Great Get Together will provide an opportunity for people to come together. Some will want to gather in the centre of the city and this event, taking place in the Cathedral Gardens just by Manchester Arena, will provide that opportunity.
We are keen that the event unites people from diverse backgrounds from across the Greater Manchester area. We would be delighted if you were able to join us at the event with family, colleagues and other representatives of your community.
The event is open to everyone of all faiths and none, and from all cultures and all communities. We hope that it will be a true celebration of Manchester's unique multicultural community.
Food will be available, including halal food at the end of the fasting day for Muslims. There will be planned entertainment and children's activities. The event will be covered by Channel 4 and will feature on their Last Leg programme on Friday evening.
If you have any further questions or want to help contribute please contact Furqan Naeem at Greater Manchester Citizens ( furqan.naeem@citizensuk.org ) or James Bevan and Mike Buckley at the Jo Cox Foundation ( james@greatgettogether.org / mike@moreincommon.co ).
We look forward to welcoming you to the event.
Yours sincerely,
Brendan Cox, The Jo Cox Foundation, Andy Burnham, Mayor of Greater Manchester, Richard Leese, Leader of Manchester City Council.
https://www.eventbrite.co.uk/e/greater-manchester-great-get-together-tickets-35192342243