Greater Manchester Citizens send message to show we want to build bridges and not walls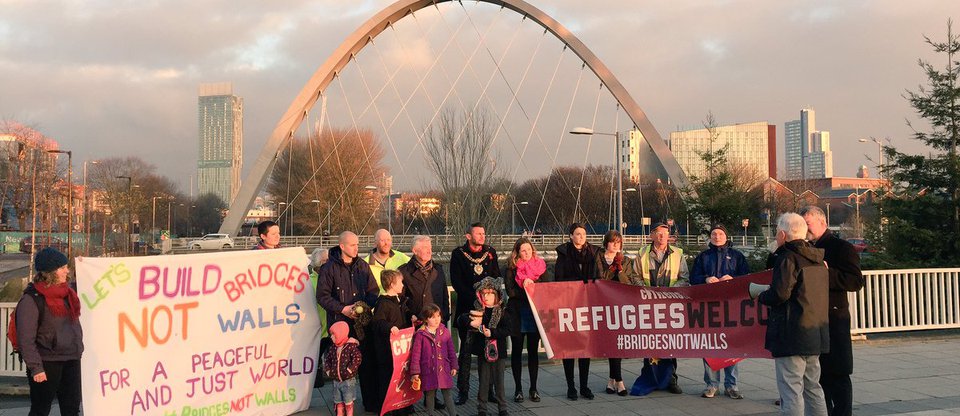 Greater Manchester Citizens, a chapter of the national community organising group Citizens UK are dong an action this coming Friday 20th January bringing together communities to show solidarity towards immigrants and refugees with the rest of the world. On the day of Donald Trump's inauguration as president of the USA, banners will be dropped from bridges across the country to send a simple, hopeful message: we will build bridges, not walls in the face of hate, fear, lies and division.
The action in Manchester took place at Hulme Bridge on Friday 20th January. The action brought together community groups working with Greater Manchester Citizens as well as key leaders from the city. We had an opportunity to hear from some of these speakers at the action.
Neil Jameson CBE, Executive Director of Citizens UK who will be joining the action in Manchester said: "Citizens UK has been building bridges between communities for more than 28 years, to support peaceful, pragmatic and humanitarian resolutions to the challenges facing people in our local communities and around the world. This is not to ignore genuine concerns; global challenges are bringing issues right into our communities and they won't go away by building walls. Look at how the world rejoiced and life was invigorated by the Berlin Wall coming down in 1989! War and want around the world have created issues that require due care, compassion and the kind of creative thinking that will make the world a better place to be.
" We need solutions that don't make us hang our heads in shame from inside gated and walled communities."
Sir Peter Fahy the former Chief Constable of Greater Manchester Police, and Chair of the Greater Manchester Citizens sponsoring committee said: "There are understandable fears about uncontrolled immigration from all communities and illegal migration is not the answer to the problems of the developing world, but it is about the tone of that debate and our commitment to find shared solutions rather than scapegoating certain minority groups."