West Ham United Football Club joins Living Wage movement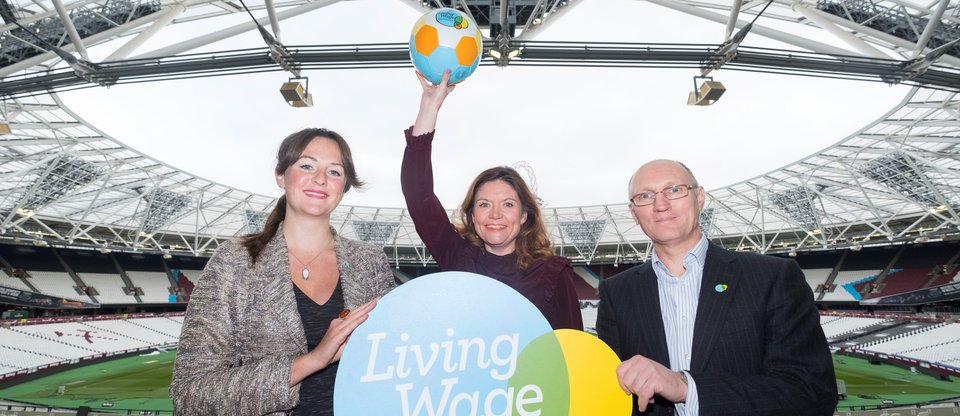 Picture shows: Lola McEvoy, Living Wage Foundation,Tara Warren, Executive Director, Marketing and Communications, West Ham United and Stuart Wright, Chair of Living Wage Advisory Council, who joined Citizens UK leaders and West Ham staff to celebrate accreditation of the football club as a living wage employer.
West Ham United Football Club vice-chairman Karren Brady announces the club is joining the Living Wage movement
Living Wage campaigners at Citizens UK today celebrated the news that West Ham United became an accredited London Living Wage payer at a ceremony at London Stadium this morning.
The Hammers become the third Premier League club to be accredited by the Living Wage Foundation, after Chelsea and Everton.
The commitment sees everyone at West Ham United, regardless of whether they are direct employees or third party contracted staff, receive a minimum hourly rate of £10.20, significantly higher than the statutory minimum for over 25s of £7.50 per hour.
The Hammers have been paying all permanent employees at the level of the London Living Wage since 1 June 2015, but previously could not be accredited by the Living Wage Foundation due to some London Stadium staff not receiving the London Living Wage.
London Stadium's owners have now committed to pay their employees the London Living Wage and are working on setting a timeline to uplift staff wages, which means that West Ham United can now be officially accredited. TELCO, the East London branch of Citizens UK is working with London stadium workers employed by third party contractors at the venue to confirm the timeline on their own pay increase to London living wage. This was promised earlier this year by the London Stadium following the Mayor of London's intervention in support of low paid cleaners working there.
The Living Wage campaign is an independent movement that originates from east London, which is supported by businesses, organisations and people who believe 'a hard day's work deserves a fair day's pay'.
The aim of the movement is to provide an ethical benchmark for responsible pay, and employers choose to pay the real Living Wage on a voluntary basis
The London Living Wage is independently calculated every year based on what employees and their families need to get by. The calculation is based on a social consensus of what people need for a decent standard of living and to participate fully in society, including things like housing, transport to work and heating, but also enough for small birthday celebration or a trip to the cinema.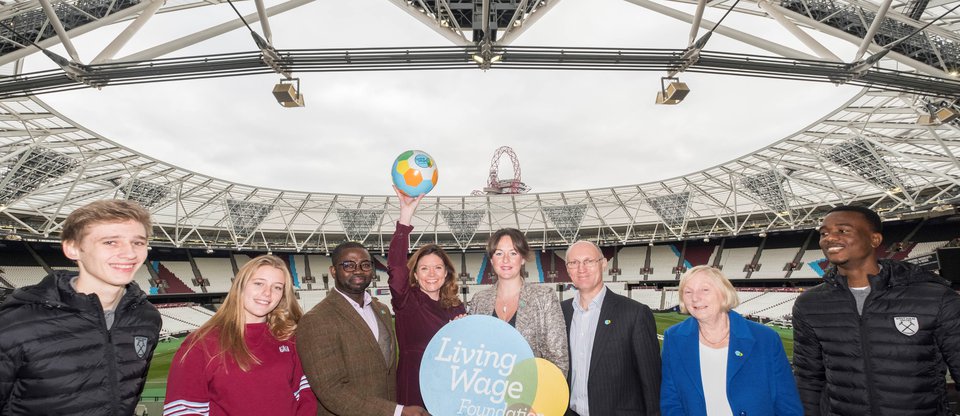 West Ham United vice-chairman Karren Brady said , "We are absolutely delighted to have secured the Living Wage Foundation's seal of approval as an accredited London Living Wage employer, and hope to act as a good example for all other Premier League clubs and big businesses in London.
"The Living Wage Foundation accreditation is something we have been working towards for a long time, including lobbying the Mayor to help encourage our landlords to commit to paying a fair day's pay, and we are over the moon to now be in a position where we can finally become a recognised Living Wage employer.
"The football club isn't just made up of the 11 players on the pitch, and by making this commitment we hope to ensure that West Ham United continues be a place where the best talents want to ply their trade, and London Stadium, Rush Green and Chadwell Heath are environments in which they can achieve their goals.
"We recognise the contribution of each and every employee at the club, and rewarding and retaining our staff is a major part of that. We take pride in the way we conduct ourselves as an organisation on and off the pitch and by doing the right thing and paying the London Living Wage, we hope this will urge other clubs to soon follow suit."
Katherine Chapman, Director of the Living Wage Foundation said, "We are delighted that West Ham United have become the third Premier League football club to sign up as an accredited Living Wage employer, ensuring that all their staff receive a real Living Wage that covers the cost of living. That's a pay rise for almost 200 people, including cleaners and staff at their training facilities.
"The Living Wage badge is the mark of a responsible employer and West Ham United are joining a movement of over 3,700 employers across the UK who are making sure that all employees can live with dignity.
"It's fantastic to see West Ham United's leadership and I hope more football clubs will take their lead and follow suit."#
Michael Pugh, Living Wage campaigner at Citizens UK, reacted to the news:
"We're very pleased that West Ham is championing the Olympics legacy, joining other businesses in East London creating good jobs that pay a London living wage to reflect the cost of living in the capital. Leaders from TELCO, the East London branch of Citizens UK have been campaigning on this issue ever since the first East London cleaners organised and won a real living wage from Queen Mary University London in 2001.
"With West Ham's fantastic decision and Liverpool expected to join them soon as a Living Wage accredited employer in 2018 there is growing recognition amongst football clubs that a real living wage is the right way to ensure everyone in the local community benefits. Citizens UK is now looking to other big clubs like Manchester United and Manchester City, between them earning a whopping £1 billion in revenue, to show leadership and pay their employees and contractors a real living wage."