Redbridge Citizens leads CLT action on Council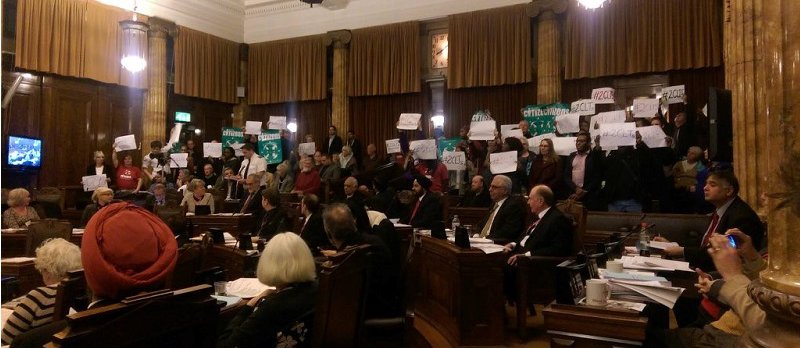 Thursday 19th November saw 83 leaders from 3 organisations leading an action on Redbridge Council. Having waited for 40, John Clifton of the Salvation Army was able to ask the Leader of the Council Jas Athwal whether he would support the Fairness Commission Recommendation to build 2 Community Land Trusts (CLT) in the Borough. This was followed by all the leaders standing with their #2CLT posters and TELCO banners.
The reaction from the entire room of the full Council was unexpected - they gave the alliance a warm round of applause in recognition of the power and commitment demonstrated by the leaders. This was followed by a number of tweets from councillors commending the way the way Redbridge Citizens have run the campaign. The leader of the Council has agreed to join the '300 Celebration' next year and visit St Clements CLT next week.
Cllr Athwal committed to joining Redbridge Citizens at their '300 Celebration' next year (after having sold their target of 300 shares in the CLT) and to visit St Clements next week. By way of an update, Redbridge Citizens have got 38 CLT sign ups and are keen to build on this achievement.