Redbridge Citizens Get Together with Wes Streeting MP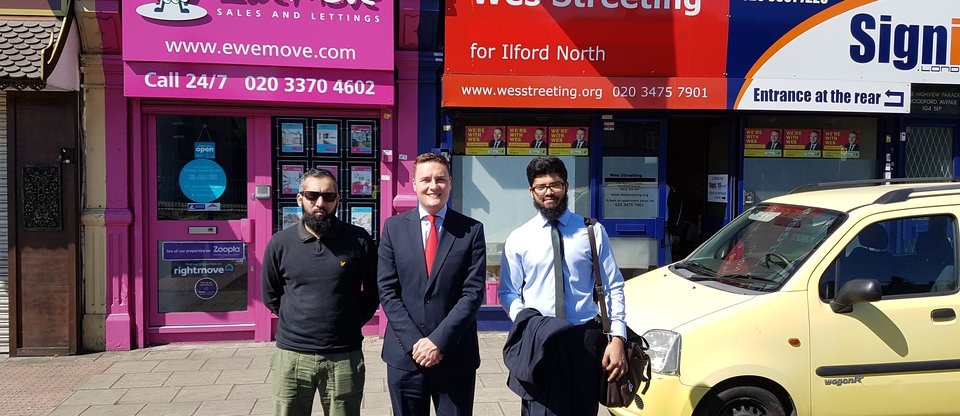 REDBRIDGE CITIZENS TO BUILD A WORKING RELATIONSHIP WITH WES STREETING MP
Redbridge Citizens, part of national community organising charity, Citizens UK, today welcomes Wes Streeting, returning as the MP for Ilford North and looks forward to working with him in the future.
Captain Naomi Clifton, a leader of Redbridge Citizens from The Salvation Army, Ilford Corps, said: "We are also very pleased that Wes hopes to join us for an iftar to celebrate the Great Get Together on 13 June in memory of Jo Cox, the MP murdered last year. This is a fitting way to mark the start of our common work; local people from a whole host of diverse institutions coming together with their MP to tackle issues around the common good. We have more to unite us than to divide us."
Before the elections representatives Redbridge Citizens met parliamentary candidates in Gants Hill to tell them their concerns and to invite them to join in the Great Get Together, should they win the parliamentary seat. Each candidate was also asked to meet Redbridge Citizens at an early stage if elected.
The aim was to build and develop relationships between civil society members and whoever was elected as the local MP.
Taaseen Rahman, from the Redbridge Islamic Centre, said: "We wanted to meet the candidates to let them know which issues were important to us. We thought it would be great if the elected MP joined us for the Great Get Together Meal so they could meet their electorate and help build a strong relationship with civil society. We look forward to working together on building the Living Wage campaign in the Borough, amongst other local issues."
Background
Redbridge Citizens is a diverse alliance of 7 local schools and faith groups including Saint Thomas Catholic Church, Redbridge Islamic Centre, The Salvation Army, Ilford Corps, Saint Margaret of Antioch, Trinity Catholic High School, Palmer Catholic High School and Saint Antony's Catholic Primary School. They represent over 10 000 local people. Together they identify issues that affect them and their members at a neighbourhood level but also at a national level. By joining forces they have more power and can act together around issues about which they all agree.
Citizens UK has a proud history of community organising and through this work has developed several high profile, successful national campaigns such as bringing about an end to child detention for immigration purposes; creating the Living Wage Foundation which to date has accredited more than 3,200 employers who all voluntarily pay a wage rate that's based on the real cost of living; and establishing Safe Passage to ensure safe and legal routes are made available to child refugees and vulnerable adults, reuniting families torn apart by war and conflict.Alongside these national campaigns, Citizens UK groups have won hundreds of local asks by working together for the common good. Redbridge Citizens have ensured that the Council has become a Living Wage Accredited Employer, secured a commitment for 250 Community Land Trust Homes and brought 6 refugee children from Calais to live in the Borough.
Revd Tim Norwood, co-chair, Citizens UK Council said: "Whilst the snap election took us by surprise, as civil society leaders we saw this as a great opportunity to build or strengthen relationships with those people looking to represent us and our communities."We want to work together with politicians to create a more just, inclusive and welcoming country; and that can only happen if we engage with the political process."
"Citizens UK brings together people of different ages, ethnicities, those of faith and no-faith; and by listening to each other we find the common issues that unite us. Civil society institutions have more power when they join forces."
For information please contact Daniel Mackintosh, Redbridge Organiser for Citizens UK or email: daniel.mackintosh@citizensuk.org