Paddington waits to hear how many Redbridge can take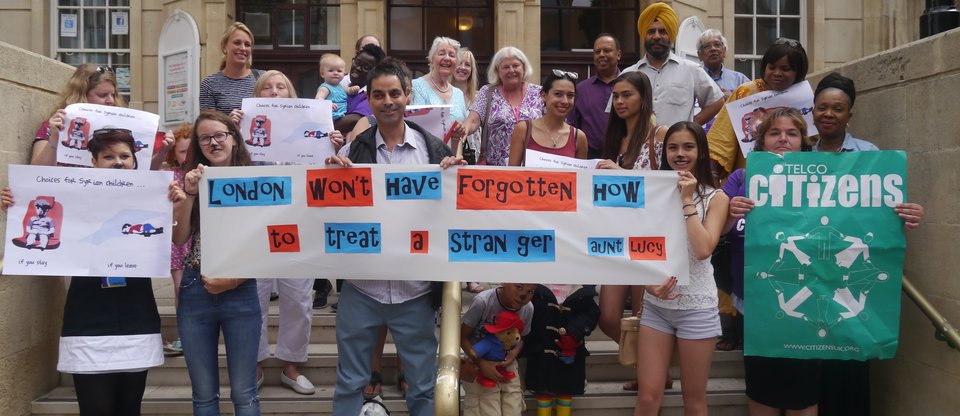 Cllr Athwal agrees to resettle children under the Dubs Amendment, does not specify how many, but will give further clarity in meeting with Redbridge Citizens after visiting Calais.
On Wednesday 31 August 2016, 27 leaders from Redbridge Citizens, dressed as Paddington bears, met with Leader of Redbridge, Jas Athwal, and Deputy Leader, Elaine Norman, on the steps of the Redbridge Town Hall, to ask the council to resettle 5 refugee children from Calais who have the right to be brought to safety in the UK. This latest action is part of a 2 year campaign that Redbridge Citizens has been running to resettle Syrians in the Borough. Thus far, 9 councils in London, including Ealing, Kingston, Barnet, Lambeth, Hackney, Camden and Islington, have participated in the Syrian Vulnerable Persons Relocation Scheme. However, Redbridge has not resettled a single Syrian refugee, nor do they have a plan to do so, according to a recent Freedom of Information request carried out by Citizens UK.
The refugee camp in Calais is about to be demolished by the French government in early September. Within it are 360 refugee children who would be eligible for transfer to the UK under the Dubs Amendment.
The local Redbridge action is in support of a national Citizens UK action on the Home Office on 2nd September, with prayers for refugee children who have lost their lives over the last year. We will be delivering a list of the 360 children eligible under Dubs Amendment, as well as a list of Councils, like Ealing, Hammersmith and Fulham and Lambeth, that have all committed to taking refugee children. It is now Redbridge Citizens' turn to make sure our council also c ommits to resettling children in Redbridge .
On 13 July 2016, Redbridge Citizens had an action of 150 people at Saint Thomas of Canterbury Catholic Church to encourage new people to sign up as foster care parents for refugee children. 14 people came forward and gave their names to the Council, signalling their intent to look after unaccompanied refugee children in the Borough.
Faisal Laloo signed up as a foster carer for refugee children with the Council at the Saint Thomas action. He wants to help because his children have grown up and left home and so he has a spare room. Fasial called on Leader Athwal to work together to bring 5 Calais refugee children to safety in Redbridge. Faisal said " The issue of refugee children is at my heart as I was an orphan myself at the aged of 7 years old. Children shouldn't be burdened with such heavy responsibilities of fending for themselves, and in fact they should be cared for, enjoying life and do normal things as other children, playing and having fun."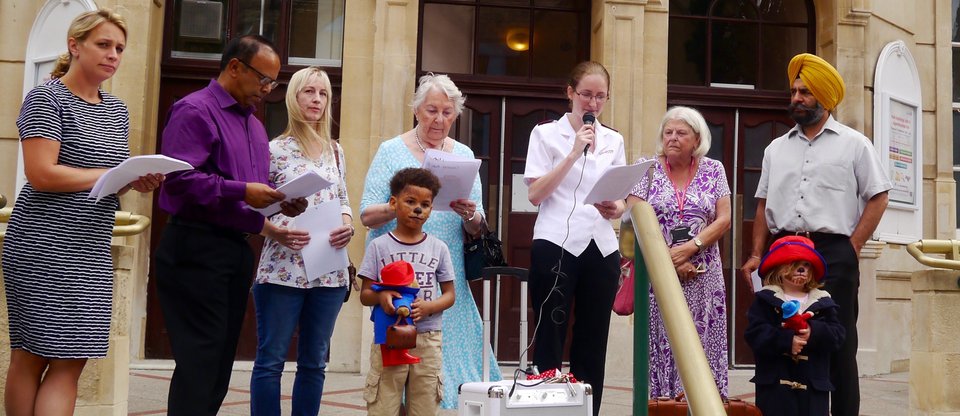 Percy Ratnanather from Saint Thomas of Canterbury Catholic Church, said "While we appreciate Councillor Athwal's supportive words on the current crisis, Redbridge has yet to resettle any Syrians, despite at least 8 councils, such as Lambeth, Islington and Hackney, each taking a small but meaningful number of refugees. Now is the time to go beyond words, to specific action that results in bringing people to safety."
Naomi Clifton, from the Salvation Army, Ilford Corp, said, "We have demonstrated on numerous occasions that we want to work with the Council to make resettlement work in the Borough. We found 14 people interested in being foster care parents on 1 night and 4 more have contacted us since. Now it is the Council's turn to show that they want to work in partnership and save the lives of 5 unaccompanied refugee kids currently living in Calais, by bringing them to live with us."
STATEMENT FROM REDBRIDGE COUNCIL
Pressure to name a number is understandable, and we know that the position in Calais is desperate. However it would be premature to make a commitment to a specific number until we are clear that we are able to provide appropriately for the needs of these children.
Redbridge already has a higher number of unaccompanied refugee children in its care as a proportion of its total 'looked after children' population compared to other similar authorities.
It's really encouraging to learn that 14 people came forward in July who were interested in becoming foster carers, but to safeguard the interest of children, they will all need to be assessed and approved as foster carers before we could consider placing children with them, which we are progressing as rapidly as possible.
Again, it is understandable, when one London borough has made a commitment to a specific number, to seek to persuade others to match it. However, this is not strictly comparing like with like. Hammersmith and Fulham, on the most recent available published statistics, had 185 looked after children in their care.
Redbridge at that time had 215, and this has now increased to 232. It is inevitable that different local authorities at different times have different capacity to take on additional demand. I reiterate my commitment to writing to the consortium to say that we will accept as many unaccompanied refugee children as possible.
Leader of the Council, Jas Athwal said "I want to accept as many refugee children as possible, I don't want to set a target too low; or too high."
"I will do everything in my power to help; and I look forward to working with the Redbridge Citizens group to achieve real outcomes for refugees fleeing from these terrible situations in countries like Syria" he said