Muslim women: untapped community leaders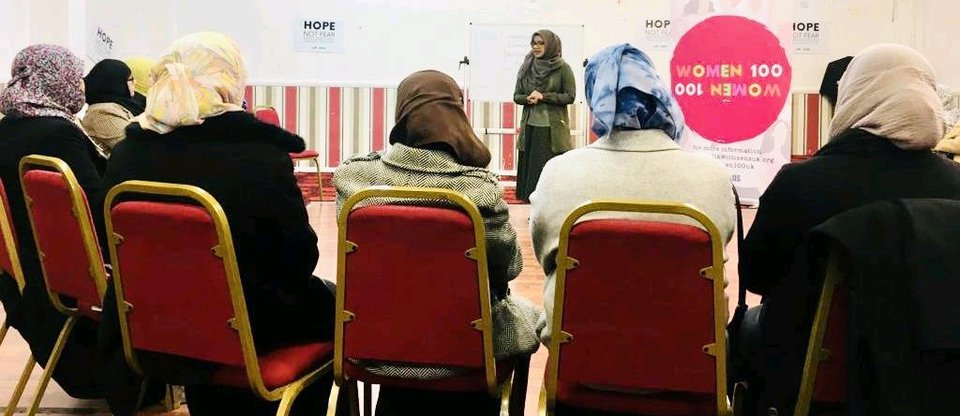 Afsana Salik, is a community organiser for Tower Hamlets Citizens and the Women100 programme who deliver community organising training for women in London . Here, she writes about why we need Muslim women at the table and how Women100 is giving opportunities to create change for women in their local communities.
In this blog, I will share with you how broad-based community organising is a radical and more authentic way of identifying and developing the leadership of women in our communities. Here, I will specifically focus on Muslim women and their leadership in the Women100 programme in East London. I will make the argument we should be agitated about how we build the power of Muslim women to take charge, lead and affect decision making on what they think is important , as opposed to just inviting them to be regular cohesion project participants .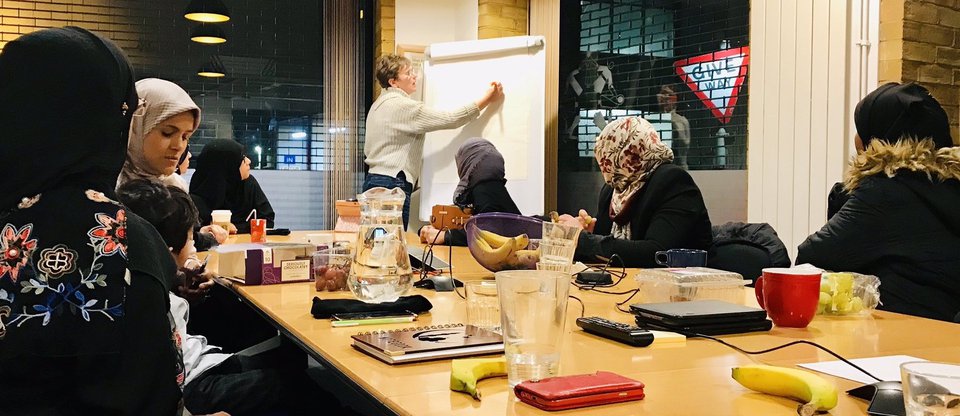 Leaders on the Women100 program planning a campaign to change a school visitor's policy, which prevented women in niqab from entering.
Wh
y?
Not that it should need spelling out why Muslim women should be in positions of power and leadership in communities. I wish to point out two very significant reasons : an internal one and an external one .
Firstly internal , it is in their heritage and identity. Islamic history gives precedence to the role of women in leadership. Over 1,400 years ago, Aisha (RA), the wife of Prophet M u hamm a d (peace be upon him), related over 2,200 authentic narrations of the books of hadith which along with the Holy Quran make up the canon of the teaching of Islam today. After the Prophet passed away , she continued to serve the community through teaching and guidance; and was honoured with the title of 'Mother of the believers.' In 859AD, Fatima al- Fihri founded the University of al- Qarawiyyin in Fez, Morocco, following the legacy of Aisha (RA). It is the oldest educational institution in the world.
The other an external reason, Muslim women in the UK are in the direct line of poverty, discrimination, hate and disadvantage.
A 2016 report from the Women and Equalities Parliamentary Committee found Muslim women faced a "triple penalty" in accessing the workplace, on the grounds of being a woman, from an ethnic minority background, and a Muslim. Furthermore, research shows that since 2014, Islamophobic hate  crime has been on the rise with Muslim women the main target. So, because of this avalanche of being on the 'receiving end', no fight back can ignore the importance of recognising the need for powerful Muslim women in community leadership.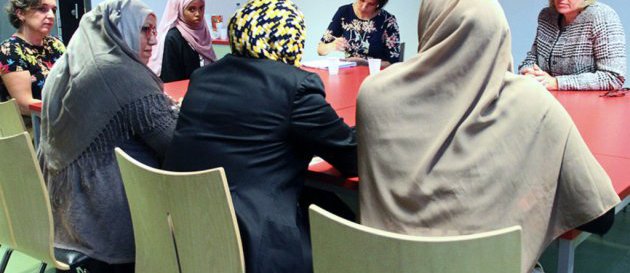 How?
There are many courses, community cohesion projects and initiative s out there, that aim to develop women from ethnic minority backgrounds, particularly M uslim women . These projects unfortunately focus on programme s not people – they develop their projects based on deprivation data and funding strategies , rather than the real interests , aspirations and anger of local women. They tend to be driven by outputs to count participants reached, services accessed and the mandatory end of project 'cohesion' event. They steer clear form 'hard talk' and from agitating those with decision making power to train participants to take charge as leaders.
So, in January 2019, the Women100 programme in Tower Hamlets, set out to do the opposite .
A hundred women from 17 institutions (schools, places of worship and community groups) across the Borough teamed up to train, ally and act together on what mattered most to them over a period of a year to develop their leadership and power.
Here, I will share the stories of two of the leaders on this bold programme. The first of a leader acting in her neighbourhood and the second is of a leader acting in her city.
Kulsuma was prevented from entering her son's primary school because she wears the niqab which covers her face, except her eyes. The school's visitor policy banned it . She was not alone as there were other mums also affected. She was not a school Governor so did not have the automatic power to be at the table where the policy can be changed.
She joined the Women100 programme, to train and identify allies to build her own relational power with others. One of them was Sarah Warburton from E1 Community Church, and together they were joined by women from other communities. A seven-month community organising campaign led to the school changing its policy to welcome mums wearing the niqab , as Kulsuma secured her seat at the table.
Reflecting on this local campaign, Sarah believes, " we are all an engine for change for the better and we are not alone" and Kulsuma sa id : "through the training and mentoring I became much more confident to demand a space at the decision-making table and became a parent governor in my son's school."
The other story is of Sufia , the Manager of East London Mosque's Maryam Centre. Like many of the women on the programme, she too was a victim of everyday hate. She wanted to see change happen. With her training and relational power built with 99 other leaders on the programme , she set out to prioritise action on m isogyny and hate crime at the London Mayoral elections.
In September 2019, with a team she hosted a visit from the Law Commission at East London Mosque to hear powerful testimonies from local communities on how the law is failing victims. She continued to meet leaders from other communities and policy makers across London through Citizens UK's listening campaign in the capital, which resulted in hate crime put firmly on the agenda for the candidates.
Final thoughts
As we figure out how we are going to navigate the devastating impact of Covid-19 to our neighbourhoods and how we tackle structural racism , we will need Muslim women in community leadership like Kulsuma and Sufia now more than ever.
If the 'new normal' is throwing out ways of how we did things only months ago, then the Women100 programme using a broad based organising approach should be an attack on our senses on how we should invest in leadership training and development of women very seriously to enable them t o lead and act with others for social justice.