How our school called on London City Airport to become a real Living Wage employer – and won!
Blog by Miss Yvonne Wade, Acting Deputy Head at St Antony's Primary School, a member institution of Newham Citizens.
It's not often that you hear of primary schools in "deprived" areas having the power to convince large employers, such as major transport hubs, to give their lowest paid staff a pay-rise. So how did we do it?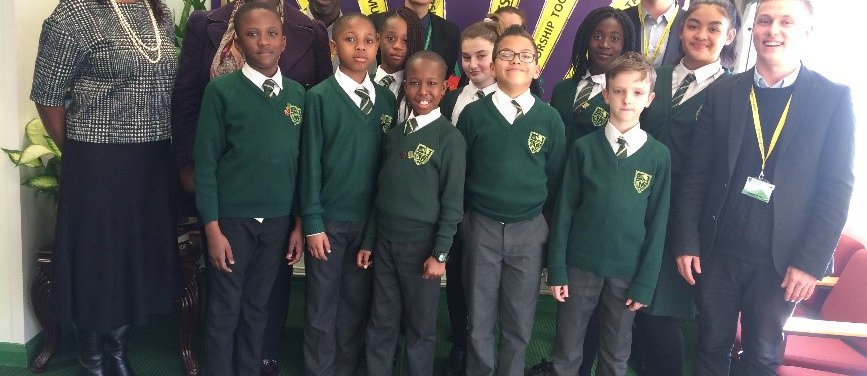 St Antony's pupils and staff meet with an Airport representative
We started by recognizing two things:
that our school should have a say on the what is happening in our wider community;
and that every child in our school has gifts that they can bring to this campaign and public life as a whole.
As a Catholic school, myself and other teaching staff are committed to promoting our social, moral and spiritual values to our pupils. Citizens UK's campaign for the real Living Wage allows us to live up to all these values: after all it is a great social and moral injustice that people aren't earning a fair day's pay for a hard day's work.
In fact, the real Living Wage is based on the true cost of living, as independently calculated by the Living Wage Foundation. This makes a huge difference: workers on the minimum wage are £1,500 worse off a year than those paid the real Living Wage.
We began by helping our pupils research the issue of low pay: we found out that almost half of the parents in our school and church community earn less than the London Living Wage they need to keep their heads above water financially, against the rising cost of bills and housing. Children shared stories of how low pay impacts their family life: for example, a lot of parents are unable to treat their children to the occasional birthday or Christmas celebration, despite often working 2 or 3 jobs.
We don't want our pupils to feel ashamed. Instead, we want them to feel empowered to take action and know that their voice matters. So, we decided to use drama and music, which our children love.

Our Music Director penned a song called "Realize" and I wrote a poem. As a result, the children grew in confidence about their message. They even performed in front of London Mayor Sadiq Khan, who in turn threw his weight behind our campaign to get London City Airport accredited as a Living Wage employer.

We identified the Airport as it's a large employer in our area with 60% of its staff living in its vicinity. We wrote to them explaining that over 30 of our school children wanted to perform their songs at the Airport and meet them. We got a response within an hour from Liam Mckay, Director of Corporate Affairs.
Our meetings with Liam and other senior executives at the Airport were positive. Our children presented their concerns and bravely sought their support for the real Living Wage. They were determined, even in the face of power: sat in big leather chairs, speaking to smart-looking men in suits.

Liam expressed how moved he was by the children's stories and how they articulated their case. He pledged to review all of the Airport's contracts to explore the possibility of paying the London Living Wage in the future.
We then invited Liam to visit our school so we could ask him about his progress. This was an opportunity to hold him to account: our pupils asked him for updates about how he was getting on with implementing the real Living Wage at the Airport.

Thanks to the constructive relationship that we built, London City Airport officially became a real Living Wage employer at the end of March 2019, another champion in the fight against low pay!
For me, community organizing is about having a sense of purpose about how we can move the 'world-as-it-is' a little closer to the 'world-as-it-should-be'. As a Christian, I see service to others as being an important value and community organizing as a way in which to put my faith in action. The support that myself and the whole school received from Newham Citizens has enabled all of us to act on our appetite for justice by equipping us with the ability and power to act.