Celebrating Women 100 and Women Leadership in East London
In celebration of International Women's Day, the Women 100 program held a hugely successful online event on Saturday 6th March. The event was attended by over 100 women from all over London. The Women 100 program works to develop leadership and interpersonal skills for women of all backgrounds across several regions across London, those include Brent and Harrow, Redbridge, Barking and Dagenham,Waltham Forest, Newham, Hackney, and Tower Hamlets.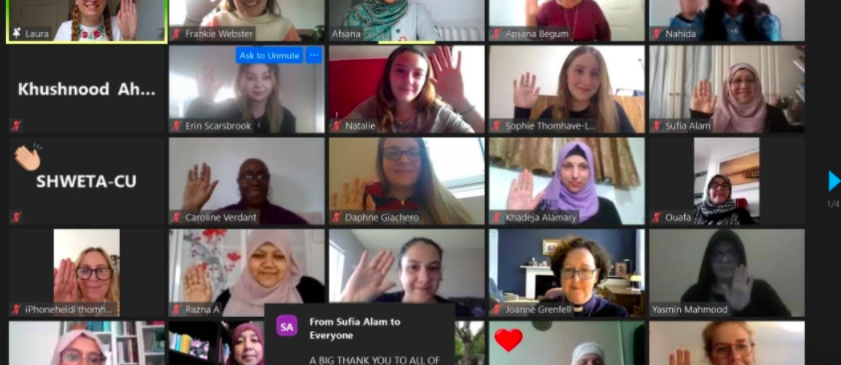 Khadeja from The Pickwell Foundation said that after leaving the training session it 'Inspired me to complete my dream of helping families who are newly arrived in the UK.'
The event reflected on all the work Women100 had done over this year, with some examples including more testing centres in local schools, more female school governors, safe spaces for women and encouraging the intake of the vaccine. But, at the heart of all of this work was 'Empowering women, to challenge the wrongs in society' (Carol, Newham).
Saturday's event brought to light all the fantastic women who had taken part in the program, celebrating their achievements and thanking those who have helped and given so much in such a difficult past year. This was recognised with Nabila being awarded visionary leader of the year, Laura as strategic leader of the year and Sajeda change maker of the year.
With councillor Asma Begum in attendance Dr Mahera Ruby had two asks from the Women 100 team:
Will you work with tower hamlets citizens women 100 to raise awareness about the school governor vacancies?
Will you provide funding for students to go into schools and train other students about hate crime?
Councillor Asma Begum told us that the Ethnic Minority Commission Report shows a clear need for both tasks and that she will work with Women 100 to achieve this.
There were performances from women across London, hearing from a group of London girls who presented their poem 'Shades of Hijabi', a Congolese dance from CiiCii and a poem from Nahida who reflected on the difficulties of Lockdown. These performances emphasised the incredible talents of women in different communities.
In a time when things often feel like they are falling apart, and we are becoming more disconnected, the opportunity to celebrate and congratulate women making waves was important. As mentioned by Bishop Grenfell, without Women, Moses may not have gathered to the safety in the bible story, women have often led the way forward in social movements, whether that be for Universal suffrage or during the fight against racism, women leaders are as important as ever. We were also honoured to have the first female Rabbi in Denmark, Sandra Kviat and the first female General Secretary of Muslim Council of Britain, Zara Mohammed, all with their own inspiring stories as women leading in faith.
And coming together and celebrating the work already done by women in this difficult time, can inspire us to strive on. As noted by Averil from Waltham Forest, 'Women are the embodiment of action' and we hope this action will succeed and strive into the future.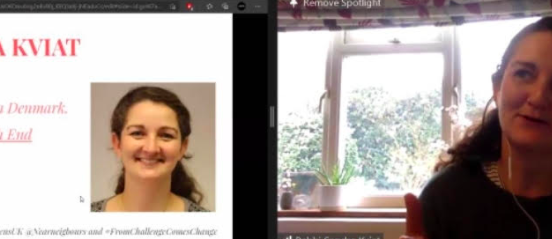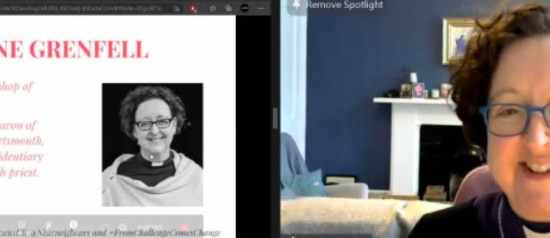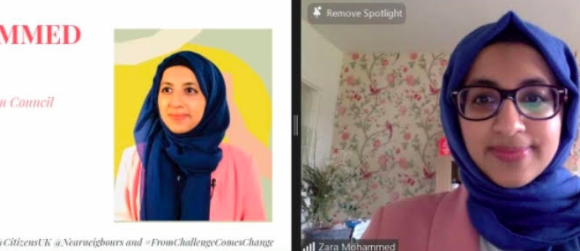 Performers:
Singing Performance - Carmen Walshe
Congolese Dancing - CiiCii Twitter @CongoleseDT IG: @Congolesedancecrews
Meditation - Amisha, InnerSpace
Shades of Hijabi
Poetry - Nahida
Dr Mahera Ruby - Board of Trustee, Citizens UK. Chairman, Maryman Centre.
Laura Kekuti - Women100
Natalie Velarde - Queen Mary University of London
Roll Call:
Redbridge - Karin - SSPP
Brent and Harrow - Nabila
Barking and Dagenham- Vanessa
Waltham Forest - Averil
Newham - Caroline
Hackney - Asmaa
Tower Hamlets - Sajeda
Coventry University London - Shweta
Women 100- Erin
Speakers:
Shweta Vanjeri -Coventry University London, Community development manager, CULondon
Daniela - Harrow Women100
Khadeja - Ambassador for The Pickwell Foundation
Dr. Farzana Hussain - GP The Project Surgery, Co-Chair of National PCN Network at NHS Confederation,
PCN Clinical Director Newham Central.
Councillor Asma Begum - Deputy Mayor for Children, Youth Services and Education
Zara Mohammed - General Secretary of Muslim Council of Britain
Bishop Joanne Grenfell - Joanne Grenfell Bishop of Stepney
Rabbi Sandra Kviat - Rabbi for Crouch End Chavurah. First female Rabbi from Denmark
Special thanks to our QMUL politics students
Tabitha Purslow, Rebecca Jackson-Walley, and Tara Adriana Jenkins
Posted by Ana Ramirez Mourraille on 19 Mar, 2021