5 reasons why my Baptist church joined Citizens UK
Phil Warburton has worked as a Baptist Pastor in the East End of London for 20 years. In this blog he explains why he sees community organising as an integral part of urban ministry. He has recently become a Community Organiser with Citizens UK in Tower Hamlets and continues his work as a Pastor.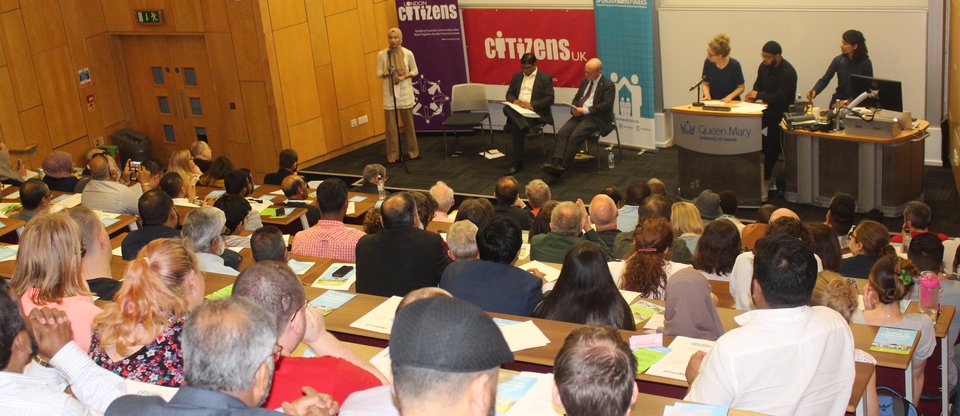 About 4 years ago the Baptist church of which I am the pastor agreed to join Citizens UK. Citizens UK is an alliance of civil society institutions, mostly, schools, mosques, synagogues and churches that organise locally and nationally for social justice. Why did we do it?
1. To build our church through developing leaders
To be honest my initial attraction to Citizens UK was its training. The training is participatory, relational and about transformational change. Discipleship training even. We needed this training to fight one of the most pernicious lies that persists in the East End of London. The lie that we cannot bring change. This deception sucks us of our will to act. A lack of personal agency and the subsequent feeling of institutional impotence leads us to accept the status quo. Community Organising is about training individuals and institutions to facilitate change. To illustrate that, today I heard great news of a local Citizens campaign team winning 30 permanently affordable local managed homes for their neighbourhood. It was a diverse team of local people with a church at its heart. Many of the team would admit that they were sceptical about success but now they have won. It's not massive but will inspire and compel more action in its wake. That builds belief that things can change and it builds leaders.
2. To see God's Kingdom come

In Citizens we talk about the 'world as it is' and the 'world as it should be'. This is the Kingdom talk. Our church members face 'the world as it is': overcrowded housing, poor access to some mental health services, and our young people have to navigate escalating street violence. Citizens in Tower Hamlets are organising around these issues – listening to people's concerns, doing research and taking action. I love the Lord's prayer because it suggests that Kingdom action partners Kingdom prayer, our action partners with God's action. We are to follow the pattern of 'we forgive as God forgives'. It's less 'let go and let God' more "God let's GO!" The world becomes a little more as it should be when we act on our prayers.
One Christmas morning I received many festive texts. Texts along the lines of 'Happy Christmas', 'May God bless you in the New Year.' One text stood out. A young Muslim community organiser sent me a text: "Looking forward to working with you to see the Kingdom of God in Tower Hamlets in 2016." Now that's a proper Christmas greeting and points to the world as it should be. Which leads me to the next point.
3. To meaningfully cross cultural boundaries

I was wary about interfaith work. Much of it seemed to just be tea and politeness. But the world of Citizens opened my eyes to new possibilities. Community Organising is about focussing on what we are jointly concerned about. At the same time if you are person of faith you don't leave that at the door – you bring your whole self to it. So, Muslims, Jews, Christians, school leaders, university academics, unionists work together for justice.
One of our church members would often say that she was not really interested in cross cultural work but found herself on a Citizens community cohesion working group. The trusting relationships formed from that group have in many ways formed the backbone of action in our local neighbourhood. Members of that group supporting each other have won fair trade commitments from the local authority, built local living wage social enterprises, worked for affordable housing and formed the backbone of our borough leadership group that has helped to hold our local politicians to account. A lot of tea has been consumed but with so many tangible results.
4. It's so relational
Community organising is about relationships. Citizens UK in its training argues that we world can be changed through the core practice of one to one conversations. In a world that is less and less about personal contact and more and more about virtual connections this is a priceless practice. More and more we shout at each together from a distance changing the world little and changing us for the worse.
Before the recent local elections I met with the Mayor of Tower Hamlets to discuss to whether he would agree with our collectively agreed Citizens manifesto for the borough. Previous meetings had not always gone well. But at the start of the meeting we talked about why we were involved in politics. It was a better meeting because we shared what was important to each other from the beginning. It shows the power and the humanity of the one to one conversation.
5. Because it's fun
It's difficult to convey on paper but there are so many things I have enjoyed. Just one example. When it looked like the refugee 'Jungle' in Calais was about to be bulldozed, Citizens UK with others persuaded a reluctant UK Government to bring children over from Calais that had a lawful right to be here. Citizens not only campaigns but wants to be part of the solution, so they arranged a team that welcomed these children as they were processed through the Home Office in Croydon. We acted as chaperones when the young people were interviewed, shared pizza, played cards and were friendly faces at an anxious time. After many hours of waiting I had the privilege of re-introducing a teenage Syrian boy to his family in the UK who had not seen him since he was a baby. There was also heart ache that day but how much fun to be part of that reunion!? I could not have been involved without being part of this movement called Citizens UK.