Getting the Living Wage for Londoners – one place, one sector at a time
Getting the Living Wage for Londoners – one place, one sector at a time
Last week, community leaders came together and took action across London to help make London a Living Wage place
We celebrated the launch of a new Living Wage place, the Royal Docks in Newham
We asked care providers Bupa UK and Barchester Healthcare to step up and pay their staff a real Living Wage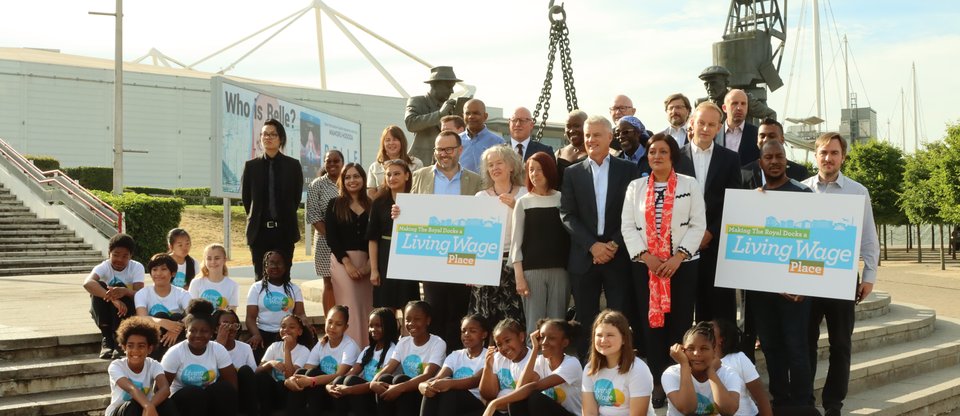 The Royal Docks becomes a Living Wage Place
Last week, we celebrated the launch of a major campaign to make Royal Docks in Newham a Living Wage Place. Over the next three years, employers across different sectors aim to increase Living Wage accreditations in the Royal Docks by 50%, which in real terms will mean a pay rise for more than 3,000 workers.
Major employers in the local area are already accredited with the Living Wage Foundation and signed up to champion the plan, including the University of East London, Tate & Lyle and London City Airport. As part of the launch, we also announced ExCeL London becoming a major Living Wage employer in the Royal Docks area.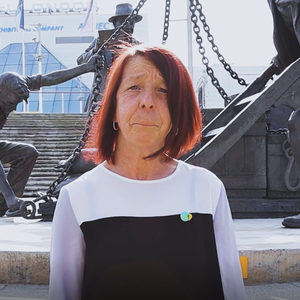 It is hard to overstate how important it is to my life, my wellbeing and my health being paid a true Living Wage. Without it I have no idea how I would survive the cost-of-living crisis...If Royal Docks can become a Living Wage employer, hopefully the rest of London can follow through. Angela Fields, founder of the Custom House Workers' Co-operative, a Living Wage accredited cleaning company and a member of the community-led Royal Docks Living Wage Action Group
Asking Bupa UK and Barchester Healthcare to pay care workers the real Living Wage
Just a day after we celebrated Royal Docks, we took action on two major care providers in London, to ask them to pay their care workers the real Living Wage.
Research shows that 56% of care workers skip meals due to low pay, whilst 73% said they were struggling to afford their day-to-day essentials like. And in London, we know there's an even larger gap between care worker wages and the cost of living.
We've been taking action to get a Living Wage for social care implemented by Government across the UK, but employers can, and should, step up – over 250 care providers pay the real Living Wage, and we wanted major care providers in London to do the same.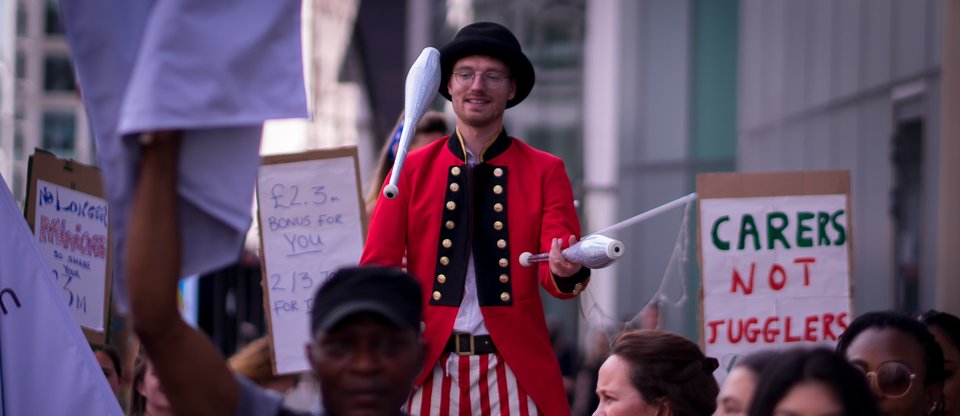 Citizens UK community leaders, including care workers and care recipients, gathered outside Bupa UK and Barchester Healthcare to call on them to commit to paying their workers the real Living Wage.
At the headquarters, we were joined by street performers and jugglers to symbolise how care workers must juggle the demands of life on low pay.
I feel fulfilment and a sense of community from caring for those who need it, but low pay makes it really hard to get by. I've seen colleagues leave the industry because they simply cannot live off the low wages we receive, even though they love their jobs. This results in high staff turnover, which is a big problem for many care homes and means that those who receive care are constantly having to adapt to new people. It doesn't offer them the stability they need due to their conditions. Things cannot continue like this. Major care providers must step up and lead the way in accrediting as real Living Wage Employers. Annalibera, a care worker from London and Citizens UK leader
Posted by Olivia Smith on 18 Jul, 2022