Citizens UK, Unite and ShareAction join forces to ask Whitbread to pay workers a real Living Wage
Citizens UK, Unite and ShareAction join forces to ask Whitbread to pay workers a real Living Wage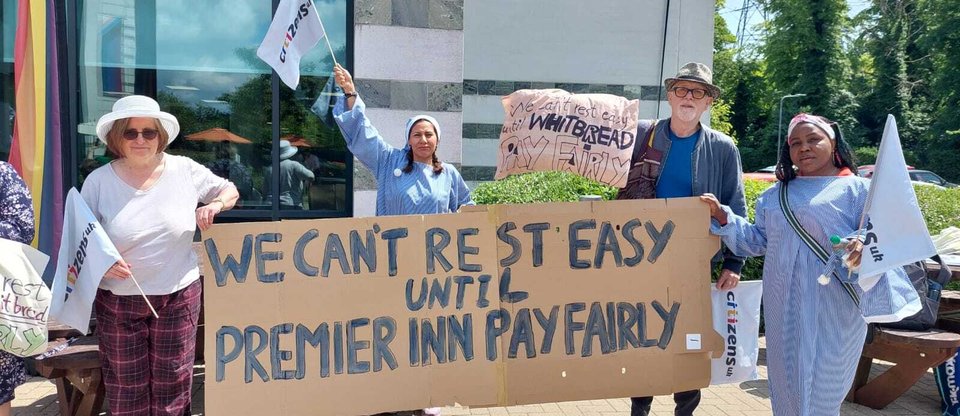 On 22 June, community leaders from Citizens UK and representatives from Unite and ShareAction joined forces to ask Whitbread to commit to paying a real Living Wage for workers at Whitbread's Annual General Meeting (AGM), at their HQ in Dunstable.
Outside the AGM, community leaders from Citizens UK dressed up in pyjamas and night caps whilst giving out door privacy hangers which included information about the real Living Wage. This is in response to Premier Inn's slogan 'rest easy', and how low-paid workers cannot 'rest easy' without fair pay, particularly in a cost-of-living crisis.
Whitbread are a leading hospitality business, and the owners of Premier Inn - the UK's biggest hotel chain. They also own a number of other hospitality businesses, including Beefeater, Table Table, and Brewers Fayre. Last year, Whitbread made £375m in pre-tax profits.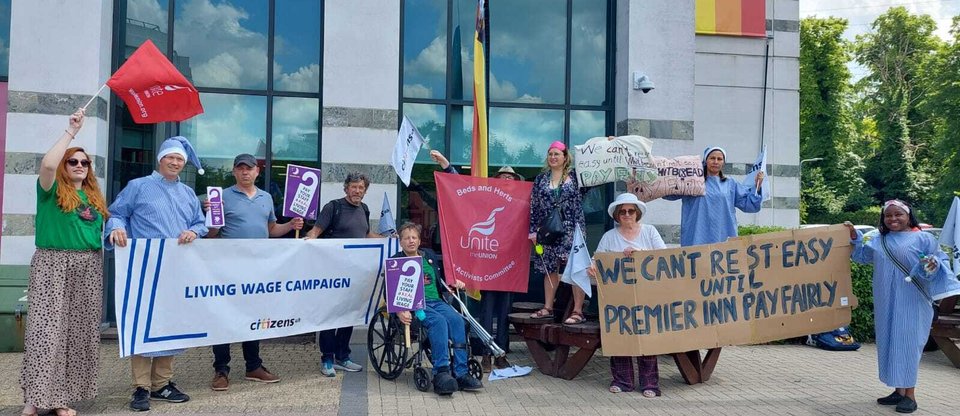 As a UK market leader in the hospitality sector, Whitbread accrediting to pay a real Living Wage would ensure thousands of staff receive a wage uplift, and bring additional business benefits: 86% of Living Wage accredited employers say implementation of the wage improved their reputation, whilst 60% say it improved recruitment of employees into their business.
Recent data from the Office for National Statistics found the hospitality sector has 132,000 vacancies, increasing the need for employers to invest in their workforce and attract fought-over talent.
The call for a real Living Wage has become even more pressing in recent months, with many workers and families being pushed into poverty due to the rising cost of living and inflation running at a thirty-year high.
As a housekeeper at Premier Inn, we have been on the frontline of the post-pandemic labour shortage. Our site is constantly short of team and the demands of the job are ever more. We used to have between 8- 12 departs a day to clean, now we have 14-17 per day. The pressures are leading to more exhaustion, more staff leaving and increasing pressure for those of us that are left. Value us and send a message that as Hospitality market leaders you value your team. By signing up to be a real Living Wage employer you can help prevent labour shortages and make us feel wanted. It would cost a fraction of the profits but make a real difference to us A Premier Inn housekeeper and Unite member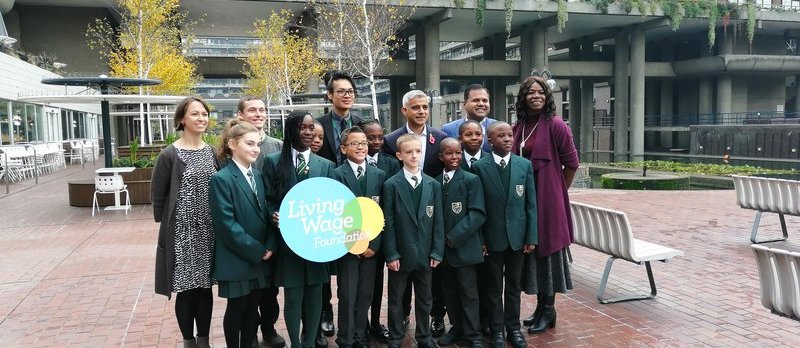 Help us make London a living wage city
Our vision is simple - we would like everyone in the Capital to get the real Living Wage. We've received £4.8 million in campaign funding and are working with the Mayor of London to make it happen.
However, we need workers, businesses and civil society groups to join us in the fight for fair pay!
Posted by Sophie Thomhave-Lee on