Citizens UK leaders unite outside Barchester Healthcare HQ in London to demand a real Living Wage for care workers amidst cost of living crisis
Citizens UK leaders unite outside Barchester Healthcare HQ in London to demand a real Living Wage for care workers amidst cost of living crisis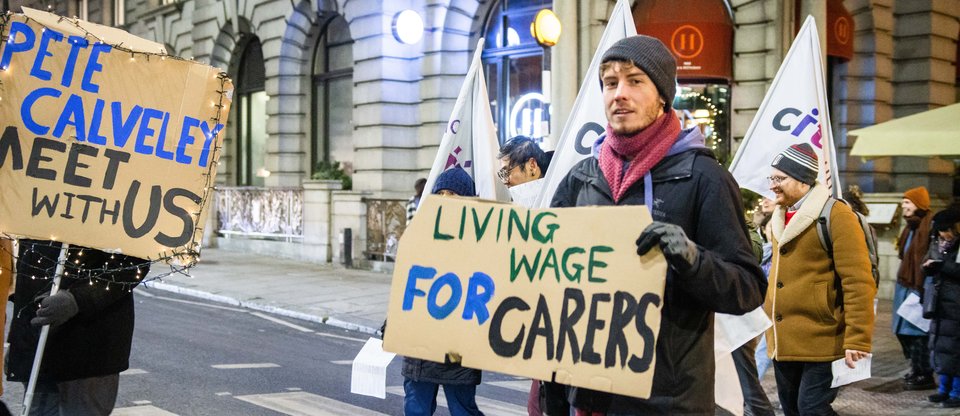 On Thursday 15 December, Citizens UK community leaders from across the capital, including care workers, gathered outside Barchester Healthcare's headquarters in London; calling on them to commit to paying their workers the real Living Wage amidst the deepening cost of living crisis.
At the HQ, Living Wage Christmas carols were sung with the accompaniment of a brass band. These carols included lyrics such as 'bring us a Living Wage at Barchester Care' and 'we wish you a happy work force'. Alongside this, a projection, which called for a real Living Wage, was shone onto Barchester Healthcare's HQ building.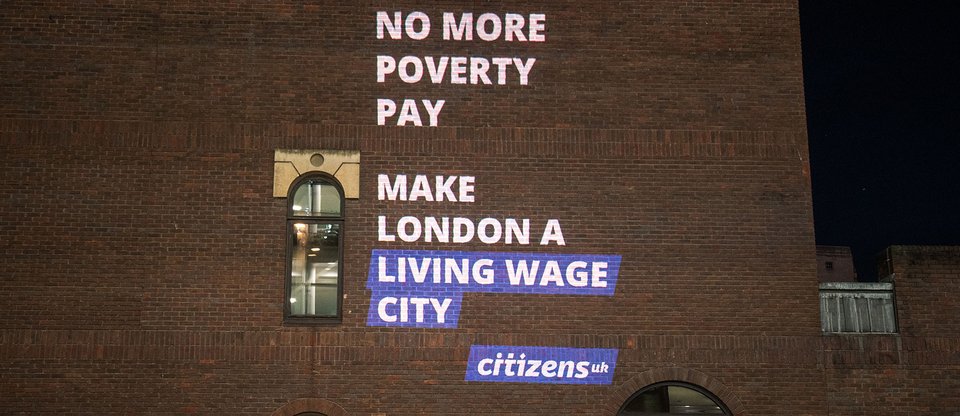 Before converging at the London headquarters, groups of community leaders from South London and East London visited Barchester care homes across the city, handing out bags of chocolate coins and Christmas cards to care workers to show their appreciation.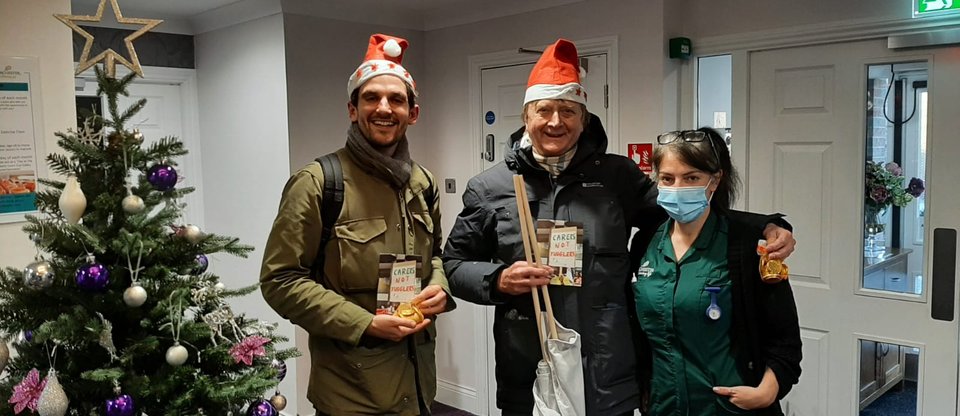 This is not the first engagement Citizens UK has had with the care provider. Back in July of this year, Barchester Healthcare was named one of five major care providers Citizens UK aimed to call on to commit to a real Living Wage for their workers, with leaders visiting the HQ for the first time. Moreover, just last month community leaders from North London gathered outside Barchester Healthcare's Southgate Beaumont Care Home, where they posted letters to management after being denied access to the premises due to the organisation being unwilling to engage in discussions around pay.
Low pay is unfortunately common throughout the social care sector, but it's an issue that affects many industries. Last month, research by the Living Wage Foundation found that 3.5 million UK jobs are currently paid below the real Living Wage, the lowest level in over 10 years. Forecasts show that this is expected to jump to 5.1 million next year, painting a particularly bleak picture amidst a deepening cost of living crisis.
The action is part of the wider 'Making London a Living Wage City' project led by Citizens UK and the Living Wage Foundation, which aims to put £635m of wages into the pockets of Londoners, thereby lifting tens of thousands of workers out of in-work poverty.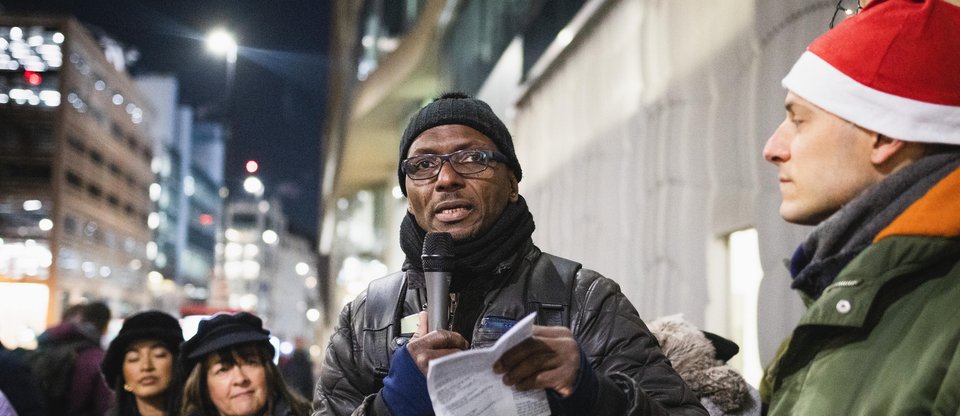 This is even more significant when considering Barchester Healthcare's financial reports, which highlight extreme pay gaps. For instance, in 2020, Barchester's CEO Pete Calveley was paid a salary of £2.27m, 130 times more than some of the carers employed by him.
Although low pay is prevalent throughout the sector, there has been some improvement. Over 230 Care Providers have become accredited Living Wage Employers in the last two years, despite increased pressure on the industry, because it makes good business sense; attracting talent, increasing retention, and providing staff in Health and Social Care with dignity and respect.
When I was earning only minimum wage, I experienced problems paying my bills and keeping up with payments. As a result, I built up debt. This meant that my wages did not allow me to enjoy things and I often missed family and social gatherings as I could not afford it, which really put a strain on my mental health. In London, the cost of living crisis means that so many workers and their families are struggling to make ends meet – it's simply not right. Employers must step up and pay their workers a real Living Wage. Matt, a care manager and ex-care worker from London
Care work is demanding and it's not just about assisting people to go to the toilet or giving them showers. In domiciliary care for example, we care for vulnerable people physically, psychologically, and emotionally in their homes. Yet so many care workers are not able to put food on their own tables or are falling behind on bills, even when care providers are making profits. It doesn't provide workers the dignity they deserve, which is why I urge all employers to pay their workers a real Living Wage. Fredlyne, a care worker and Citizens UK leader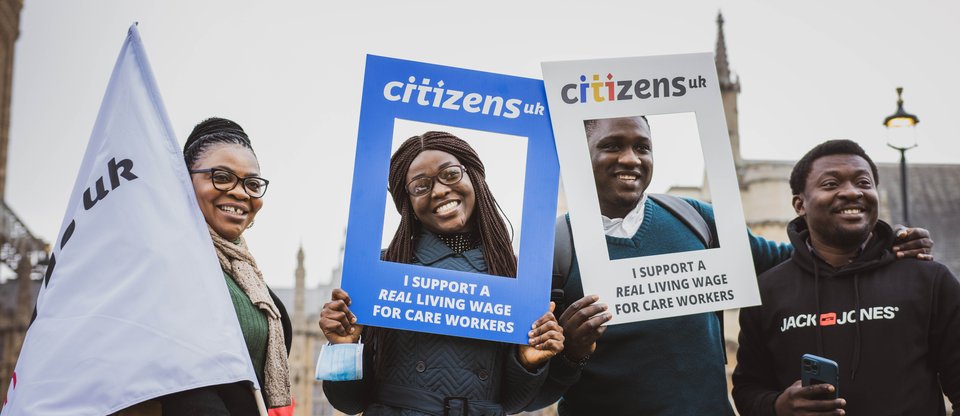 Let's make London a Living Wage City
Learn more about the Making London a Living Wage City project and its vision of ensuring a real Living Wage for workers in the capital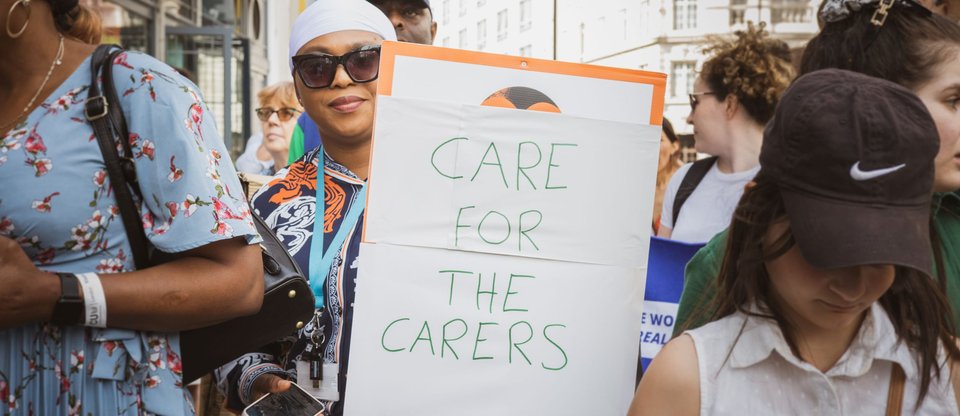 Living Wage for Social Care toolkit for care providers
Are you a care provider and want to become an accredited Living Wage Employer? The Living Wage Foundation can answer your questions and help you work out complexities.
Posted by Olivia Smith on 16 Dec, 2022