Zac & Sadiq Announce Commitments to Adopt New Policies on Housing and Living Wage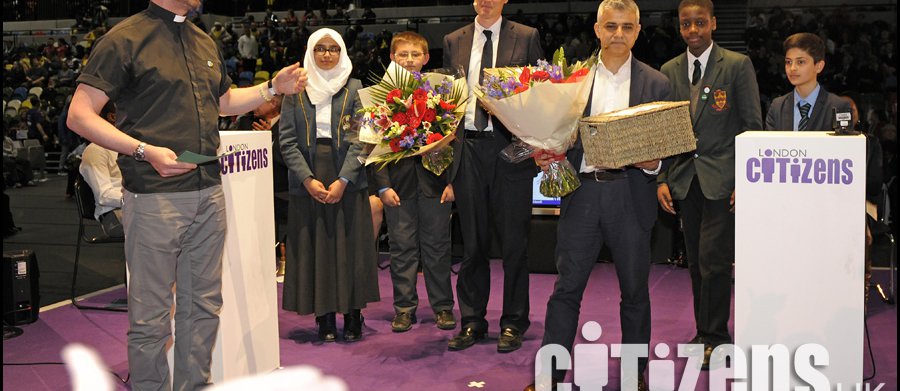 6000 civic leaders from across London call on London Mayoral candidates to back innovative proposals to tackle the housing crisis.
Zac Goldsmith backs the London Citizens recommendation to make more GLA suppliers pay the London Living Wage and for Community Land Trusts to become mainstreamed across the city.
Sadiq Khan adopts the London Citizens' Good Development Standard to support the building of more genuinely affordable homes, and public transparency.
2500
th
accredited Living Wage Employer announced.
Powerful testimony on impact of these issues delivered by key workers.
On Thursday 28 th April over 6000 voters from across the capital gathered at the Copper Box Arena for the London Citizens' Mayoral Accountability Assembly, one week before the London Mayoral elections, to demand a radical solution to tackle the city's housing crisis.
The front running candidates* – Zac Goldsmith (Conservative) and Sadiq Khan (Labour) – were called on to publicly respond to London Citizens' specific asks around the London Living Wage; Jobs and Employment Opportunities for Young People; London's response to the Syrian Refugee Crisis alongside 4 concrete proposals on housing.
In the biggest event of the Mayoral Campaign, community representatives from all boroughs in London witnessed negotiations live on stage with the mayoral candidates at the Copper Box Arena – home to the London 2012 Olympic boxing matches.
The asks and Housing Manifesto were created by members of London Citizens through a unique democratic listening process which commenced in July 2015. This involved conversations with tens of thousands of people, over 220 faith institutions, workplaces, community associations and educational establishments from across the capital. These conversations helped build the Housing Manifesto for London which tackles the three issues members of London Citizens raised time and again; affordability, bad landlords and lack of control over local developments and regeneration.
Conservative Candidate for London Mayor, Zac Goldsmith MP said:
"One of the best parts of this Mayoral race has been meeting the amazing faith and community groups right across our capital who are helping solve some of London's biggest problems through their hard work, huge sense of civic responsibility and local relationships. That's why my Action Plan for Greater London commits me to doing everything I can to work with local citizens groups on issues from homelessness to gang crime; violence against women to closing the skills gap and, of course, to tackling housing in London.
"As an umbrella group, Citizens UK has helped push everything from the London Living Wage to Community Land Trusts - so I am also delighted to back your recommendations to ensure more GLA suppliers pay the London Living Wage and for Community Land Trusts become mainstreamed right throughout London."​
Labour's Candidate for London Mayor, Sadiq Khan MP said:
"London is at a crossroads and voters face a stark choice on 5 May.
"This Mayoral election will be a referendum on the housing crisis. I was delighted to announce this evening that as Mayor, I will adopt a Good Development Standard within the London Plan, which will support my aim of delivering a step change in ambition for the building of genuinely affordable homes. And it will ensure that Londoners get first dibs on those homes, while requiring greater transparency around the planning process so communities can be sure that developments that are going forward are delivering the maximum possible benefit in terms of affordable housing and other public gains.
"This was also a great opportunity to talk to thousands of Londoners, from across our communities, about my plans to tackle low pay, ensure that all Londoners have the opportunity to train in the skills they need to succeed, and support strong, united, safer communities.
"I support the great work London Citizens do, and I look forward to working with them if I'm lucky enough to be elected as Mayor of London."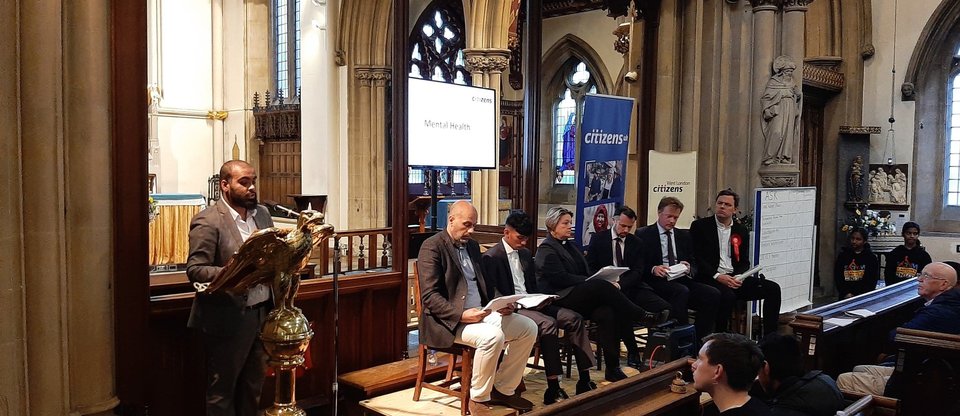 Dr Kaneez Shaid MBE, Chair of Trustees for Citizens UK said:
"London Citizens members, like many more in the capital, are facing the real-life challenges that unaffordable homes create. Families cramped into one room; borrowing just to cover rent; and landlords ignoring concerns over disrepair and unsafe conditions.
"The proposals we put to the incoming Mayor have emerged from thousands of conversations with Londoners. Families have voiced alarm at London's housing crisis and low wages. The accountability assembly enables organized citizens to hold the Mayoral candidates to account on the issues that really matter. The themes and questions we ask might not be what the parties want to talk about, but the issues are important to us and we will continue to raise them with politicians at every level until we see positive change.
"London Citizens have a strong tradition of working with the London Mayor and this will be the fifth such assembly. Members of London Citizens will welcome the new Mayor and all 800 City Hall employees on the first morning of the new administration (May 9 th ) by bringing them breakfast. This will be to thank them for their service, and show them London Citizens' commitment to working with the Mayor and his team to achieve change and social justice."
Living Wage
On Thursday, London's Borough Market was announced as the 2500 th Living Wage employer to receive accreditation by the Living Wage Foundation. Zac and Sadiq were asked about how they will encourage further take up of the Living Wage, which has developed into a mark of responsible business, with 2500 accredited Living Wage employers and nearly a third of the FTSE 100 going Living Wage.
Donald Hyslop, Chair of the Trustees of Borough Market said:
"Borough Market strongly advocates a more sustainable approach to food production, which means looking closely at things like farming methods, animal welfare and waste disposal—but it's also about valuing people. For a business to be truly sustainable, it is imperative that it respects and nurtures the talents of its staff, and one of the key elements of that is paying them a fair wage. As trustees, we are responsible for ensuring that this historic Market continues to thrive long into the future, and we believe that this accreditation is an important step."
The responses from the accountability assembly were live streamed to individuals across the city, and the commitments made shall be relayed to the 350,000 constituent members of London Citizens; through sermons, group meetings, email and face to face conversations.
*Please note we invited the two candidates who stand the strongest chance of becoming Mayor according to the current polls.

The full list of all candidates reads:
BERRY, Sian Rebecca - Green Party
FURNESS, David - British National Party
GALLOWAY, George - Respect (George Galloway)
GOLDING, Paul - Britain First - Putting British people first
GOLDSMITH, Zac - The Conservative Party Candidate
HARRIS, Lee Eli - Cannabis is Safer Than Alcohol
KHAN, Sadiq Aman - Labour Party
LOVE, Ankit - One Love Party
PIDGEON, Caroline Valerie - London Liberal Democrats

WALKER, Sophie - Women's Equality Party
WHITTLE, Peter Robin - UK Independence Party (UKIP)
ZYLINSKI, Prince - Independent
For information about how to vote, and for details on what each candidate is proposing please visit www.londonelects.org.uk
See how the events unfolded on Twitter.