Youth Music becomes first Living Wage Friendly Funder in the arts and culture sector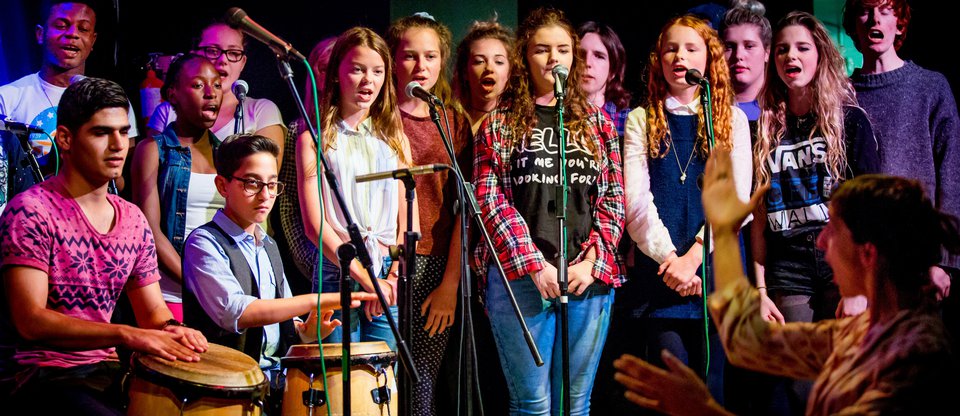 Picture shows young people making music at a project run by Brighter Sound in Manchester, funded by Youth Music. Brighter Sound is a Living Wage Employer.
National Charity Youth Music is leading the way by joining the Living Wage Foundation's new scheme for charity funders –the first arts and cultural funder to do so. The scheme recognises funders that commit to supporting charities by funding posts at the Living Wage or above.
Youth Music invests in music-making projects for children and young people experiencing challenging circumstances. The charity supports around 350 projects across England, reaching more than 75,000 participants aged 0-25 each year. Projects funded by Youth Music work with young people in complicated situations, helping them to develop personally and socially as well as musically.
Youth Music is a designated distributor of public funding from the National Lottery via Arts Council England, and fundraises from a variety of other sources. As a Living Wage Friendly Funder, Youth Music will support successful applicants to pay the Living Wage to any grant-funded staff posts. Youth Music will also encourage grantholders to become accredited employers.






Living Wage Friendly Funders work together to end low pay in the voluntary and community sector, and are Living Wage Employers themselves. Youth Music, based in London, has long had a commitment to paying all staff the London Living Wage or above.

Inclusion is at the heart of Youth Music's work, breaking down barriers for young people who might otherwise be excluded due to their background or circumstances. The charity recently launched an internship programme, providing young people with meaningful work experience paid at the London Living Wage. This is particularly important in the arts and culture sector, which has a history of unpaid internships that prevent many young people from getting a foothold in the industry.

Alison Sangolana and Beni Evans were the first two interns to join Youth Music in the new programme. They each worked at the charity for four months, helping to promote the charity's fundraising initiative Give a Gig Week.

Alison, Youth Music's Digital Marketing Intern, said: "London is expensive, and receiving the London Living Wage at Youth Music has given me peace of mind that I can cover my essential needs, while I work and learn valuable new skills."

Beni, Youth Music's Events Intern, said: "Lots of arts and charity internships I've seen only cover travel expenses, meaning that many young people can't take up those opportunities. Receiving the London Living Wage shows that Youth Music respects interns as genuine members of the team."

Thousands of charities and funders have already embraced the real Living Wage across the UK, but low pay remains a significant challenge across the sector. The Living Wage Friendly Funder scheme has been funded by People's Health Trust and developed in collaboration with a range of funders including Trust for London, Barrow Cadbury, the Joseph Rowntree Foundation and Comic Relief.

The minimum wage for those aged 25 and over in the UK is currently £7.50 an hour in the UK, but the Living Wage, a voluntary rate which is set independently and calculated in accordance to the basic cost of living in the UK, is considerably higher at £8.45, rising to £9.75 in London.
Katherine Chapman, Director, Living Wage Foundation said: "We are delighted to recognise Youth Music as a Living Wage Friendly Funder. The leadership shown demonstrates a commitment to tackling the serious problems that low pay brings to our communities.
"Many organisations in the voluntary and community sectors are working hard to tackle social injustice and poverty; it's only right that those committed to these roles are afforded at least a Living Wage. We hope to see many more funders and corporates follow the lead of Youth Music and the other Living Wage Friendly Funders.

"At a time when half of those in poverty live in a household where someone has a job, the real Living Wage is much needed by families across the UK. The Living Wage is a robust calculation that reflects the real cost of living, rewarding a hard day's work with a fair day's pay."

Angela Linton, Youth Music's Chief Operating Officer said: "Youth Music is committed to supporting the organisations and projects we invest in across England to pay the 2,000 strong workforce of music leaders, project managers, support workers, trainees and interns a living wage. We also advocate that they become Living Wage Employers themselves, contributing to fostering a more equal and diverse sector."