Victory for Living Wage Campaigners as London Stadium agrees to pay Living Wage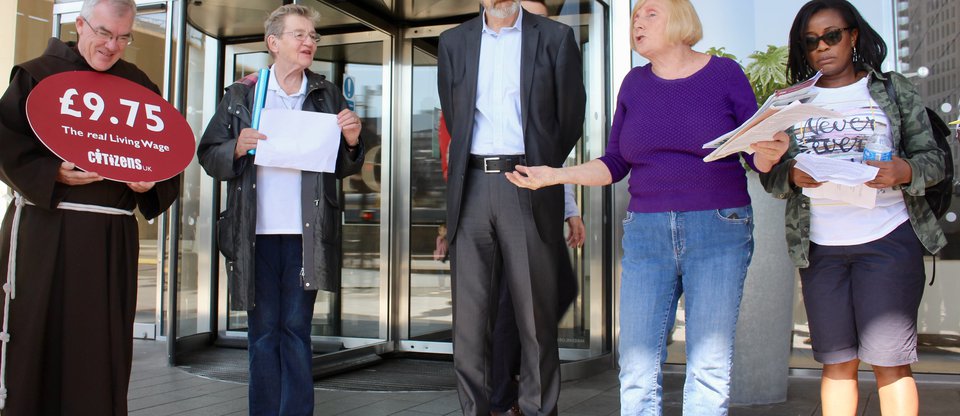 East London Citizens campaign for a London Living wage outside the London Stadium HQ in August .
Citizens UK welcomes the decision of the London Stadium to pay the London Living Wage to its employees following TELCO's (East London Citizens) organising campaign with low paid Stadium workers.
Citizens UK Living Wage Community Organiser, Mike Pugh said:
"We are delighted that London Stadium have today agreed to pay the London Living Wage and we look forward to them accrediting with the Living Wage Foundation. This decision will change the lives of the Stadium cleaners, security guards and caterers who have campaigned for this with Citizens UK leaders in East London since January. The Mayor of London has shown great leadership and ensured a Living Wage Legacy five years on from the first Living Wage Olympics.
"We now call on West Ham United, other Premier League clubs and the Football Association to follow suit. With football awash with money for footballers, agents and executives, today's decision proves that clubs and stadia can no longer hide behind third party contractors as an excuse, and must follow the London Stadium in taking responsibility for the people who work on match day and pay the real Living Wage."
The decision by London Stadium equates to a £750,000 investment in local people in wages and will impact on hundreds of workers at the Stadium including cleaners, stewards and caterers.
Earlier in the day cleaners at the stadium had issued a letter to Newham councillor and London Stadium board member Cllr Lester Hudson, asking to meet him to discuss their situations ahead of the critical board meeting.
The letter revealed that some had even slept in the stadium because they couldn't afford the fares in-between shifts. They wrote:
"We are long term residents of Newham and have been working as causal cleaning operatives (i.e. cleaners) at the London Stadium since West Ham United moved to the London Stadium with one of the sub- contacting companies.
"Currently, ourselves and colleagues struggle to make ends meet on the payments we receive from work at the London Stadium. We are forced to do our food shopping late at night to be able to get the last-minute discounts on food essentials.
"Some of us have slept at the Stadium due to the cost of transport of getting between shifts. Many of us juggle extra jobs to feed our families. A London Living Wage would change this and you and the Board have the opportunity to change our lives".
The actions are part of a wider Citizens UK campaign to press all Premier League football clubs to pay all their workers, including contracted staff such as cleaners, catering workers and stewards, a real Living Wage.
The Living Wage is currently £9.75 in London and £8.45 for the rest of the UK. The rate is CALCULATED ACCORDING TO what people really need to live on, and is reviewed annually in November DURING LIVING WAGE WEEK November 5-10.