Update on our racial justice work
Update on our racial justice work
It has been 10 months since the killing of George Floyd and the powerful global response of the Black Lives Matter movement. So many statements of outrage and of solidarity were made. Now it's up to every one of us, and every organisation, to make sure we are turning words into action, persevering through the tough conversations, and putting anti-racism at the heart of our work.
This update includes work we are doing internally to tackle racism and pursue our value of inclusion, campaigns underway that help tackle structural racism, and plans to further embed anti-racism into our organising.
Please don't miss out on reading these two powerful longer pieces by Black leaders who are organising around and reflecting on racial justice: Caroline Verdant from St Antony's, TELCO, on the Living Wage campaign at Tate & Lyle and Pastor Clive Foster from Pilgrim Church, Nottingham Citizens, on organising around hate crime and immigration injustice.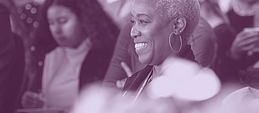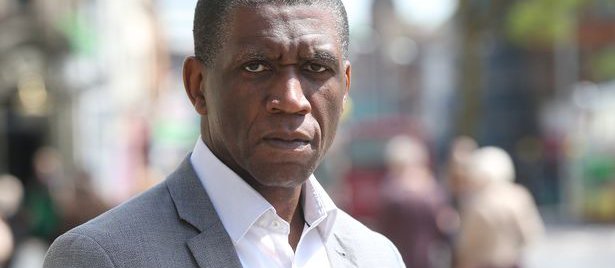 This is about every organisation living its values, so we'll start with some of the work we've been doing internally to tackle racism and pursue our value of inclusion. These are small but important steps and we recognise that we have a long way to go.
Conducted a diversity audit of our Board of trustees and introduced three new trustees, talented and experienced leaders from Citizens Chapters, of Black Caribbean, Black African and Bangladeshi heritage. Our Board is now 42% from Black, Asian and Minority Ethnic backgrounds and is 50% female.
Developed an action plan with the Black, Asian and Minority Ethnic staff network to build anti-racism practice into recruitment, management training and staff development. We have made some progress with improved recruitment practices, unconscious bias training and staff development. There is still much more to do including completing our diversity audit so that we have the data to analyse our pay and progression by ethnicity and to consider the intersections with other characteristics.
Supported the Black, Asian and Minority Ethnic staff network with funding to enhance staff training and progression and this is now being used with several staff benefitting from tailored mentoring.
Made Inclusion one of our top priorities for 2021, requiring all parts of Citizens UK to conduct a diversity audit of a prominent team or project and make improvements.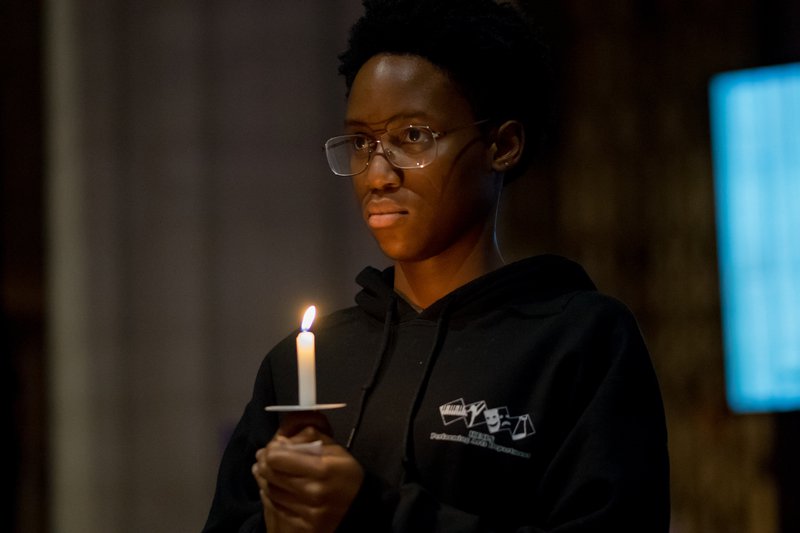 Alongside this, we are committed to playing our part in tackling racism in wider society. Our mission is to develop leaders, strengthen local communities and win change. Many of our most prominent campaigns are focussed on injustices that are bound up in structural racism, and the way we work is by developing the voice and leadership of those with lived experience. Here are six examples:
Police accountability
London Citizens Policing team is reflecting on the Black Lives Matter movement and calling for structural change in how London is policed. Our young leaders are standing side-by-side with those whose fight has been much longer and through work with the GLA have already made some real progress including:
Community-led training of police officers as part of a £1.7 million investment into police training
Reform of police accountability structures
Monitoring and assessing safer schools officers work in school
Oran Blackwood, leader from Hackney & Islington Citizens, said: "I hear and feel the pain and anger in my community – and I feel it myself. Too often I've seen young Black people treated as I was in the 1970's. Londoners deserve the best police service and shifting power back to communities is the solution. It feels like we are in a moment now where this could be possible".
We continue to campaign for more powers and funding to improve police accountability.
Parents and families
In the wake of George Floyd's murder, Parents and Communities Together (PACT) Southwark have organised parent-led discussions on structural racism and its presence both globally and in the UK. Through this, a space was created for people to share their personal experiences as well as their hopes for a more anti-racist future.
We believe that the earlier parents start conversations with their children around race issues and unconscious bias, the better. Literature is a powerful way to do this and plays an invaluable part of shaping our views and experiences. This led PACT's writing group to create a reading list to help families navigate this topic and instil anti-racist values early on.
For Black History Month last year, two of our powerful leaders, Elsie and Eleida, ran a Black history walking tour around our local area of Camberwell in Southwark to raise awareness and foster a sense of belonging for our diverse community.
Living Wage Campaign
Tackling low pay and in-work poverty – the goal of the Living Wage campaign over its 20-year history – is an essential element of fighting for racial justice, given the disproportionate low-pay levels in Black, Asian and Minority Ethnic communities. Black, Asian and Minority Ethnic workers are more likely to be in low-paid and insecure work than white workers, and Black workers are over 50% more likely to earn below the real Living Wage than white workers are. That's why the Living Wage campaign continues to advocate for pay based in what it costs to live across the economy, with a particular focus on key worker sectors containing a large proportion of Black, Asian and Minority Ethnic workers, such as social care. In 2021, this includes a renewed focus on developing the voice and leadership of those from Black, Asian and Minority Ethnic communities with experience of low pay via our Worker Leadership Network.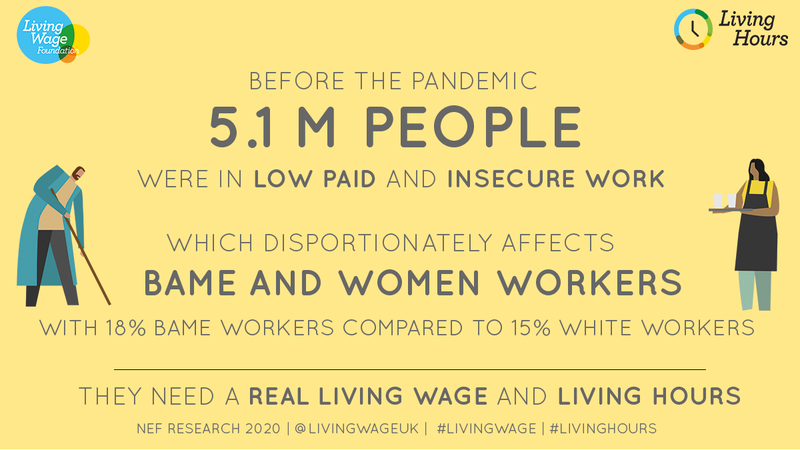 Settle our Status
We believe that Black Lives Matter regardless of immigration status. In the past ten months we have developed a campaign, Settle Our Status, for everyone who calls the UK home to have their status settled so they can fully participate in their communities. The Prime Minister has publicly back this campaign multiple times over the past decade, including in his first week as Prime Minister. Our campaign is led by people with lived experience insecure status and has involved Leaders without status developing a strategy, speaking at party conferences, creating messaging, chairing MP briefings and speaking in front of hundreds of people.
We have also continued our campaign to reduce the barriers to children becoming British Citizens, calling for the £1012 application fee to be reduced so we can avoid another Windrush catastrophe.
Stories from our members, including those of being denied healthcare, suffering mistreatment by local authorities, and being charged huge fees, demonstrates the racism of this hostile environment and reflects the deliberate efforts to divide communities. During this challenging time, we believe that by working together, we can make the UK more welcoming to all of our neighbours. Just as no-one stopped to check one's immigration status as they were dropping off medicine or food during lockdown, we hope this solidarity intensifies.
School exclusions
Recent research underlines the structural racism at work in the disproportionate rates of school exclusion affecting children. We are now supporting our first school that is committed to using Community Organising methods as an intervention to prevent and reduce exclusions. Looking to the future, we are putting pressure on the next London Mayor to expand their exclusions fund to help us support more schools in looking at interventions to reduce exclusions.
We hope to have a clear Charter for reduction of exclusions in school community that can be scaled up, with local chapters lobbying each of their local authorities to come on board. Key leaders are meeting in April to discuss how this campaign can both focus on temporary and permanent exclusions from school, but also what exclusion looks like after the pandemic.
Misogyny as a hate crime campaign
Earlier this month, we had a big win in our campaign to make women and girls safer by tackling misogyny hate crime and now all police forces will record this form of hate crime for the first time. Misogyny is fundamentally linked to racial justice, because women make up 50% of every other minority and racialised community. Intersectional recording – naming gender as well other forms of hate – helps us to understand how racism works, because otherwise, the assumption is that the experience is a 'default male' one, whereas places that have begun intersectional recording, we can see that racism operates in deeply gendered ways too.
We want to do more. We are building anti-racism more explicitly into our work and here are four ways we plan to do that:
Enhancing our organising curriculum through the lens of power, privilege and oppression 
As an organisation with deep institutional links, the training we run and the habits we adopt will not only influence our campaigns, but also shape the institutions in membership. We need to forge a way forward that enables a fuller understanding of our past, supports oppressed voices to be heard, trains people to reflect on privilege, and takes people with us so that they are better able to work together to win.  With that in mind, our Guild of Community Organisers have been developing and piloting a new introductory session for to run in every member organisation on how to we relate to one another as leaders – which needs to include connections to power, privilege, racism, and intersectionality.
We are also designing deeper sessions on power and privilege – leaders would need to complete these before going on regional or national training – and are also exploring the origins of our method and training. Additionally, we are reviewing and refreshing the curriculum and guidance for Residential Training, to pinpoint the sessions where power, privilege, race, or gender become a significant issue and look at how we review and refresh the curriculum and guidance for trainers.
Migrant and diaspora Leaders and organisers
Our Diaspora Organising team has been working on dedicated leadership development of leaders and staff from migrant diaspora communities. We have funded organisers in nine chapters to have dedicated time to identify and invest in the development of leaders from diaspora communities.
We believe that our broad-based alliances and communities will be more representative, and thus more effective, with leaders from diaspora communities genuinely leading and playing a key role in their alliances.
We know that every issue, not just the immigration system, impacts migrant and diaspora communities differently and needs to be addressed with an intersectional approach. Having leaders from diaspora communities in the alliance is crucial to be able to do that.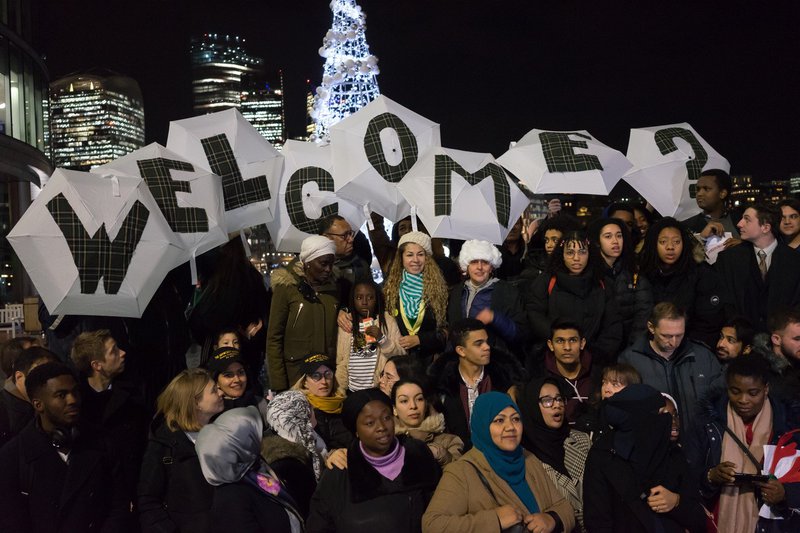 Anti-racism for Living Wage employers
We are conducting 'action-research' – in partnership with accredited employers in the Living Wage network and leading organisations with expertise on racial justice – to understand the role of the Living Wage in reducing ethnicity pay gaps and racial inequalities within businesses, and other ways in which our employer network can tackle racism and improve racial diversity within their organisations. This research will be summarised and published in a report, including recommendations for our campaign and for responsible employers.
A new approach centering white people in the fight against racism
We are hosting the development of White Allies, a project being explored by one of our senior staff to engage white people as active allies and ensure that the fight against racism does not fall solely on those that are experiencing it. White Allies is being incubated as part of Citizens UK's commitment to innovative approaches to social change and you can hear more on this podcast.
Posted by Aanisah Khan on 31 Mar, 2021