The Method is on Hold. The Mission Stays the Same
Deputy Director Jonathan Cox shares some reflections on the continued relevance of Citizens UK's mission at a time when its day-to-day methods are 'locked down', and how our Community Organisers are 'disorganising and reorganising' to support member institutions to live that mission out.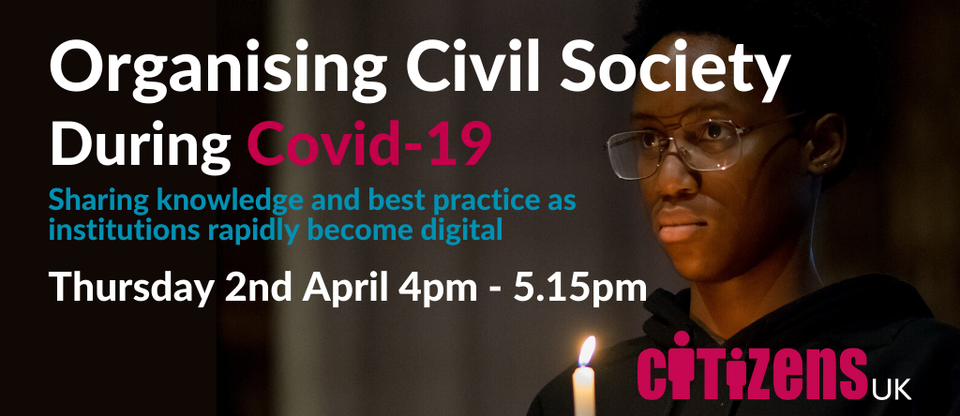 Citizens UK's vision is of 'a healthy democracy with civil society at its heart'. When we wrote that vision we never anticipated a time when the word 'healthy' would seem the most relevant part of the sentence! Indeed, in this state of lockdown it can be easy to feel that everything we are used to doing – 1-2-1 relational meetings, team trainings, public actions, mass accountability assemblies – has been put on hold, that we are in limbo, awaiting the return of business as usual.
But to do that would be to confuse our mission with our method. Alongside Citizens UK's vision, we have a threefold mission: firstly, to build the capacity of people to participate in public life and take action for the common good; secondly, to strengthen the institutions of civil society – anchor organisations with deep roots in our communities that play a crucial mediating role in our democracy; and thirdly, to campaign against social injustice and create systemic change in our communities. When we strip it back to that, our mission has never felt so relevant.
Our communities are going to need lots more effective citizen leaders in the coming months as the statutory agencies become stretched and vulnerable people start to fall through the cracks. Our civil society institutions are facing the challenge of staying relevant and moving their activities online – and community organising methods blended with digital tools can help them. And the political upheaval caused by Coronavirus throws up challenges to social justice, especially to those already socially and economically oppressed, denied power, agency or connection, and living on the margins of our communities.
So that's why Citizens UK's staff team is 'disorganising and reorganising' itself over the next few months – to help our member institutions better live out their own vision and mission, as well as that of Citizens UK. Most member organisations are attracted to Citizens UK because of our power to win change on issues locally and nationally – only over time do they see the value of community organising to strengthen their institution. In times of crisis, priorities are often inverted, and communities that cannot work out how to operate their day-to-day activities in the context of lockdown will struggle to reach out, serve others, and act for social justice. So here's how we can help:
Strengthen your Institution:
We can help you move your local community's activities (worship, relationships, outreach, fundraising) online
Develop Community Leaders:
We can help you mobilise volunteers to help serve the wider community in COVID-19
Take Action for Social Justice:
We can help you run campaigns to protect the poor and the marginalised locally – especially those most affected by the Lockdown.
Please contact your local Citizens Organiser who is ready and willing to help.
COVID-19 brings with it fear and many threats to our way of life – but we can choose to respond in a way which offers hope, and also spot opportunities to act in ways which prefigure the kind of world we want to live in when all this is over. To move, if you like, a step towards the world as it should be. To paraphrase Michelle Obama, pandemics don't make our character; they reveal our character.
To be true to our vision of 'a healthy democracy with civil society at its heart', we should not be stepping back.
Now is the time for civil society to step up. Read more about our Covid-19 response:
https://www.citizensuk.org/covid_19_crisis_response